Petta – A Love Letter that "Overkilled!"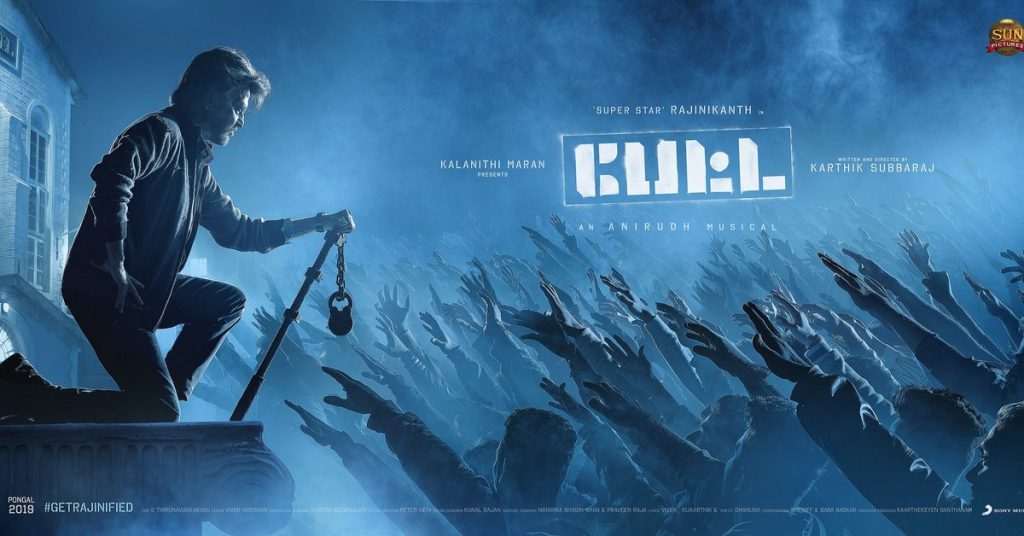 Movie Review: Petta (Tamil)
Star Cast: Rajnikanth, Simran, Vijay Sethupathi, Trisha, Sasikumar, Bobby Simha, Sanath Reddy, and Nawazuddin Siddiqui
Directed by Karthik Subbaraj
Cinematography by Tirru
Edited by Vivek Harshan
Music Composed by Anirudh Ravichander
Censor Certificate: U/A and Runtime: 171 Minutes
"Podhuvaga En Manasu Thangam
Oru Potti Anna vanduvitta Singham
Unmaye Sollvein Nalladhe Seiven
Vetri mel Vetri vaarum
Aaduvom Paaduvom Kondaduvom.. 
Aanandam Kaanuvom Ennalumen…"
Loosely it means…
(Normally, my heart bleeds Gold but when some dare to fight with me I become a lion. I will always speak the truth and do only good. Hence I win always. Let's all of sing and dance find happiness everywhere!)
Murattu Kaalai, the first Rajnified character of Tamil Cinema and the first entry song of Thalaivar Rajnikanth that stormed into the theatres and made Rajni movie, a celebration for his fans and masses. He later scaled even bigger hits to say, "Oruvan Oruvan Mudhalali" (effectively meaning he is the only one mass star even though he is singing about God!) While Rajni-fication has its own ramifications, it made many films go from just being a Tamil movie to Pan-India and global hits. Truly Rajnifying has its merits.
Even Karthik Subbaraj knew it and he made his Kaalai – Pettaveeran, a personification of the first entry song of Rajni. You can see him doing the right things for right people, being a lion against the opposition in war and having a good heart. Always full of life and searches for pleasures in life from every nook and corner. He is Morattu Kalai, the Rajni we all know over the years. But the problem lies with Pettai, Karthik's version of Kalai. In a nutshell, that is my summation of the first hour – Murattu Kaalai and second half – Pettai.
The Baasha template that is definitely not introduced by the movie but more popularised by it, harmed even the sensible maker in Karthik asking him to give in to the fan who longs for Thalaivar Darisanam. A fan heart doesn't see any problem in the film, it is like a Mother's heart whose love is blinded to any negatives. As they say, "Kaaki Pilla Kaaki ki Muddu" (Crow always finds her children smart!), a herd of donkeys, wolves or even cattle might be thinking they are the best singers while only an outsider can find the reality of it. Similarly, fans who have a pure heart of love like a Mother, they don't find anything wrong in their hero's film until they are satisfied. Their first love, "cinema" takes a backseat for their "favourite" like how a wife gives preference to being a mother than wife after the child's birth. Karthik too gave preference to fan in him than his cinema.
His sensibilities might identify with Gangs of Wasseypur where 10 members can be killed by one man only when he has a gun. People with high powers only fear others when they really face a threat but not because someone is able to hit a person hard. That world is too real, too cynical and too harsh. Jigarthanda does reflect that style and flavor. But this one is like a forced marriage by parents between Rajni style mass masala and Anurag Kashyap style. They don't blend seamlessly, as they can't. And that hampers Karthik Subbaraj too. Had this story not been a Rajnified version, Madurai episodes and friendship would have taken driver's seat while being a hostel warden would have been a 20-30 minute episode that goes into bloody climax.
But to keep up with the expectations of Rajni fans who did make Shivaji, Enthiran, Padayappa big hits without flashbacks and their wish to see Baasha form of Rajni again, every filmmaker tries to keep a flashback episode that really has a story and gives way for Rajni to joke around, be a lover and then go back to being the angry man that story demands him to be. Means a Rajnified package. Some stories don't need it and after Baasha blockbusters that I did mention above didn't have them at all.
Still, the wish to be the Baasha maker for 2000s, 2010s did make many fear to make a film with Rajni as it is not easy to deliver a flashback that strong every single time. Even if we use biblical undertones like the guardian angel, church fights and mythological stories of Vaali –Sri Rama war, we can't escape the crushing overtones of necessity for Anwar to be recalled, a bomb to be used to kill all and a villain accepting defeat even before the fight. Anthony fought till the last moment – by the way.
Well, when we want to write a love letter we can't let the love seem creepy as the person at the receiving end could feel fear for life than love. Maybe Rajni has to ask his fans and filmmakers to watch Thalapathy for a change so that they at least try to twist Devraj (Mammotty) into a villain which could be an interesting premise.
Hoping for such that day… I leave you with this…
Theatrical Trailer: