Krish Jagarlamudi's NTR Kathanayakudu (2019) Movie Review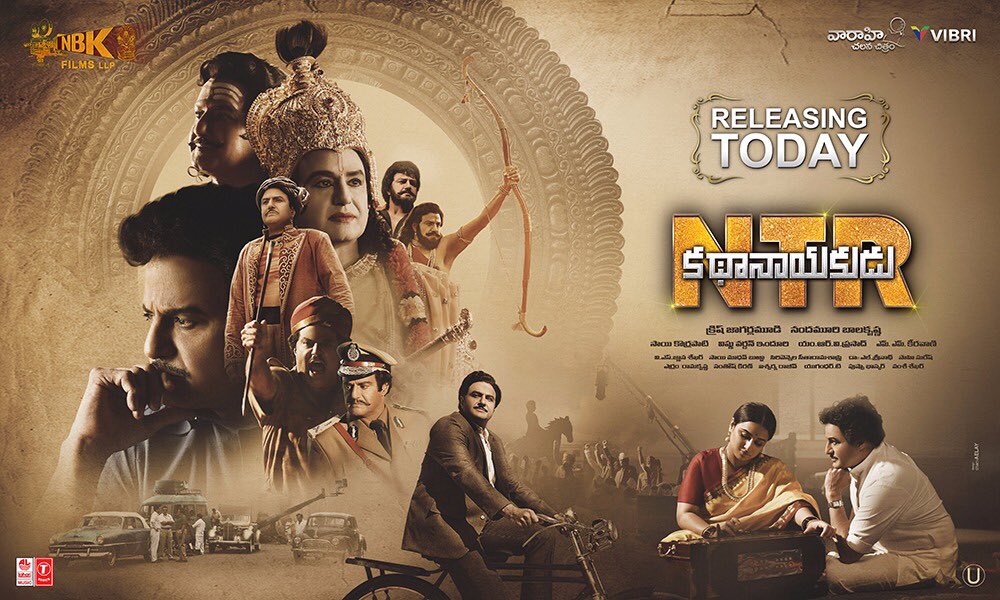 Movie Name: NTR Kathanayakudu
Cast: Nandamuri Balakrishna, Vidya Balan, Rana Daggubati, Raja, Bharath Reddy, Rohit Bhardwaj, Sachin Khedekar, and Manjima Mohan.
Music Composed by M M Keeravani
Edited by Arram Ramakrishna
Directed by Krish Jagarlamudi
Censor Certificate: U & Runtime: 171 Minutes
"…poyinollandaru manchollu… unnollu poyinolla teepi gurthulu… "
( All Dead people are good and people alive are their sweet memories)
Well, famous verses are famous for a good reason. NTR Kathanayakudu seems to be a live example of the verse, I quoted above. Because dead people are above any kind of judgments and prosecutions, they can Scott free from being humans too. That seems to be the belief of this movie team. Not even in one scene, we see NTR being seen as a simple man who rose from rags to riches with pure grit and determination.
He might be a Demi-God for few, (Few is the operational word here) and for few he could be just a caste representative. But he is also a human when he acted in a certain way and when he decided to do few things. He is not a hero before, he could have been after. This should have been the motto here. Roger Federer is not the comeback hero until he won the Australian Open in 2017 and repeated it in 2018. When you narrate his story, you will definitely tell the fall before he rose back as Phoenix.
Why this story should have been said so? An ordinary person deserves a biopic when he accomplishes extra-ordinary goals under trying circumstances and many problems. If there is no problem, then there is no need for a solution and a hero. So, a Kathanayakudu is only required when Story has a requirement for someone to rise above as Nayakudu. While Krish tried to make him a people's sympathizer even before he became a political leader or popular star hero, seems like stretching the creative liberty.
Before becoming an actor, NTR always has been a good citizen, maybe but he couldn't have been a hero, already. We need to know that normal human being, the man who dared to look beyond divisions and discriminations. For him, all that strength came from the public who loved him and drive within. If you don't show him being able to drive strength from public and say he is the strength, then there is no inspiration for others to become him. It is just like the comment, "He is different from the herd!"
A biopic is not just about chronicles and it needs more than just stitching together what we believe to be true than the truth. Why friendship is key, with ANR, in his life? Why did he decide to be the decision maker and dominator in the family? What did he really think before taking a risk? What made him look at a script and decide its eligibility to be made into a film? What kind of measures did he take to avoid losses? What was his drive to work so hard while making a film?
Even more important and pertinent questions, What is his relationship with his brother? What made him depend on Hari Krishna more? Why did his brother think politics aren't the right thing? Even the character sketches seem a big miss. But there is a second part, we can discount few as answers could be waiting for us in that. NTR is no doubt a legend, no doubt a great actor, no doubt it is hard to succeed as much as he did. But biopics aren't made to just relive his film glory moments because his son wants to see himself in them. Sometimes admiration goes to such heights that we start imagining ourselves in the shoes of the persons we admire. That doesn't warrant to have unwanted indulgences which seem forcefully added.
NTR also had down times as a hero when the young talent emerged more prominently, the film did touch on it but it did not expand. It did not try to really dissect his thinking and help us understand him better. A legend we all love shouldn't just seem like an unrecognizable character even when we spent labouring through 3 hours to know him. Again, a Wikipedia page can tell us that he stood for 20 hours for that effect in Seetharama Kalyanam, an article can tell us that he did get involved in scenes too much. And most importantly, a book on him can tell us the details without any effective drama same like the movie. A story always has a purpose and hook.
In God's Creation, nothing is purposeless they say. Even an actor isn't just created. If that theory holds up with science or not is a different question, but it delivers a compelling narration of the story of an inspiring man. By the way, why did he wanted an identity for Telugu's? At the same time, he did oppose complete shift of Industry until late 70's, when he also started a studio. Why so? These cannot be snubbed! These are the elements that make him a human and that makes many aspire to be him. Filmmaking and film business in itself is a place of aspirers and it is free for all. If there are no restrictions then why not make him an inspiration for another NTR?!
Theatrical Trailer: