Ponniyin Selvan 1: Beauty and The Beast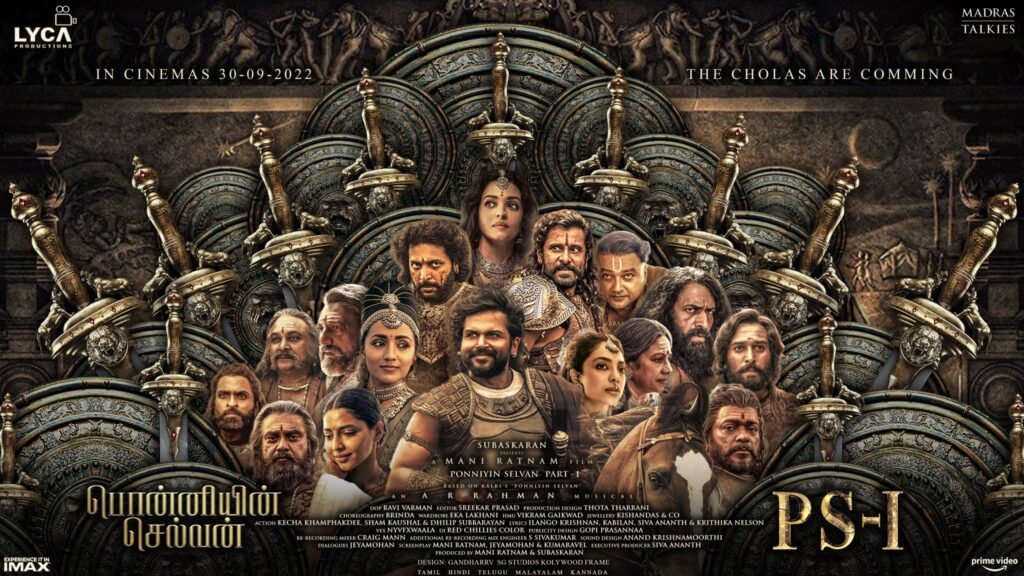 Star Cast: Aishwarya Rai Bachchan, Jayam Ravi, Vikram, Karthi, Aishwarya Lekshmi, Trishna Krishnan, R Parthiban, Prakash Raj, R Sarathkumar, and Jayaram. PS1 Review
Cinematography by Ravi Varman
Edited by A. Sreekar Prasad
Music Composed by A. R. Rahman
Dialogues by B Jeyamohan
Directed by Mani Ratnam
 Before you read, here are a few things I would like to say upfront
– I am a big fan of master craftsman Mani Ratnam.
– Judge it but do read completely, before that.
– This is a Film appreciation and critique from my point of view and perspective of understanding.
– SPOILER HEAVY.
– I read the book– Ponniyin Selvan by Kalki Krishnamurthy and heard podcasts.
– Chozha Dynasty was once as powerful but sadly not as popular as the Mauryan dynasty – Raja Raja Chozhan for Chozhas / Tamilians is like Asoka for Mauryans (notice in the film, Buddhist Monks offering Ponniyin Selvan aka Arulmozhi Varman a crown and directly telling him that they believe a king like Asoka is going to rule the land in near future).
– Lastly, please read about Raja Raja Chozha, whether you like the movie or not. The Emperor deserves your time and attention for being kind, and majestic throughout his life and leaving India – rich heritage and culture to boast about.
With those requests, suggestions, submissions, and admissions out of the way, let's dive into the discussion about the film. 
Ponni Nadhi Pakkanume
(This written piece will have some references to our history and explanations regarding them)
Why should we know about River Cauvery known as Ponni River by Chozha Kings, know about its greatness, or even watch it as the lines suggest? What is the point of getting excited to see a river flow? The simple answer to condense 5000 years of history – Cauvery Basin is the base for the language, culture, and heritage that we celebrate as South Indians. While many want to establish their superiority over the other – if one seizes to exist then the other's existence can be deemed meaningless or even impossible. No one can be or should be others' slaves or Ghulam. Both are interconnected and hopefully, someday people will start watching movies as movies and opinions as they should be rather than giving in to emotions and cheap pokes digs that only end up making us look more insecure and dark. At least in my POV, we should make movies to show what we understand from a story or what kind of freshness can we bring to it through our vision. Because every woman gives birth to another human, it doesn't either become routine to give birth or doesn't detach us from celebrating another human's arrival. Infact, many after-life theories that are popular among us Indians, make it imminent to have at least one kid of our own. A filmmaker's version of any story is also the same. While they give birth to their version, a woman can give birth but a mother grooms the kid. To that mother, we give suggestions and point out issues with the kid, so that, the same mistakes will not be repeated by other mothers and her too, in the future. If we see it in that way, a filmmaker's vision is my "Ponni Nadhi" and I went to watch her son, Ponniyin Selvan envisioned on paper by Kalki Krishnamurthy and on screen by Mani Ratnam.
Vanthiyadevan [Karthi] as a character in the big scheme of things is very small and grows to the level of becoming a "Hero". Writer Kalki Krishnamurthy decided to make him the audience member, as a storyteller. Through his eyes, he described Chozha Nadu and Dynasty's glory. Before Raja Raja Chozha's arrival, when the Kingdom is strengthening itself, a mystery gave rise to many conspiracy theories. One version of that conspiracy theory is the book. Mani Ratnam chose the camera as an audience member for his film. He might have not been so interested to make a two-line conspiracy theory into a movie, had it not been written on paper as a huge novel. Oliver Stone as a filmmaker inspired himself to bring real-life conspiracy theories into films and made Platoon [1986] kind of realistic war film to tell the world his message. What he said through those movies is left to our interpretation but he gave out clear-cut direction and clues. Similarly, Mani Ratnam in his movie tried to talk about and show the relevance behind the conspiracy in this first Part. His usage of the camera to almost never static, it is like another member who is clinging on or traveling through the story with characters. Hence, we get very less wide angles and more close-ups, extreme close-ups, and huge single shots. Ram Gopal Varma's weird camera angles are mostly done by the director for fun and for the sake of doing something different and exploring an idea while Mani Ratnam tried to keep his indulgences in check for the most part trying to do what he feels right for the particular scene.
In the first conversation scene between Nandhini (Aishwarya Rai Bachchan) and Vanthiyadevan (Karthi), he preserved the mystery of not knowing Nandhini by keeping the camera at a distance mostly. But then in their next conversation scene, when she offers a prize that he would never forget, we can see the camera moving like a snake almost. It is almost like Jungle Book's Kaa spreading her web spiraling across Mowgli. While for a second he gets enchanted, immediately he turns to see a skull. This works as a comic scene but then Karthi is not a comedian in the film. He is a character, who is more common man friendly, and not as reserved as Ponniyin Selvan or as emotional as Aditha Karikalan or as Majestic as Kundavai and we have to cross many snakes, and hurdles to reach them, in the snakes and ladders game. Vanthiyadevan manages to do so in the books and Mani Ratnam tried to capture the same essence on camera. Hence, that skull indicates to him danger ahead. Because for purpose of comic relief, Karthi can fear looking at Alwarkadiyan (Jayaram) there or even a spider that suddenly drops in front of him. But a definitive skull is precisely placed like a danger symbol right at the left of the frame and then Karthi is placed middle and right. This framing indicates that the filmmaker is deliberate. Mani Ratnam in this film follows these kinds of framing devices to tell what Kalki Krishnamurthy explained in 100 or 200 words or in two-three sentences and sometimes in paragraphs. Each shot indicates the writer's vision and the director's interpretation related to that description. Take another shot where we are introduced to Aditha Karikalan (Chiyaan Vikram) – 360-degree rotation around the character. Similar kind for Karthi too. But for Ponniyin Selvan (Jayam Ravi), more composed and simple shots. Indicating how the writer described them. Aditha Karikalan is a broken man in the book and Ponniyin Selvan is the more composed and focused man. The perfect choice for becoming the next ruler. While Vanthiyadevan can never rest and has to travel and face the dangers that all the main characters face, he reacts to the situation and is quick on his feet. Adapts to their respective behavior, nature, and circumstances. Hence, his introduction has the same unrest, and whenever it's his journey that the film focuses on, the camera also tries to project that unrest. It's jarring and tiring for him, same for us. Yet, he never gives up and finds slight peace after reaching Kundavai and eases himself for at least a few moments in the presence of Arulmozhi Varman aka Ponniyin Varman, hence, the camera is more static and more relaxed compared to others.
With Nandhini, the camera focuses more on her beauty and eyes than her other features. It is eyes that behold all that we express and hide. If someone knows how to read the eyes of a person, then they can easily manipulate anyone. A psychiatrist while using hypnotism, tries to get us to focus our eyes on one object or subject, so that, he or she can grab our attention and enchant us into calming us down. Nandhini (Aishwarya Rai Bachchan) is such a person. If you look into her eyes and are not equipped in reading her intention is plainly visible, we fall into her trap. The same camera doesn't cut too close to Kundavai (Trisha Krishnan)'s eyes. She is what she presents. Even the mystery that she tries to hold back in those eyes, is visible on her face. This is more because she has nothing to hold back while Nandhini has many secrets and ambitions. A difference between a Protector and a Destroyer. Capable of being both, Lord Narayan and Lord Shiva are described in inscriptions as calmer selves and unrelenting forces. Mani Ratnam tries to even bring that in both main female characters and male characters. Vanthiyadevan is almost like Devendra who runs to all of them and is friendly with everyone.
Shiva after losing Sati – killed her father for being a bad parent and then heartbroken went in search of peace. Aditha Karikalan seems to have been moulded based on that point in time what Shiva would have gone through as a pure destroyer. Arulmozhi Varman is like Narayan – calm and composed as a Protector and does only what is necessary. Camera, setting, framing, location, and production design keep following that example. You can see that more highlighted in Kundavai and Aditha Karikalan's discussion scene or Aditha revealing his past scene. He always prefers to be in open, broken, and untidy places, he breaks and makes heroic entries, he destroyers and celebrates and never hides or pretends. Arulmozhi Varman has a knack for hiding yet being honest. What appears as deceit to his enemies, seems necessary for his friends. He can cast a spell on you by being good and charm you by being friendly. Look at the production design, framing, blocking, and staging involving both these two characters. Mani Ratnam took mythological references to design them and the world behind them, even their looks. See the tika or thilak they wear – Shiva and Vishnu are quite literally present, in both of them. Kalki Krishnamurthy almost brought to life, Devasura sangramam – with Devendra trying to catch all the information present while Narada helps him – Alwarkadiyan Nambi (Jayaram). He travels from Shiva to Narayan to talk about the conspiracy that evil is plotting while Shakti as in Kundavai is looking to alert them both. Mani Ratnam on the other hand added another layer to all of it by making it more like Krishna being Vanthiyadevan and us following Krishna to meet Yudhistir (Arulmozhi) and Karna (Aditha) about the plotting by Shakuni (Nandhini) who is looking to break the unity of brothers and then destroy the threat they pose forever. Here Shakuni is enchanting Dritharastra, Pazhuvettaraiyar (Sharath Kumar) by blinding him with beauty. Kauravas have been reduced to being powerless as Madurantaka Chozhan (Rehman). Kunti equivalent is Kundavai trying to be the mother of both of them. Don't take these comparisons literally, characteristics resembling those mythological characters are added as a new dimension to character behavior indicated in the Novel.
With all the good things, sometimes, choosing to be away from what others do and what is normal for audiences to anticipate when huge box office stars come together and yet be mainstream unknowingly makes a filmmaker more desperate to find new ways for everything. Mani Ratnam in his penchant to not showcase big action blocks and try to enchant audiences with huge set pieces and also not repeat similar kinds of narrative patterns like wide – mid – close – static shots went for more daring and bold choices that either work or don't at all. His choices in drama score over his choice of camera movement in even simple comic scenes. The action parts have been composed well yet the director thought it would be waste of time to elaborate on them and dabble in them. Even his editing patterns in those sequences were found to be strange. He could have been more "regular" to start with rather than be more "inventive" straight away. Some scenes really did not land with the same impact in the beginning portions due to that approach. The portions that landed in the Arulmozhi Varman side of the story – even the action sequences are cut far better in his story – have been 50-50 in Aditha Karikalan's part. Clearly, Mani Ratnam wanted the drama to be the film's strength but for that, he need not "take away" or "do away" or "rushedly cut" through the action portions and some character-building moments. The highlight reel approach works but giving more character moments than just important story moments or mixing them both in an even better way in the first hour could have worked in the favor of the film. Maybe for any other filmmaker, the pass that Mani Ratnam gets or the weight of the expectations that he has to bear might not be true yet as it is Mani Ratnam – he has to bare, wear it all. AR Rahman's music and Ravi Varman's camera, Thota Tharani's production design, and performances of the ensemble cast all showcase Mani Ratnam's vision and add to his interpretation than them standing out. This is an achievement in such a costume drama.
On the whole, the movie is a more personal statement from a director to daringly say that this is "his" kid and respect it, and accept it with flaws and adorable. So, it is left to viewers to judge, if it works for them or not. The film has flaws and accomplishments at the same time. If our eye gets enchanted by accomplishments it gets disturbed by flaws too. It is up to us where we want to concentrate and how much. It is hard to make a movie that feels like a human at a time when either it should be "blockbuster" or "disaster". This Ponniyin Selvan is more human in erring and quite an emperor in delivering great moments. So, before watching it is better to concentrate on why these choices are being made and then judge after watching – what worked and what did not. Kalki Krishnamurthy's Ponniyin Selvan gave birth to Baahubali's famous scenes too, hence Mani Ratnam decided to not make them part of his narrative, the weight of not showing what is already seen and made by many did crumble him still he made a movie that is as human as it can get and as its own identity. It is almost like listening to a grandfather narrating the story of someone relevant with his own detours yet still finding ways to keep us engaged and engrossed.
Theatrical Trailer: PS1 Review