My Favourites of World Cinema 2018
2018, ended with a promise for me proving that change is the only constant. We can never imagine all the outcomes as we aren't in possession of a green stone that can let us play with time. On that thought, if I am able to be Doctor Strange, I might kill all the Thanos size problems that I do have adhere in daily lives. Kasshh.
Anyways, 2018 did not give me many chances to explore as many genres and as many films, I would have loved to explore. There are hundreds of films but not even number of days to cover them all, while my personal life is still intact and healthy. There are a few things that I wish had happened differently but this is about that and don't worry I won't rant on movies or life. But I do wish the genie in the new year to be kind to filmmakers so that they can be kind on our senses.
Bracing myself to all the judgments and appreciations, here is the list of best of 2018, before reading ahead, do keep this in mind, this is one person's opinion and he hopes to have a healthy discussion! Now, go on…
Chalo! Let's start off with Indian Cinema…
Telugu: Mahanati | Nag Ashwin | Biography [Review]
Tamil: Vada Chennai | Vetrimaaran | Crime Drama
Hindi: Andhadhun | Sriram Raghavan | Crime Thriller [Review]
Malayalam: Ee Ma Yau | Lijo Jose Pellissery | Comedy Drama
Hollywood Films (Pending with 28 films…)
A Quiet Place | John Kransinski | USA | Mystery Drama
American Animals | Bart Layton | USA – UK | Crime
Annihilation | Alexx Garland | USA – UK | Adventure Drama [Review]
Avengers: Infinity Wars | Russo Brothers | USA | Adventure [Review]
BlacKkKlansman | Spike Lee | USA | Biography
Black Panther | Ryan Coogler | USA | Action Adventure
Blindspotting | Carlos Lopez Estrada | USA | Crime Drama
Can You Ever Forgive Me? | Marielle Heller | USA | Biography
Creed II | Steven Caple Jr. | USA | Sports Drama
Eighth Grade | Bo Burnham | USA | Comedy Drama
Free Solo | Jimmy Chin, Elizabeth Chai Vasarhelyi | Documentary | USA
Green Book | Peter Farrelly | USA | Biography
Hereditary | Ari Aster | USA | Mystery Drama
Jane Fonda in Five Acts | Susan Lacy | USA |Documentary
Mandy | Panos Cosmatos | USA – Belgium | Fantasy Thriller
Thoroughbreds | Cory Finley | USA | Crime Drama
Mid 90's | Jonah Hill | USA | Comedy Drama
Ready Player One | Steven Spielberg | USA | Adventure
Shirkers | Sandi Tan | Documentary | USA
Sorry To Bother You | Boots Riley | USA | Fantasy
Spiderman: Into the Spiderverse | Bob Persichettu, Peter Ramsey, Rodney Rothman | USA | Adventure Action
Star is Born | Bradley Cooper | USA | Musical Drama
The Ballad of Buster Scruggs | Ethan Coen, Joel Coen | Comedy Drama
The Devil We Know | Stephanie Soechtig | USA | Documentary
The Rider | Chole Zhao | USA | Western
The Tale | Jennifer Foxx | USA Germany | Mystery
The Death of Superman | Jake Castorena, Sam Liu | USA | Action
Thunder Road | Jim Cummings | USA | Comedy
Upgrade | Leigh Whannell | Action Thriller| USA
Widows | Steve McQueen | USA _ UK | Crime Thriller
Won't you be my neighbor | Morgan Neville | Documentary | USA
Foreign Films (Pending with 23 films..)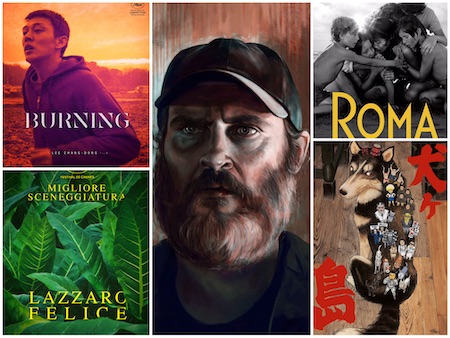 96 | C Prem Kumar | India | Drama
Ahlat Agaci | Nuri Bilge Ceylan | Turkey | Drama
Bodied | Joseph Kahn | USA | Music Drama
Boost | Darren Curtis | Canada | Crime
Beoning | Chang dong Lee | South Korea | Mystery
Campeones | Javier Fesser | Spain | Sport Comedy
Cielo | Alison McAlpine | Chile | Documentary
Da Xiang Xi Di Er Zuo | Bo HU | China | Drama
Dark Figure of Crime | Tae-Gyoon Kim | South Korea | Crime Drama
Den Skyldige | Gustav Moller | Denmark | Crime
Di Qiu Zui Hou De Ye Wan | Gan Bi | China | Drama
Dogman | Matteo Garrone | Italy | Crime Drama
Filmworker | Tony Zierra | USA | Documentary
Hong Hai Xing Dong | Dante Lam | China | Action Thriller
Hou Lai De Wo Men | Rene Liu | China | Drama
Isle Of Dogs | Wes Anderson | Germany | Adventure Drama
Leave No Trace | Debra Granik | Canda | Drama
Lazzaro Felice | Alice Rohrwacher | Italy | Drama
Neo-eui Kyeol-hoon-sik | Lee Seok Geun | South Korea | Romance
Pariyerum Perumal | Mari Selvaraj | India | Drama
Rangasthalam | Sukumar B | India | Drama [Review]
Ratsasan | Ram Kumar | India | Crime
Revenge | Coralie Fargeat | France | Action
Roma | Alfonso Cuaron | Mexico | Drama
Searching | Aneesh Chaganty | Russia | Thriller
Seongnan Hwangso | Kim Min-Ho | South Korea | Crime
Singgwa Hamkke: Ingwa Yeon (Duology) | Yong-hwa Kim | Korea | Fantasy
Sudani From Nigeria | Zakariya | India | Comedy
Suspiria | Luca Guadagnino | Italy | Fantasy
Tumbbad | Rahi Anil Barve, Anand Gandhi | India | Thriller
Three Identical Strangers | Tim Wrdle | Biography | UK
The Death of Stalin | Armando Iannucci | France | Comedy Drama
The Cakemaker | Ofir Raul Graizer | Israel | Drama
The Great Buddha + | Hsin Yao Huang | Taiwan | Drama
What Will People Say | Iram Haq | Swedan | Drama
Wek Ohne Autor | Florian Henkel Von Donnersmarck | Germany | Drama
You Were Never Really Here | Lynne Ramsay | UK – France | Crime Drama
Zimna Wojna | Pawel Pawlikowski | Poland | Romance
As the beastly year of 2018 concluded I eagerly wait for 2019 to have better cinema experience and even more knowledge transfer from all corners to inspire and be inspired…