Anthariksham – Yours Pretentiously Patriotic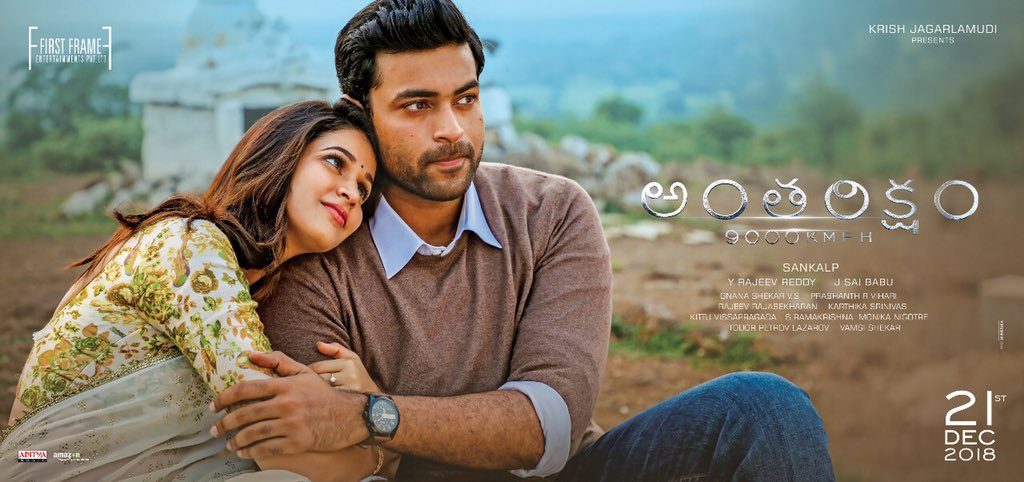 Star Cast: Varun Tej, Lavanya Tripathi, Aditi Rao Hydari, Rehman, and Satyadev Kancharana.
Music Composed by Prashanth R Vihari
Cinematography by Gnanasekhar V S
Edited by Karthika Srinivas
Directed by Sankalp Reddy
Censor Certificate: U & Runtime: 130 Minutes
The horrendously concocted premise of a movie can always throw the audience who expect substance into a black hole of creativity. Its existence is theoretical but not proven. Until we cross the simulated world of computer images and see one directly, we have to put up with assumptions of it being non-existent too. In Anthariksham 9000 KMPH there is creativity in theory but practically there is no proof of its existence.
Story of Anthariksham can be said like this, a flawed brutally honest and pride driven young scientist things failing is never an option and sees every moment as a war. He lives in a world where a space mission is his baby and sending a probe to the moon is India's biggest victory. It is all about him. He slowly becomes the pride of Nation and says it is 'our' mission. The journey from 'me' to 'us' is his personal accomplishment by putting the lives of fellow astronauts at stake.
In theory, this can work. When the charm of the lead actor is explicable and he is able to bring out a flawed person to screen with aplomb accuracy. At the same time, the world around him should have their own lives and stories. It is not about him, it can never be about him. Rather, the movie plays his false pride as self-righteousness and even tries to say that it is ok to be obnoxious and rude even when the same pride of India is at stake.
Adding to this the writer tries to make his leading lady's guilt as the stepping stone of their love. It is like she is the Devdas equivalent waiting for her Paru to finally give her a chance at redemption and a relationship. We never feel like she is an accomplished individual who did a mistake and now, wants to correct it. Love can happen in the process but that shouldn't be the whole purpose of her character in a zero-gravity environment where millions of taxpayers money are at stake.
Gravity plays this really well. It doesn't make the relationship dangerously platonic and we hope that there was a way for Clooney and Sandra Bullock could have made together to the earth. Here, it is like please die in space rather than coming back. We are better off without people like you two. Adding to them are three more characters, two of twins – Karan & Aditya (is it a nod at Bollywood's biggest producers and their films?), another pilot. These three get back stories and they all don't add up to the main story. Rather they prolong the film.
Now let's see the proceedings this way – rather than Dev (Varun Tej) coming back and try to say I have to go, had he sent a mail of codes that are highly cryptic for Aditya to understand and Director himself calls Dev back forgiving him for Parvathi (Lavanya)'s murder then there is a strong emotional scene and if he also plans the retrieve of Viprayan mission with him, then we would have saved ourselves from many illogical sequences and mainly, the monologues.
Director and writer seem to have taken Dev for Devdas and his love interest Parvathi to resemble the ultimate loathing of a lover and his necessity to go beyond his limits to fulfill her last wishes. But he executed the Chandramati equivalent Aditi Rao to look like Devdas obsessed with acceptance of her love Dev. He confuses the sympathy and guilt with love. There are lots of sequences where the idea seems to be novel and tangible but execution completely opposite.
Even physics doesn't make any sense. The director himself said he doesn't care about logics. Well, we saw Christopher Nolan, a man whose name is enough to sell anything trying to get the physics right before throwing his imagination into the wilderness of zero gravity Interstellar travel. And then we hear a young director of one film old saying logics don't matter. There are equations that prove all his ramblings wrong and then there are practical difficulties that his concepts don't really understand.
It is like he did not care for anything but how to make his movie, saleable. And that thought process made him find country pride in sending a space probe. Space exploration is about human beings and their growth. It cannot be about a nation. Even if NASA comes out and does so, the entire scientific community will rise against it. As in the film he himself says, there are many Indian Engineers and Scientists working in NASA, should we all see them as traitors working against Indian pride?
I wish the director had learned from Ghazi about how ideas don't make films. Having a good idea that sounds creative enough doesn't suffice for making a film. In that film, he is saved by seniors who combined with him and this time, he got exposed so naked that he himself should go back to drawing board and access why his Dev'D' in Space doesn't have the charm of Devdas or nuance of space dramas like Interstellar or even Armageddon.
Theatrical Trailer: