Valimai: Overdose of self aware and good Ajith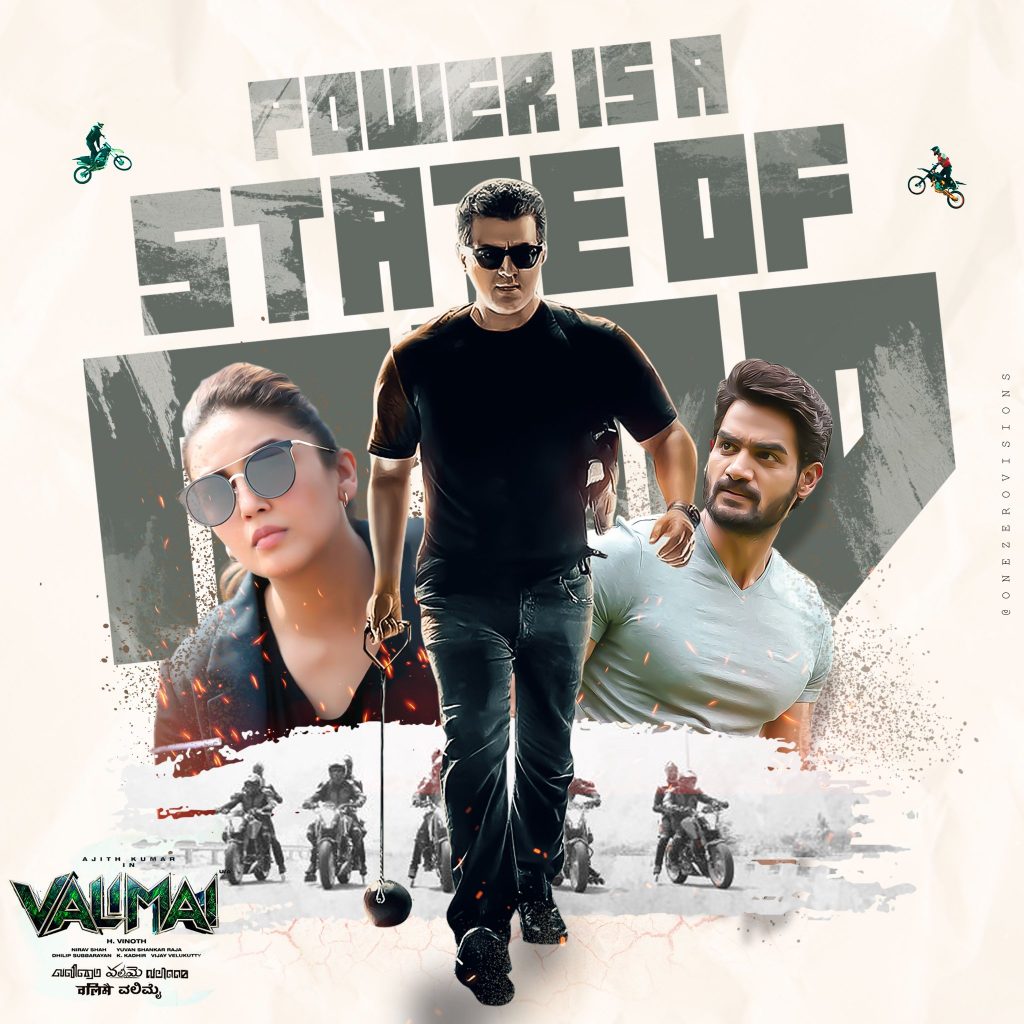 Valimai Review
Star Cast: Ajith, Kartikeya Gummakonda, Huma Qureshi, Bani J, Sumithra, Dinesh Prabhakar
Edited by Vijay Velukutty
Music Directed by Ghibran
Produced by Boney Kapoor
Directed by H Vinoth
Ajith Kumar is one of the most famous superstars of Indian Cinema. He grew into a star loved, adored, modeled upon, and idolized by many youngsters, followers. When he appears on screen they scream out loud his name in theatres and even his mention in any film, gets them to hoot. A major number of young actors take his and Vijay's name as their favorite, in Tamil Cinema. Until recently, he is known as Thala, Ultimate Star by his fans and he gave up on them. Now, he is referred to as either AK or Ajith or Ajith Kumar, dearly. He delivered a blockbuster success like Viswasam opposite to Rajnikanth's Petta during 2019 Sankranti and did Pink remake Nerkonda Paarvai. After three years, he came up with Valimai.
All this information might be available on the Wikipedia page of the actor or the internet. I know you are aware of all this and you just want to read about the movie. The above information is mentioned because the super-stardom of the actor has taken over his on-screen persona. The actor takes his star status seriously as he should. The actor tries to play super positive roles and characters who turned from negative to positive, for good on screen now. But he became a superstar because he did negative roles, took risks that no one else tried, and acted in 'different' films from others.
But he is a commercial actor and I expect nothing but Big budget commercial entertainers from him. Having said that, a man who did Kadhal Kottai, Amarkaalam, Vaali, Varalaru, Billa, Mankatha, Dheena, Villain cannot just be reduced to a man who drives a bike well, who walks in high motion camera capture frames on-screen, who dances occasionally, who is "okay" with his salt & pepper undyed hair to be appearing 'original' on-screen, who is almost mechanic in giving looks. He is more than that and if the actor thinks Rajnikanth did stick to similar kinds of films after becoming a Superstar and he should too, then it is time for him to come out of that mould.
Rajnikanth after becoming a Star known all over India and a few parts of the world too, post "Basha" success, Muthu too, he decided to take a risk with Baba. That did not work out but he came back with Chandramukhi, where a female lead is given more importance than him. The actor went on to appear as a suspect in Shivaji, also a vigilante in the film. He then decided to do a robot's role in Endhiran/Robo. When he decided to stick to similar plots like in Lingaa, Kaala, Kabali, Darbar, Annatthe he did not find similar success. His average grossers Petta and 2.0, have different plotlines from his other regular films. Just trying to show him as a cop after three decades, as an old man fighting for his slum, as an old rebel out of jail still fighting against rotten gangs, and as a "loving" brother did not satisfy his fans and common audiences. He is almost equal to God for many of his fans, but he still cannot be the "all do-gooder".
Taking direct competition to Ajith, Vijay tried to do similar films with the same plotlines at the end of 2000's after Pokkiri. He had to turn to Thuppakki, Kaththi, Theri kind of clever screenplays that present him differently from his previous films. His rather routine commercial films like Bigil, Mersal also used different plotlines. Master had him playing a different character from regular. Beast might be his first comedy in years. His Bhairava, Puli films failed at the box office because of the poor plotlines and too routine screenplays. Jilla narrowly passed at the box office due to Mohan Lal and Vijay's combination. My point is, the other actors are not just "committed to the job" but they are trying to do something new in their job too.
Ajith is much much better actor to just walk around and be called Chief. To be praised and feared by villains. Well, when he did Pink remake Nerkonda Parvaai with H. Vinoth, many encouraged him to take more risks as a star. Critics found him taking "risks" even while doing a commercial film. But a writer-director like H. Vinoth cannot just make a film good enough for its action sequences like Valimai. The film is a much better executed Aarambham than Vivegam. To coin it like "The Biggest Action Film of India" and then have the superstar play a boring character with no entertaining characters around him as well, the line is too far-fetched. You cannot expect Ajith to rehash old film stories of Rajnikanth and Kamal Haasan that worked in the 1980s with similar screenplays with better action episodes all the time.
 What is wrong with Valimai?
Cut all the attention-seeking rant, come to the point. This is what you feel? Fine, no issues. Valimai stands for spirit. And Ajith in his life showed spirit at all times. But did ACP Arjun show? Let's get into the nitty-gritty of writing. Arjun is demoted at his job and is demotivated by his family due to a personal attack. What does he do? Being a do-gooder, he cries. Next, he goes after the bad guy. Hunts him in a long chase of 40 minutes and arrests him. (These are not many spoilers, so do not worry). What about the other boys? Everybody is transformed just like that? One monologue from Ajith did not turn the villain in Viswasam into a good man. A very very insufficient filmmaker like Siva understood that. He never displayed that kind of strength in writing before or after. But H. Vinoth showed more prowess in Sathuranga Vettai where a conman turns good. He showed more prowess in Khakhi with a bad romantic track in constructing a plot. Then what happened here? He wanted to make a Fast and Furious film with Ajith as he is willing to do stunts and people know that he is a racer. Then what? Ajith's on-screen persona needs to be sold as a good man, so he has well-written monologues to deliver for subordinating a woman, for asking young boys to not take drugs. Then why can't he deliver a monologue to his brothers, his mother and transform them, sparing us from the horror of watching them for 60 minutes? Had he targetted what really motivates the villain and had he targetted what really works for a good social issue-based movie with action, then he might have delivered something that everybody can praise.
Fans might say we are satisfied that Ajith Kumar appeared on the screen. Fans might say we find it endearing to see him mouth monologues about parenting, social issues. Family might say that they are proud of watching him play "Do-Gooder" on screen that too so good that even Rama looks like a man who did something bad just for the sake of it. He might feel compelled to do and say those things that can only be categorized as good, due to his star status. But enough is enough however 'rare' his appearances are on screen, he needs to put in more effort in finding writers. He can pull off any stunt but he has put in more effort in playing emotions. As fans and viewers, we need to get more than that from him. If he tends to believe this is enough then he might be a rich man, a rich actor, a man with multi-faceted talents but he will definitely not be adored and remembered as a star hero who could act and an actor who happened to become a star accidentally like he calls himself. There are many who could become "Satan Slaves" thinking that they are doing right and we don't want Ajith to become a Satan Slave of Stardom, do we?
Valimai Review