Love Mocktail (Duology) ~ An Uncanny Tale of Romance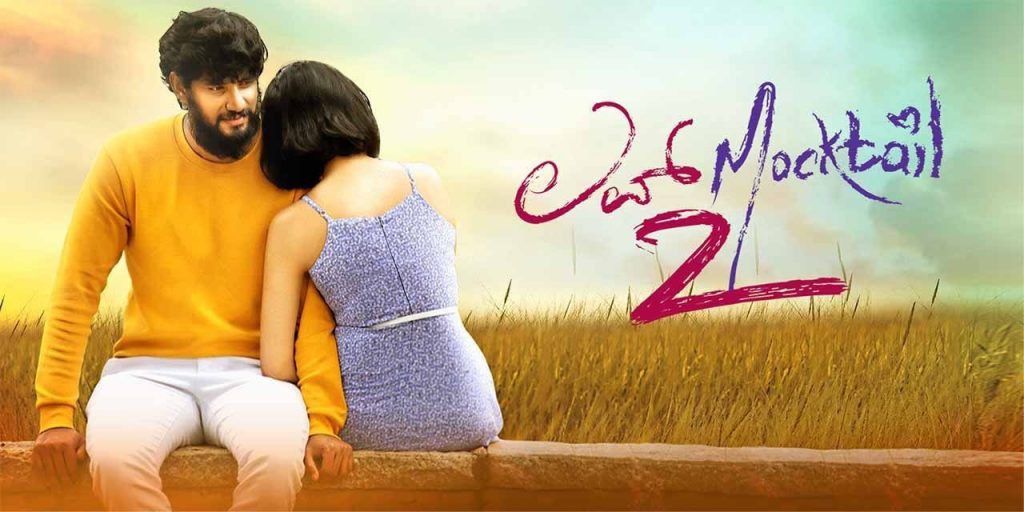 Love Mocktail 2 Review 
Star Cast: Darling Krishna, Milana Nagaraj, Rachel David,  Amrutha Iyengar,  Sushmitha Gowda, and Ravi Seetharam
Music Composed by Nakul Abhyankar
Edited by Sri Crazy Mindz
Directed by Darling Krishna
Watched it in PVR: Irrum Mazhil (Screen 3), Hyderabad.
Before you pass a judgment that I like films from other languages and not my mother-tongue Telugu, I like films from any language and would a Simple yet pungent dose of Romance love to promote films from other languages more than Telugu films as my friends, close-knit family members, people I mostly hang out with and my groups don't get a chance to watch those other films as much as I do. Hence, an extra amount of promotions are done from my side to bring those films to their notice and also hopefully your notice. If a Telugu film inspires me to write about it like this, soon I will write about it too. Well, after giving you all this personal information that might be termed unnecessary by some, I just wanted to clear out a few things for regular readers.
What is this Love Mocktail?
The movie is a Kannada Rom-Com that I have watched after some of my Kannada friends recommended it. And recently got a chance to catch Lock Mocktail 2 at the theatres. Wanted to write about what I liked and what worked in it for me.
Darling Krishnaa wrote, directed, and even produced this series. Milana Nagaraja, his wife in the film and real-life too, seemed perfect as Nidhi. She is the one, who made the film for me. Her performance and screen presence made the simple premise believable and enjoyable too. In a day and age, when over-the-top Television serials are exploring such themes, watching such dramas with romance don't really bore well with a viewer, in a theatre. While romantic films are being made, everyone is trying to make them as spicy as they can and as lust fuelled as they can, to attract a more impressionable young audience member. This Love Mocktail doesn't do that and present every problem in life with a spice of comedy.
Cocktails usually work as a mix of two or three drinks and they have to have the correct combination. When it comes to mocktails, they really are mocking us for not drinking alcohol. A correct mocktail though works as a supplement to alcoholic drinks. This Love Mocktail also feels the same. It is a supplement to over-the-top dramas with such romantic drama themes. You don't feel the necessity to reach out for the tissues while watching it. It is not like the makers are pushing you to feel with them or laugh with them. They are not telling you to feel here, feel there. A background score keeps playing but it is used to add to the content that the scene is trying to tell not to force you to "feel" or "do" something.
Even Darling Krishnaa, the writer and director, doesn't really go for over-the-top moments to deliver any wisdom or show how love works. He understands that romance lies in simple life moments. The moments that we tend to overlook and his style is simple too. He is not trying to go for symbolism or representation of some sort in his direction. He likes to keep it all simple and to a point, real. The difference between a film and a real-life incident can be noticed in his writing but he has that quality to not overwrite and hence, it is kept simple, mostly believable.
When you feel like his technique has nothing special to offer, his choice of actors surprises you. Everyone is chosen to give their lines an extra believability. It is not about how good are outside these characters but here in these characters, they look perfect. There is no problem of caricatur-ism coming into the writing or execution part as every situation is being played with an intention to make you laugh. Even in serious scenes, there is a constant joke going on. Unless the moment will be completely ruined by that joke, the writer wants to go there and deliver it. This shows how mature Darling Krishnaa is as a writer. How much he understands this romantic comedy writing and how much he is willing to take a risk as well.
To talk about the plot, this is your everyday daily serial. In fact, whatever you can notice happening in a daily serial happens here. But this is a mocktail of emotions while they are cocktails. They are aimed at audiences who believe over the top is life, here these moments are played in a fashion where youngsters can connect with. Hence, you get a mock every now and then, while a serious and sincere tale of romance is going on. For example, the wife of the lead actor, Nidhi, kicks him out of bed when he forgets her birthday. The same man doesn't try to make it a "big scene" before deciding that he doesn't need a high-paying promotion if his wife misses him. She complains to him very sweetly that she misses him and he thinks on his own about what is more important to him. She is adamant on many occasions but when he starts to not respond to her calls on the first ring or when he arrives home late regularly, she first scolds him, threatens him that she will kill him if he chooses another woman over her but then respects his decision to work longer for a better life. She keeps complaining at the same time tends to get used to it. These kinds of very day moments that this young generation is not thinking about or making them as big problems, issues in their marital life, are played very naturally.
Even other characters are also used to forward the story rather than using them just for the sake of it. If there is no obsessed lover, then we will not feel that the lead is stuck in his own web of emotions. If there is no widower then we won't get the monologue that defines the journey of the lead. Even the friends of the lead keep pushing the story in the right direction while acting as comic relief. This kind of writing is something our own industry can learn from and seek. Comedians can be used as characters rather than just comedians for the sake of marketing the project.
The solutions are offered in a comic way. The hero doesn't try to give a monologue after monologue or doesn't threaten someone. Just pours his heart out to another widower. Even being haunted by memories is dealt in a comic way. The main character knows that he is hallucinating, but at the same time, he chooses to live with those hallucinations. This kind of writing is hard to find in today's confusing times. Keeping your sensibilities intact and writing what works for you, is the first lesson every writer should learn. But somewhere, we miss all that in emulating romantic comedies from other languages. While you may take inspiration from them, it is important to keep them as real as fresh as original as you can. Darling Krishnaa without resorting to preaching does the same with the Love Mocktail series of films. His production values do give you an example on how to make a decent film during such an overbearing pandemic.
Music by Nakul Abhyankar should be appreciated for the kind of background score and songs, he gave to the film. He added another layer to the proceedings with his soothing score. It is the score that inspired me to watch the first film, actually.
One of my friends, complained that the execution makes it all look like a web series. Yes, the budgets are tight and one can easily see that the director and producer have kept a leash on the costs. Still, the premise, the writing, and the performances work for the viewers. All in all, I can say that this mocktail of romance and comedy works as a fresh Breeze of air when we visit mountains. You don't necessarily be craving for something like that but when those valley breezes or winds hit you, you feel relaxed and amazed by the experience. Love Mocktail one and two belong to that category of films. Keep your expectations in check and let the actors familiarise themselves with you for the starting ten to fifteen minutes. This Uncanny mix of romance and comedy with an everyday appeal makes Love Mocktail a fun drink to gulp while you need to bare some pulp.