Vinaya Vidheya Rama : The Survival of Laziest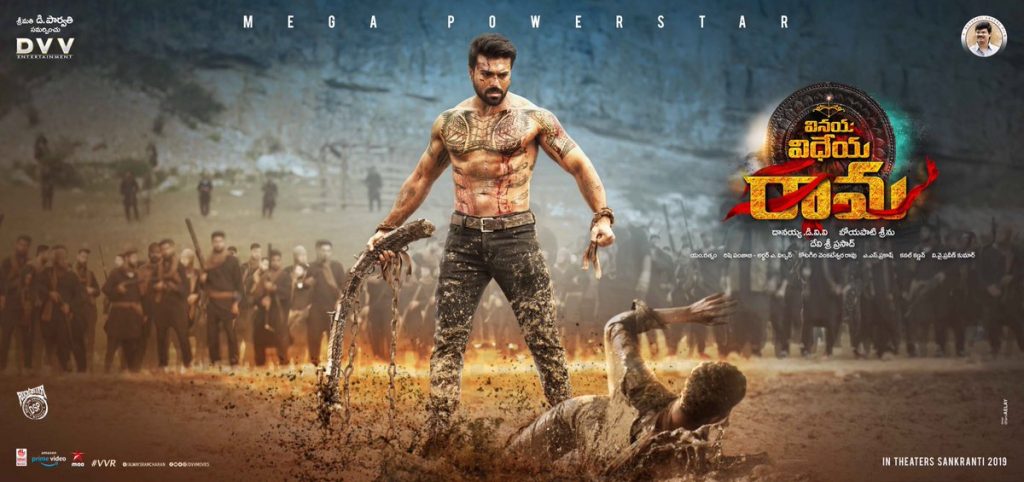 Movie Review: Vinaya Vidheya Rama
Star Cast: Ram Charan, Kiara Advani, Vivek Overai, Prashanth, Aryan Rajesh, Sneha, Himaja, Esha Gupta, and Mahumita
Directed by Boyapati Srinu
Cinematography by Rishi Punjab & Arthur A Wilson
Edited by  Kotagiri Venkateswara Rao, Thammiraju
Music Composed by Devi Sri Prasad
Censor Certificate: UA & Runtime: 146 Minutes
After being a film fan for years, one can easily understand one thing, "How few people prefer to make films?!" We attune ourselves to bring down or rise up our level of expectations to their level. If they prefer to make commercial dramas, we go expecting the same. If they prefer intelligence and drama, we do expect the same. Nobody in this world can expect Boyapati Srinu to make an Intelligent drama, I did not too. But then…
It's a sunny day, I thought. It's another Filmy Friday, I thought. It's going to have a bright light at the end of the dark tunnel, I thought. I just thought I don't have to again go on write an essay about what is a commercial drama and why logic should be important, IMHO. Why a filmmaker shouldn't be given too much freedom? Because while few seem to deserve it, few need a monitor. Boyapati Srinu always needed one and this time the need was evident from the first scene itself.
You can't make a few healthy looking kids act as orphans who are fighting to survive. Then, you can't ask them to act like you, as they cannot have such emotional IQ, at their age. The sensibility, such a sequence requires cannot be found in the person who wanted to show it as part of his movie. He doesn't belong to that world. You can just make them all brothers and this film will not change one bit. In Boya's world an election officer even with the military cannot arrest a local goon, however big monster or powerful, he is. Seems like Boya is stuck in '80s.
Then, the villain has an army of his own, but his ambition is always to live in his own area and be the power there than decide politics in the state and even better at center. Even in '80s villains got bigger ambitions and we could respect them so much that fear their madness, drive to thrive. Paruchuri Gopala Krishna garu, in one of his screenplay lessons talked about Protagonist and Antagonist character traits that really make them satisfying to their terms, Hero and Villain, respectively.
A protagonist can be any person, but a Hero saves the day, becomes desirable and achieves something unimaginable. So, a retired young man (he took an oath to work and educate his brothers but when they get jobs, he decides to cut vegetables and play with kids in the family), can be a protagonist but he becomes a hero when he decides to work for himself and then save his family too from a villain who can't be easily surmounted. We don't get that. He doesn't change one bit even though a slight change is indicated in him as he decides to plead goons to not kill his brothers and family than fight like he used to.
This hint of change should have been the hook. But for Boya, basics are just for those who cannot stretch their imagination. Who can't imagine a hero killing 300 people in 30 minutes while traveling to a deserted place from Gujarat to Bihar-Nepal, yes, you're reading right, and who can't accept a King Cobra dying after biting a person, can just cry about basics and logics.
Tomorrow a Boya hero can just run down from skies like Thor on a rainbow with an axe that can separate 300 heads that 500 eagles can catch in the mid-air and villain with a pistol will and 2 bullets might shoot into a cloud for sudden rain so that he can drink that water and become taller and stronger. Anything can happen and all those people that it is impossible are just not stretching their imagination like Boya. When passion seems fulfilled and ego glasses cover the eyes, all we need is a lazy day of imagination.
Theatrical Trailer: