Pushpa: The Rise ~ Botched Up Egos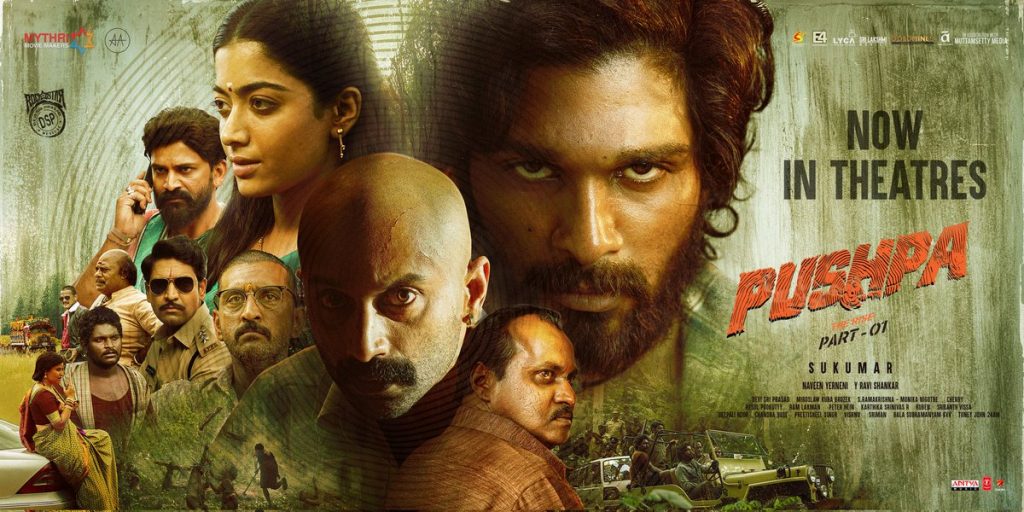 Pushpa Movie Review
Star Cast: Allu Arjun, Rashmika Mandanna, Fahadh Faasil, Sunil, Anusya Bhardwaj, Rao Ramesh, Ajay Gosh, Dhananjay, Shatru, Samantha Ruth Prabhu, Ajay
Music Composed by Devi Sri Prasad
Directed by Sukumar B
Sukumar enjoys tag as the most intelligent writer and director in current Telugu Cinema. Does he deserve it though? He uses popular themes and at times re-writes same scenes in his style. For genre movies, we can say that he has to follow genre troupes but for commercial format films? He manages to come up with a good character arc for his main lead and that is it. If the character works then even the generic arc looks pleasing. If it doesn't then we get most oddball scenes that you cannot expect being made on popular stars by a respected director ever.
Sukumar proved with Nannaku Prematho and 1 Nenokkadine, where he can fall in love with just a concept and then write things around it, even if they make no sense. Pushpa belongs to the same category. Due to the herculean effort put in by lead actor Allu Arjun, you feel like sitting through, otherwise, the director and writer is in his worst possible form, to say the least. The character arcs look generic, the scenes feel like developed in a rushed manner during the shoot. And most importantly, the film comes up with botched sound mixing, bad quality post-production work for a film that says to be mounted on a scale equal to Baahubali and KGF.
The writer in Sukumar follows the character's mindset and he doesn't care about the other characters. Similar characters in a well etched-out film like Vada Chennai (2018) with generic subplots behave better than what Sukumar thinks is right. With more than half a dozen people credited for scripting and script analysis, the movie never feels like it had a proper script in the first place. Chatrapati's first-half story is narrated with a hero who has Dabangg Salman's ego and has a Serial hero's backstory, which doesn't mark for a coherent script. Deja Vu strikes hard throughout the film as we can see the efforts of the lead actor being wasted.
Pushpa doesn't care about the opposition and the number of villains, he encounters seems to increase but nothing that is not seen before appears on screen to show them menacing. We see Sunil, Anasuya, Dhananjaya, and others trying their bit but they don't play characters that really send chills down our spine. The main problem with writing arises just like in 1-Nenokkadine with over-emphasis on hero's journey and hero only. The hero should play a never-before-played role but he should not seem normal. Hence, Pushpa starts off as small daily labour but in ten minutes he owns a car. No other member dares to even give their ideas to the villain about transportation of their livelihood that they risked their lives for. Sukumar goes for such logic less loophole filled detailing just to satisfy his thrust to show the hero differently. Even in Nannaku Prematho when he doesn't have a story to progress, he resorts to scenes that don't really help any character but are full up. Here too, scene after scene story repeats itself and we just witness it over 3 hours. If Bhanwar Singh (Fahadh Faasil) vs Pushpa is the real story then this rise doesn't make any sense to care.
Allu Arjun tried to live like Pushpa Raj and we cannot believe that he used to be a stylish star once on screen. He pulled off some character moments without any shame. He deserves maximum applause for maintaining the character and at times, even rising a few scenes from mediocrity. Still, the writers have come up with enough bad material to make us feel bad for him. Rashmika Mandanna's character feels like one used by the director for song placement and few lighter moments. But it is the lowest low a writer can write for any leading lady. Sukumar never gave proper characters to his leading ladies and here he even slipped a few more steps.
Fahadh Faasil oozed charisma even in a forgettable role. Devi Sri Prasad, editor and Sound Designer Resul Pookutty should be asked to walk us through what they really aimed at doing in several scenes as nothing works. Even popular songs look boring and melancholy on screen. On the whole, audiences are treated like flowers when they wanted to see an inspired lead actor performing like fire under able guidance of Sukumar and the team. All they get is the laziest possible rushed screw-up in the name of a film.