Chandoo Mondeti's Savyasachi (2018) Movie Review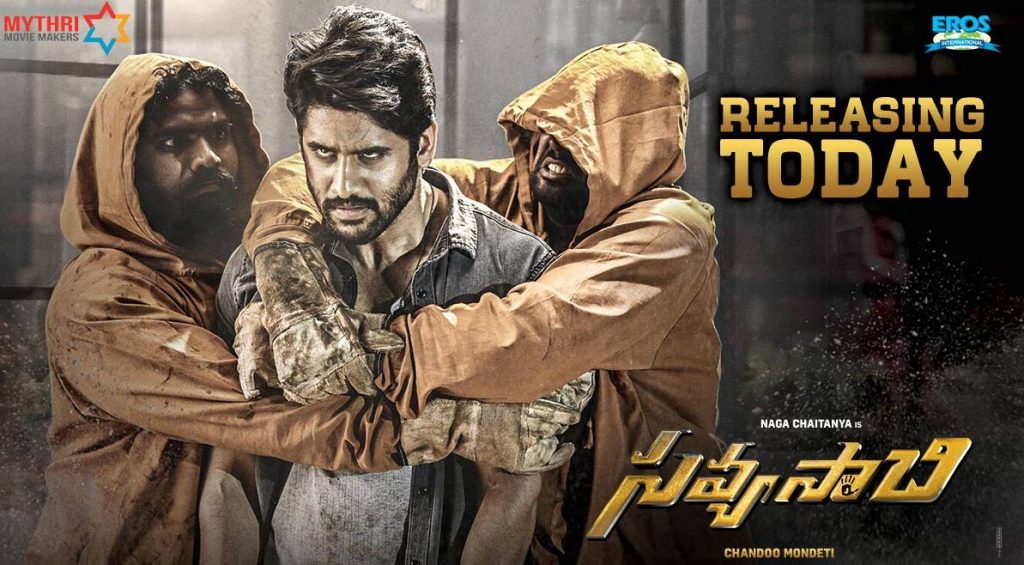 Cast: Naga Chaitanya, R Madhavan, Nidhhi Agerwal, Bhumika Chawla, Vennela Kishore,  Rao Ramesh, Hyper Adhi, and Thagubothu Ramesh.
Music Composed by M M Keeravani
Edited by Kotagiri Venkateswara Rao
Cinematography by J Yuvaraj
Written and Directed by Chandoo Mondeti
Censor Certificate : UA & Runtime: 150 Minutes.
"Siddhulunnavadu Shiddudu kaadu
Buddhi kusalatha unnavadu parama buddhisali kaadu
Thana paridhi erigi pravartinchu vaadu
Thana sthanamu gurthichi masalu vaadu asalu shrestudu…"
"If you can fly, don't look down upon others 
If you can create, use it for creating beauty 
If you can smile, spread happiness 
If you are powerful, then be humble…"
Well, this is not a Moral Science lecture but a simple message that we all ignore even though we do hear the stories of Bhasmasura and A man with Midas Touch. What we think our strength can always be our weakness so, we need to use it as a special power and very carefully. Chandoo Mondeti in Savyasachi started off telling this story and then landed himself in a world of confusion that blasted him into the realm of fan frenzy filmmaking which could have become his Midas Touch but ended up being his Bhasmasura Hastham.
Chandoo tried his best to know if his film works or not as it is. He seems to have feared somewhere that fans will boycott him and the film, if a forced Nagarjuna reference is not made. He thought fans will shout at him if he doesn't give a nod to Chaitanya's image as a lover boy. He also thought he needed Madhavan in over the top character but feared he might eat up space. All-in-all he tried to be so safe that he built his house mid-air without any strong foundation to support it and hence, it remained hanging looking for someone to balance it properly.
You can either be too afraid or over smart to judge what audience need and what will ONLY work rather than telling the story. Here, once again he is too keen on what will work rather than concentrating on the story. Who needs a story? Who needs strong characters? Who needs to expand on ideas like sending 21 people on a trip? Who wants to know what's the specialty of Arun's camera? And who wants to know what Aditya is like? Even though he can be an extension of Vikram, he is treated as a separate person himself. But who cares, just use it for a fight and for some comic relief.
Nobody has a clear idea on what is the Vanishing Twin Syndrome and why there are two different people in one person? In such a situation, you can create fantasy elements that are unique. You can say that the fear of losing Vikram made Aditya more careful and sharp. His awareness should have been the key for Vikram to be vigilante and still, if someone was able to deliver a huge blow, the interest would have increased. The number 21 could have had even more significance but all we get is randomness. No, careful plotting to highlight the unique setup but just a push to bring hand into action.
This whole work of Chandoo looks like he just wanted a safe bet and even actor might have wanted a sure shot hit. But with such a unique premise one can explore many elements than just revenge and even if it is the main theme, the characters could have been much more stronger. Even to have all 64 types of food items on your plate, you need such huge plate too. You can't take a paper plate and hope there is space for mountain of food. When you have to swim in the ocean you can't practice for that in your swimming pool as the challenges will be different.
There was a huge chance with three characters in the film, but none come out as a well-etched and well-defined one. The randomness doesn't stop at heroine suddenly saying it's song time by looking at a rash on hand, it continues from an insignificant C.I. receiving a beating to small girl suddenly falling from railing which otherwise appears well-supported. I can write so much so on but in conclusion, I can tell one thing, Telugu audience have come a long way from songs for the sake of entertainment and family references for the sake of it. The ambition to succeed shouldn't destroy the will to be sincere to story. While Arjuna was Savyasachi he couldn't save his son from Kauravas, similarly, Chandoo wanted a Savyasachi entertainer but dished out a creatively-poor plot that vanished into some other twin who sadly didn't survive as well.
Theatrical Trailer: