Love Today: Dial-in-A Relationship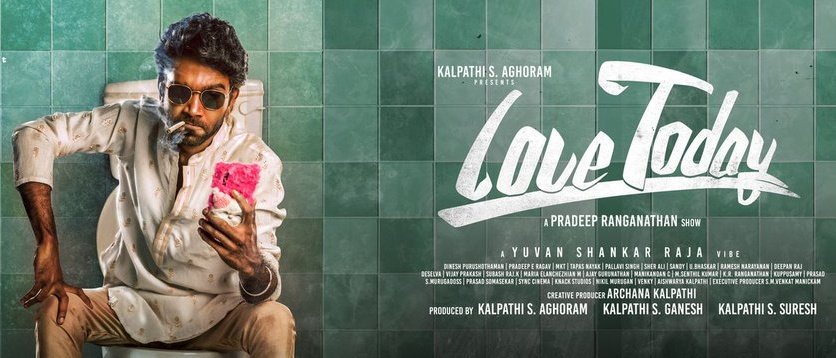 Love Today Telugu Review
Star Cast: Pradeep Ranganathan, Sathyaraj, Yogi Babu, Ivana, Radhika Sarathkumar, Raveena,Finally Bharath, Adithya Kathir, Aajeedh Khalique, Vijay Varadaraj, Akshaya Udayakumar, Prathana Nathan
Music Composed by Yuvan Shankar Raja
Cinematography by Dinesh Purushothaman
Edited by Pradeep E Ragav
Written, Lyrics & Directed by Pradeep Ranganathan
Why would you think people love an actor? Super Star Rajinikanth, Kamal Haasan, Megastar Chiranjeevi, Balakrishna, Venkatesh, Nagarjuna, Pawan Kalyan, and Mahesh Babu have all managed to stay relevant for years while actresses did not have the same fate! Why? From an eye of a female – it is Male Domination. From the eye of a feminist – lack of equal opportunity. From the eye of a filmmaker – People don't like female-oriented stories. From the eye of a cinephile – Filmmakers lack ideas for making female-oriented movies interesting. From those biased – Male Chauvinism and Females are weak. It almost seems like we have accepted to watch everything from a male perspective in films and real life too. Love Today feels like one best example of such film writing and acceptance, a celebration of it all.
Films cannot be good or bad without the people working on them believing in them 100%. Right from writer-director Pradeep Ranganathan to producer to every cast and crew member who worked for the film are interested in delivering a Blockbuster success than the story that needs to be discussed or told. There is nothing wrong with that. KGF or Baahubali or RRR are not made to give lectures or not make money at the box office. Money gives us status, freedom, and at times belief, and most of the time respect from others. But trying to milk everything for money does hurt. Yes, Love Today writing is laced with let's make everything into "Money" shot or "Popular" Meme material approach. Hence, some interesting ideas and information has been lost in that approach. While it entertains in its best moments it also feels hollow in even better moments.
Yogi Babu's character being a doctor and know-it-all needed to be given a positive twist to show how easy it is to judge or joke around without understanding if a person is getting hurt by that. Also, it shows how easy it is to misunderstand when there is nothing to really stress about. It questions if being practical and good also needs to be proved and go through judgemental eyes. But the way it tries to "solve" the issue with one lecture after another so that audience doesn't spend too much time on uninteresting things. And again getting "told" how to behave or see things kills the impact. The trust issue Pradeep's character has seems to crop up suddenly when he seems to be the most gullible and easy-to-manipulate person at least from his point of view in the relationship. While the lady seems completely manipulative and here, the writer gives the reason subtly but again doesn't resolve it. The reason for her to be so secretive is her "Father".
Is it the respect that she has for him, that makes her do things that please her yet not let him know? Is it a behavioral disorder? As a male, Pradeep in this film says, "Trust her and nothing will go wrong. It is almost like every religious book saying, "Don't doubt, just believe." When Krishna says, "Question, gather and acquire suitable knowledge for the job and then believe and trust." So, should the father be friendly or be strict or be doubtful, or be himself? There is no right answer to it, hence, even father comes to the hero and says, "when even I did not trust, you did." This means I failed as a parent but you passed as a husband or lover. Balachander brought up this issue of change-in attitude and trusting a person in non-trustworthy circumstances in his films but never ended up giving an answer. Here, Pradeep's answer is "Trust". Leave the things as they are and give them "time" to grow but then such time doesn't seem to be given to Heroine or Hero to grow out of the issues that "Phone Exchange" has created.
One night, when things go down South, suddenly, she is cleansed and he is accepted with all the red flags raised. Being friendly with exes might not be a red flag but giving an impression that both are still in a relationship is one. Someone among the two must have understood that. Having a boy bestie can never be wrong and each of them having similar interests cannot be wrong too. But lying to be with him or giving him more respect over the person you love in a situation when the opposite is right. That's a red flag. The heroine shouldn't see the hero as a "God" who trusted her when the world is against her but she needed to see him as a person, who had an issue but never let that become a problem between them. From Hero's side too, he lied, tried to have "flirtations", broke trust by saving "intimate pictures", created fake accounts, never harassed but been part of such group, and then never completely "trusted" anything. It is he who gets the trust lesson and through him, she.
Because Radhika's character comes out and says that even if girls go out with 100, they only get physical or intimate with the one they love, which ends the issue of thought process and lying. Father accepts that Pradeep proved to have more trust in his own daughter, hence it ends the discussion about him doing murky things. Pradeep on his part showed how girls are harassed on social media every day and what impact that leaves on them. It needs to be appreciated. Along with it, a few comedy scenes and heartfelt conversations have been handled maturely by the director. As actors, he and Ivana did not seem too fresh or too seasoned. Ivana has a cute smile and expressive face, hope she proves her full potential in the coming films. Pradeep Ranganathan as an actor though might suit for a few characters and author-backed roles. Writing-wise Yogi Babu might always be thankful to him for Comali and Love Today. Framing wise Cinematography is good and staging by the director needs to be commended. Yuvan Shankar Raja has been in peak form in this audio as all songs suit the theme and also became a hit. While there are things to love, the filmmaker's attitude towards filmmaking that everything should "Mint Money" and give me a "hit", does limit the film to being a forgettable fun film. It raised issues and then asked you to forget about them while vibing to "Pathu Rooba Bettu Paathu Padam Hittu".
Theatrical Trailer: Love Today Telugu Review