Trivikram Srinivas's Aravindha Sametha (2018) Movie review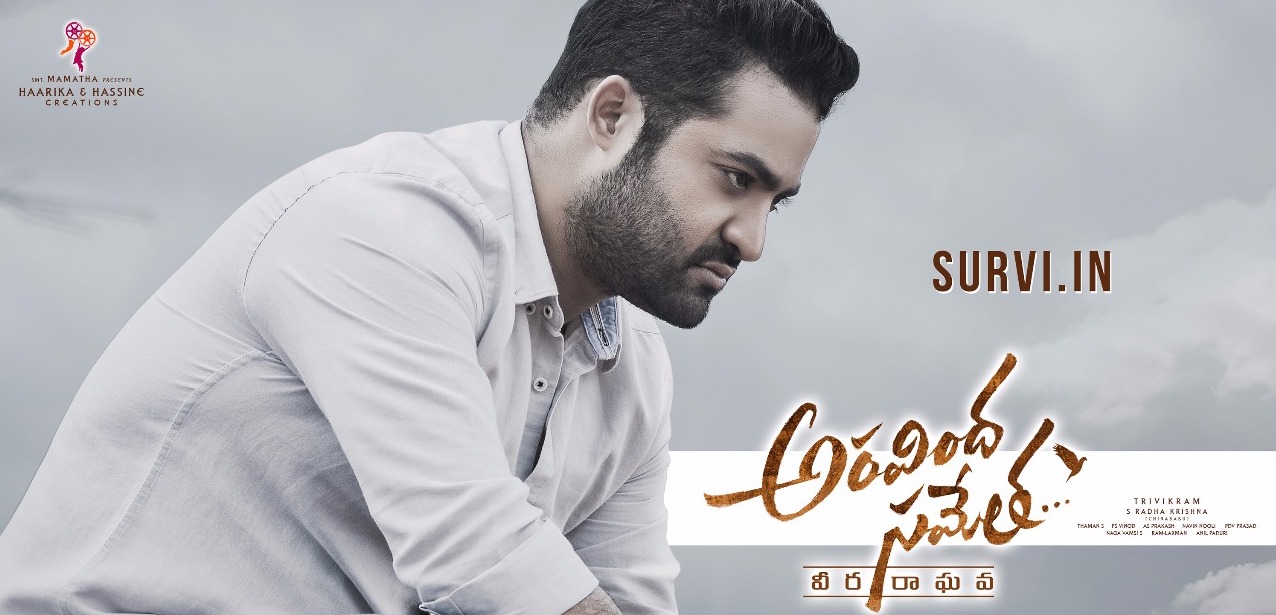 Star Cast: N. T. Rama Rao Jr, Pooja Hegde, Jagapathi Babu, Naveen Chandra, Eesha Rebba, Nagababu, Rao Ramesh, and Supriya Pathak.
Music Composed by Thaman S
Cinematography by P. S. Vinod
Edited by Naveen Nooli
Directed by Trivikram Srinivas
Censor Certificate: UA and Runtime: 167 Minutes
"Ekantham oka gynapakala dontera sukham ganu undanivvadu ee vishayam thochanivvadu…
Ido vintha manam daaniki bali santha!!"
(Loneliness throws you into a well of memories that will never let you be happy or let you find any solution. Somehow we are just addicted to it when we are in the abyss of problems…)
Why did you say this now?
In a review that talks about Trivikram's Veera Raghava, I felt the first word I should say is Loneliness and address that aspect more.
Is he so Lonely?
Before he got introduced to us he was a kid of a faction lord who went to other places for his studies. He is like any normal guy.
Wait there, how can you say he is a normal guy? Did Trivikram show you an extra reel or scene that we missed?
No, he hinted. Like he did in Khaleja. In that movie, the story is about a village that needs one man to come and end their bad destiny written by a selfish man hungry for money. A common man who can dare to react and who has enough know-how, mental and physical strength to fight such a big MAN, is needed to stand for them, as that person is even able to determine the actions of Government and control it. So, even though he is a common Taxi driver he is the God for that village who could save them. Trivikram did get deviated by adding too much comedy to a serious subject in that film.
In this one, Veera Raghava's village needed someone to save them from the feud that is killing them. That is determining the futures of their generations.
And is Veera Raghava that man?
No not until, he establishes his power and command. With one fight, he establishes how powerful he is and what kind of an animal he can be. A good person turning into a bad one is more dangerous than a real bad one. Even if he is killing to save someone, he is still a killer. He has to bear the burden of their cries, their women's anger and the realization that he can be such a ruthless and bad person, that he could kill someone. So, Veera Raghava is a lonely person who has to bear all the burden of his anger and his actions.
Continue…
Well, Trivikram Srinivas does come up with a lot of pointers that tell us to look for deeper meanings and inner layers. Here a lonely Ugra Narasimha needed his Chenchu Lakshmi to become Vishnu again. So, his search away from the house is to find himself again who got lost in the anger. Who is stuck at finding a way to end the anger and inner turmoil that overwhelmingly consumed him. So, his identity crisis lands him in a place where he meets his Lakshmi who could direct him to become a human again.
The problem is such a humane story, Trivikram could not find a right balance between enjoyable funny episodes and intense scenes like he did in Athadu. Maybe as he went into exile for Agnyaathavasi, even he might have had to travel like Veera Raghava to find his Vani again, an alone battle. Some battles are won and some are lost while some end with a draw. This time, he found a compelling draw for his own battles with the demons that pushed him into the abyss of exile and hence, he seems to be able to write better and connect better with Raghava. He is indeed Raghava who lost his strength as a writer in box office battle and found him slowly. Even in short sprinkles, he managed to water an entire barren land.
Is this any different from other faction movies?
It is. In Samarasimha Reddy, the crude factionist transforms because he did a crime that he recognizes as one. He is happy to kill hundreds of his enemy gang members but understood how painful it is to be the killer, even if he is not directly responsible, of a person close to him and what aspirations he might have killed with it. Narasimha Naidu sacrifices everything for his people and their well-being but ends up knowing the importance of living for himself too when his wife dies and another woman does an unthinkable. But Veera Raghava's journey started only after he became an animal. That is the reason he ends his planned journey abruptly more like forcefully as though destiny saying find a solution to this feud first. So, he is a solution to the issue who needs to identify himself as one and take that responsibility as no other is willing to. In other cases, faction lords move away from faction to let the land be in peace and their journey is all about them correcting mistakes or letting people understand their worth. Here he needs to let go off the burden to be able to tell a sorry to his enemy even though he can choose to kill him.
But the whole point seems to be the same in the end?
Yes, for a faction movie the aim is to always end the feud. But the other films are majorly heroic legends of the characters while here the issue is to find a solution and not about a legendary person.
Did Trivikram really deliver his best? Or do you want to make it sound as such?
I am no one to make a good movie sound bad or bad one good. I am just an observer sharing my observations.
No, Trivikram is not at his best. Rather than showing he believed in conversations and he wrote them, executed them well. He used to be very good in creating comic situations and giving those characters meat. While the idea is there to flesh them all out and give them all purpose, his usual tinge at making it a satisfactory comedy is missing. He needed to deliver better jokes. Also, even though he connected the romantic thread well, he couldn't make his audience to connect to it completely. Hence, we connect to intense sequences but not romance. The romance lies in each other becoming a part of other's life without them realizing. This thread should have been dealt better with some more scenes dedicated to them than unfunny comedy scenes that hinder pace. Still, Trivikram packed so much punch in the scenes that worked that you tend to say, try your utmost best next time Guruji.
So, finally...
This Hero is indeed Anjaneya as his mother Seetha's pain only could cool him and wake up Rama who is sleeping as Raghava in his heart. Even though Thaman literally killed few sequences impact with his BG score and Naveen Nooli couldn't really deliver a smooth cut, there is enough evidence that Trivikram and Jr. NTR have put in their maximum efforts. About Thaman, he just used pastiche scores on loop again and again. Someone needs to tell him, work hard for freshness please and stop loops. Trivikram anyhow did not fall into the traps of commercial cinema and as much authentically as he can narrate his lonely man's story. Hope he also finds his Vani for good, otherwise, he may go back to unnecessary comedy tracks again and again in a loop like Thaman's BGM.