Venkatesh Maha's C/o Kancharapalem (2018) Movie Review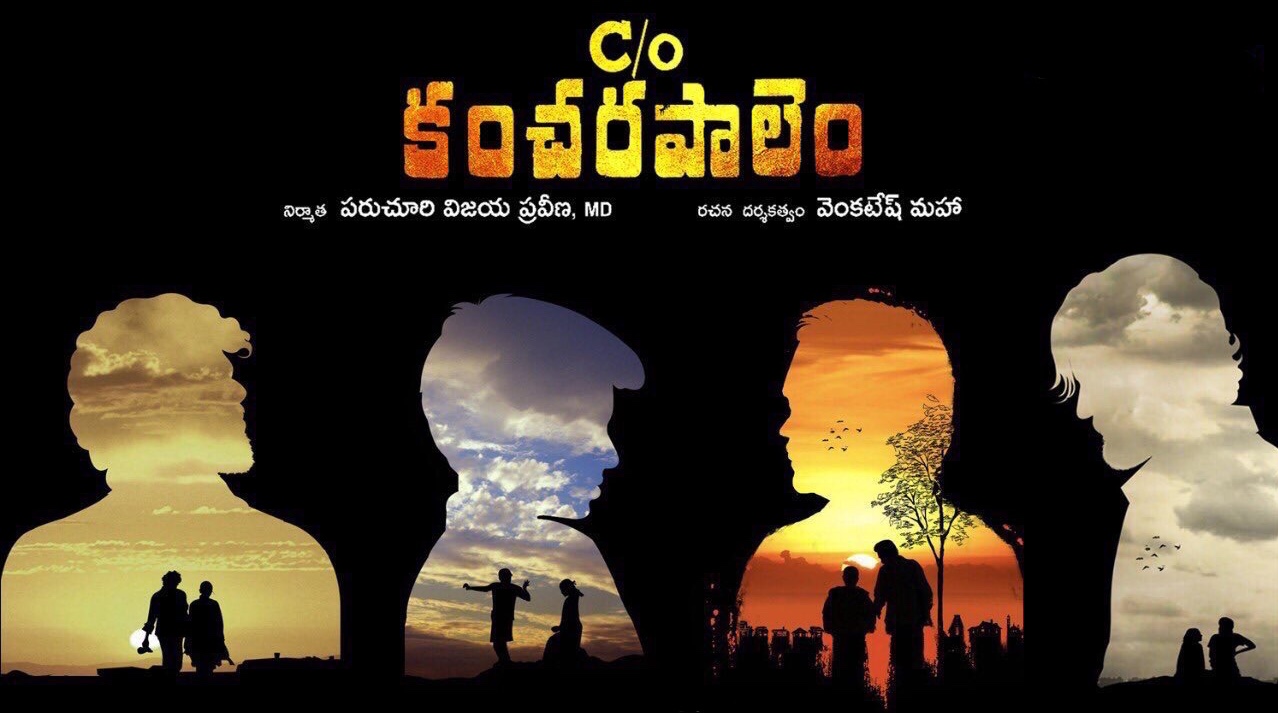 Star Cast: Subba Rao, Radha Bessy, Kesava Karri, Nithyasry Goru, Karthik Rathnam, Praneetha Patnaik, Mohan Bhagath, and Maheswara Rao
Music Composed by Sweekar Agasthi
Cinematography by Varun Chaphekar and Aditya Javvadi
Editing by Ravi Teja Girijala
Directed by Venkatesh Maha
C/o Kancharapalem (2018) Movie Review
"I'm omnipresent.
I have no birth and death.
I flow like time and can take any shape.
I'm everywhere.
Don't search for me somewhere in the space or on the rocks.
Search me within you… I'll be there.
Waiting for you in any form you wish to see me."
The real meaning for the above verses can be interpreted by many in many ways but as Krishna says, "Everything is me and you can find me in everyone." We have to just believe that we are here in this World to survive and enjoy life than impose ourselves on someone else. Who knows at what turn we may disrupt someone's life with best of intentions, possible. C/o Kancharapalem (2018) Movie Review.
Care of Kancherapalem writing belongs to the novelistic levels of Vamsy, who wrote Maa Pasalapudi Kadhalu and Ravi Sastri short stories. There is a slight surprise awaiting for us like an O. Henry short story but at the same time, the execution has its own shortcomings that we feel like enjoyable for one moment and then dragging at the next moment.
Vamsy who is an expert in handling multi-layered storytelling, took comedy as his major tool to establish characters and his timing let us enjoy the movie even though it seemed like a simple story. We feel a purpose being served in his films without a doubt. But when it comes to Maha's handling of the situations and circumstances (Keep a keen eye on art, colors, and subjects that fill frames), he tried to induce drama in a dry manner that at times works like gold and sometimes falls flat.
It falls into the space of docudrama while it is trying to tell a complete dark comedy story with great serious problems of society addressed at every nook and corner. This film is enjoyable no doubt about it. It keeps the proceedings enjoyable but after knowing the twist at the ending, we feel like we have seen it and don't have to re-visit again and again to relieve those moments.
There are serious questions raised in a very subtle manner like how religion has become a point of our pride and it stops us from really understanding the deeper meaning of life, that is to love ourselves and be friendly with anyone and everyone that touches our soul. But society tries to differentiate in the form of caste, creed, religion, pride, age, financial status, and occupation. Rather than being inclusive and friendly, we try to spread hatred among ourselves by division.
A person can't try to use someone else's desire to make their living even though it is not completely illegal. A religion and its ideals lead to the death of an innocent love and a chance of better living in the hands of extreme believers. Another Religion with its aggressive promotions to spread across the World indirectly kills the strength of a rebel and another bidding love in the form of hatred and resistance from other religion. Even though everyone belongs to same religion, even though the work is all about God and celebration, the belief in perfection and love for money, kills an artist.
The story is also a soft take on God vs Man. A concept that we all discuss and come across sometime or other. We are conditioned to not question but believe. Even Snow White waits for true believer in love than rationalizing. Well, such kind of conditioning made us not question about any tradition that seems irrational and any ego that kills the fun. We just have to accept it and move forward no matter how much ever it hurts. But the belief in a person, fellow human, can really make us feel strong yet we just believe in eternal being and hate in his or her name.
Very deep hidden message in a movie that feels simple and easy-on-eye. Like a bird searching for its right nest and best place to live, even the director and lead character keep shifting our focus from one issue to another. The cohesiveness is there in writing but as it is twist driven until it happens we feel that we are just asked to witness some hard work of craftsmen rather than completely involving us into it. Yet, Maha did a praiseworthy job for a debutant. Had he cared to keep the proceedings even more enjoyable with so much stuff thrown at us like Raj Kumar Hirani, this movie could have been C/O Cult, now as the movie tries, it is just C/O Commendable Attempt.
Theatrical Trailer: