Chinna: An Opaque Repercussion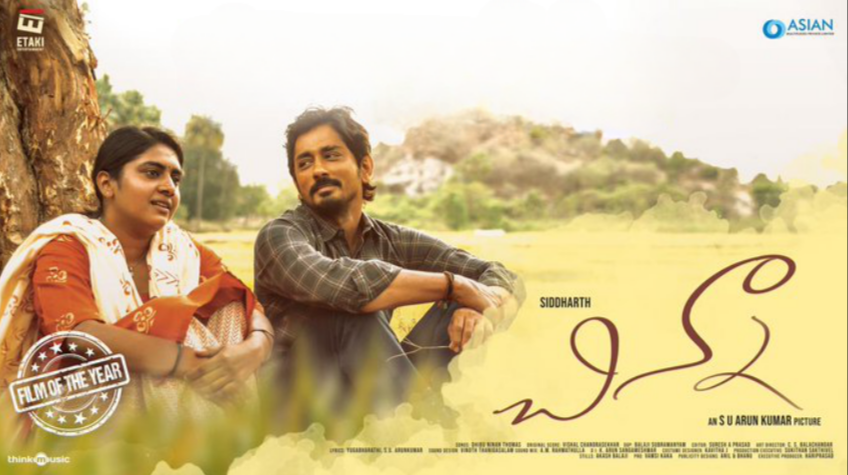 Star Cast: Siddharth, Nimisha Sajayan, Anjali Nair, Sahasra Shree 
Music Composed by Dhibu Ninan Thomas,  & Vishal Chandrasekhar
Edited by Suresh A Prasad
Cinematography by Balaji Subramanyam
Written & Directed by S.U. Arun Kumar 
A Society is a reflection of humans that live in it.
We cannot discount the fact that we are in a society that reacts late and is lousy until there is a personal disturbance. Yes, there is a high ground or there is nothing mighty in stating the fact. Unless we are hungry, we won't go on a hunt for food. Unless we are challenged, we don't have to prove our skills. Unless we are triggered, we don't have to talk about our opinions in a defensive or offensive tone. Unless we are worried, we don't have to bring in measures for a change. Sometimes, as a history enthusiast, I read about Indus Valley civilization, visit old architectural wonders, and wonder, ironically, how come all these skills have disappeared from our DNA. Why we have started thinking like victims and why we did not get to know that these skills have a higher value than what we learn in today's day and age? Of course, being able to figure out that clean water canals should be different from sewage canals is as important a skill – common sense – as learning to be able to write a program to find our phone, if we ever lose it or misplace it. It is as important to have common sense that if I hurt someone my conscience will torture me as to be greedy enough to earn and learn something. Greed is not a bad emotion until you are not hurting someone and it is not a bad emotion until you and people around are benefitting from it. Similarly, it is important to build a safe society with equality and fearlessness.
Chinna talks about the same in an intriguing fashion. You are not asked to feel for someone. You're more or less asked to hate the main character – Siddharth for doing what we normally think is right. Yes, in fact, it questions us to think deeply about creating safe heavens for our loved ones by not being toxic. This might sound, cliched, but "Love can only create love while violence will always create destruction." Let's just think for a minute – why would religion creators of Hinduism decide to say Vishnu and Lakshmi are symbols of prosperity and love while Shiva and Parvati are symbols of calm and raw emotions? When we talk about Vishnu, we look at him as a person having a helpful and prosperous life. There are seven doors that we should cross to get a glance at him. He is so rich and crafty that he can afford to build his home on the sea. In fact, he can marry the daughter of the sea or Samudra dev, and so brave to sleep on a floating giant serpent. Lakshmi represents every prosperity in life and she serves him while he serves her. On the other hand, Shiva stays in a lonely place, when he is angry he dances in Cemetery. It is hard to control him when he boils with anger and he can destroy anything in his third eye's sight. Parvati is also calm until triggered and she can become Kali, if challenged. Ever wondered, why this distinction?
It is like two types of emotions in our life. When we are brave enough to take chances, we might find courage in ourselves to sleep on a serpent and be relaxed. At a young age, we don't have that much fear or worry about tomorrow. Maybe we are asked to live like Vishnu and learn this fearlessness from our younger selves as we grow up. Shiva represents our good and bad anger and our more mature selfless self. We are thinking about channeling all our live's wealth of knowledge and controlling our emotions. But when everything reaches to the brim, we tend to destruct everything. Maybe we are asked to reflect upon how Shiva is controlling with all his might the ability to destroy to allow construction to bloom. At the same time, we have Brahma, who is constantly in pursuit of knowledge and creation. And his wife, Sarawasti, represents every knowledge that you can ever learn and earn. Even in her companionship, he experiments with new things and learns and then creates some more. Maybe we are asked to never lose the penchant to learn and evolve.
In Chinna, Siddharth goes through every emotion that the Trimurti of Hinduism represent. As a god-father, he has to create a safe haven for his brother's kid. While he evolves as a human, he has to learn and unlearn what works and what doesn't for his responsibility, almost like Brahma. Like Vishnu, he has to construct his house and possible future on a floating serpent-like society where if we lose control then there are serpent heads that can cause trouble. This serpent floats on the sea of desire, greed, bad habits, and unreliability. He has to find his Lakshmi, by going deep into this sea and finding the one that doesn't get affected by them. Now, the part where he has to become the judge, the executioner, the destructer, his rage is not benefitting anyone. Rather it is killing his own Parvati and even forcing him to let go of his responsibility. Well, our mythology says – that Lakshmi, Parvati, and Saraswati are unitedly the same force and hence, equating one with another as per situation and context should not be unnerving. It is in fact natural. What does he learn in the end, his responsibility cools his anger and rage and his Parvati also helps him to see the bigger picture. He looks to again become Brahma. Chinna Review
Siddharth in this movie is good like he always has been. His sense of understanding sensible cinema and reacting to the scene will be wasted in overtly commercial cinema. Hence, it would be great to see him sticking to these kinds of films for at least the time being. Nimisha Sajayan and the child actors are delightful. The scenes involving a kid reacting to trauma and being able to recover from it to understand the difference between love and lust is greatly portrayed. It is the elderly who fail to really see the difference. Someone with a pure heart can be supportive and at the same time touchy to express their emotions. You have to be able to differentiate between the both. But society has become such an Opaque repercussion that we fail to understand what is a real freshwater canal and what is sewage. We fail to reflect upon our actions and have grown so insensitive that we rather react and get rid of our rage than reflect and be like Vishnu to deal with the consequences. We just tend to create more troubles for us without giving a thought about what really transpired and what really is required at the moment. As a film, the simplistic premise of Chinna works, the ensemble cast gave good performances. But when we see the whole picture, it fails to give a solid emotional core to really revisit it again.