Baby: Age-ly Wilderness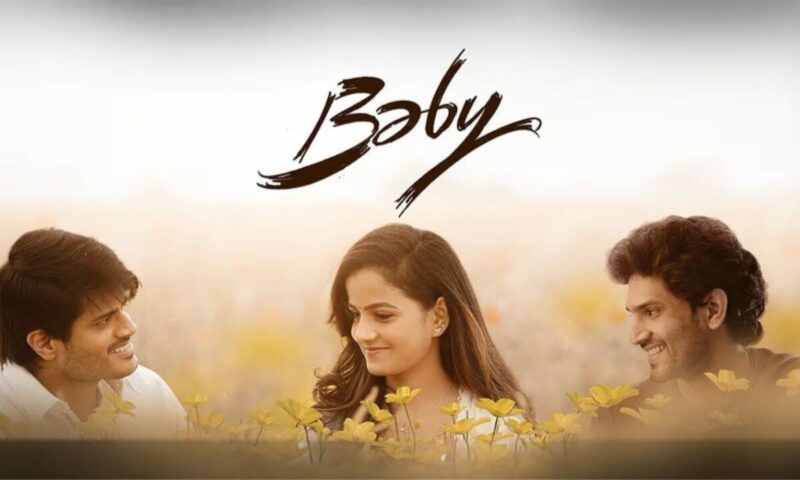 Baby Movie Review
Star Cast: Anand Deverakonda, Viraj Ashwin, Vaishnavi Chaitanya, Naga Babu, Harsha Chemudu. Baby Movie Review
Music Composed by Vijay Bulganin
Cinematography by Bal Reddy
Edited by Viplav
Written & Directed by Sai Rajesh
Rating for the Senselessness: *****/5
When we think about first love, we go into a happy place of memories. Being that "innocent self" that had been lost to "Matured Settlement" gives us some kind of assurance that the self did not die, yet. Yes, the hopes, the dreams, and the emotions of first hug, first love, first kiss, and first "lust" don't leave us ever. But then when makers of Baby wrote, "First Love never dies but stays deep inside our heart in a grave (మొదటి ప్రేమ కి మరణం లేదు మనసు పొరల్లో శాశ్వతంగా సమాధి చేయబడి ఉంటుంది). Keeping the Google quote-level writing aside for a bit, don't we put dead people in the grave? If something is in the grave how come it can be alive? Better Telugu writer would phrase this as … "తొలి ప్రేమ కి చావు లేదు. మనసు పొరల్లో ఒక అందమైన జ్ఞాపకంలా నిక్షిప్తమై ఉంటుంది. " – First love will never die but stays alive in us as a treasured memory! Even if it pains us to think about the person we thought we would end up with and did not, the weight of those emotions and promises leaves us with a smile on our lips. We still hope for things to have worked out as we wished they would. If First Love doesn't leave you hopeful but bitter and lifeless, then you need to raise above and beyond the bitter ground to learn and bring hope back into life. But Baby makers tell us to wallow in the endless abyss of self-pity and lifelessness.
Why would I conclude that? Screenwriting basics state that we should start our first scene with the character from whose perspective we are telling the story. While I doubt Baby makers understanding of that basic, as they started with Anand Deverakonda's character finding peace in being lifeless and then ends with him writing a message, "అమ్మాయిలను నమ్మి చితికిపోవడం కన్నా చచ్చి చితికి పోవడం మంచిది" – Rather than believing in women and losing everything better to die and lose everything. So, if a person gets cheated on or fails in first love, he or she should turn bitter, lifeless, lose motivation to live, and start spreading hate towards him or her. What a message! If you have seen Hridayam [2022] movie, it talks about the same first love failure turning an Engineering student into a bitter graduate and his redemption of finding love again and gifting life to his first love. Isn't it what most humane relations or love-filled relationships do in the long term? Even after a few years, if you wish bitterness on your first love, are you growing? Are you human?
I am not saying we need films and songs of 1960's like "నీ సుఖమే నే కోరుకున్న … అందుకే నిను వీడి వెళుతున్న" (I wish happiness upon you hence walking away from your life). See, even in the 1960's people had heartbreaks and cheating partners. Not trying to say Baby needed to showcase something new in the "cheating love" perspective. Ranjhaanaa [2013] showcased a first love that turns into an obsession for the man and revenge for the woman. Kuch Kuch Hota Hai  [1998]showcases a woman accepting her first love/friend back into her life even after she knows he is no longer a "virgin" and the father of her deceased friend's kid. Then there are Saif Ali Khan's Hum Tum [2004] and Love Aaj Kal [2009]. Both talk about not so "virgin" individuals learning to love and seize opportunities when they meet the right person. Another film "Kumari 21F" talks about being "forward & bold" doesn't mean a girl is ready for "prostitution" or should be treated as a "prostitute". At the same time, RX100 [2018] talks about the lust of one person being mistaken for love by another one. In all these films, there is clarity of thought between flawed decisions and strong characters. Baby has monologues filled with Google quotes but nothing concrete to name as a "characteristic of a character".
Ok, the girl is materialistic like her mother. But does her mother go around the city finding "friends for gifts?" If she thinks that is fine, then why the father who is able to smell the free fall is not protective or proactive enough? In what world do "basthi" people okay with a girl walking around in costly short clothes? Because the writer showcased Anand as the representative of that "Basthi" mindset and Viraj as the representative of that "High class" mindset. It is almost like the girl's swing between her "basthi" (lack of) values and "High class" (un-glee full/ unwilling) aspirations. If you want to write a character that is flawed and divided between aspirations and values, take Dil Se [1998], the woman lead character is written as a person self-centered and a representation of destruction. Yet, we understand why Aman(SRK) wants to be in love with her and is obsessed with her. He feels his love is fulfilled if he dies with her than when he lives without her. Same writer-director wrote Geetanjali [1989] and said, "It is better to find hope to live than worry about the volume of days to live". Aren't those "realistic" love stories? Didn't they convey hope and destructive obsession without resorting to "name-calling" and "labelling"? Why should a boy who is in love feel okay to be possessive? Why should a girl accept abuse in any form? As I know a friend who still regrets an action in anger against a loving lady, I know how it feels to not be able to forgive yourself. Baby makers never show Anand dying inside for hurting his "true love" with words. He regrets his actions only because he can't live without her but not because he has done something wrong. If he thinks she did something wrong, then he would give her a chance to explain herself as she felt it is better to die than face him or his wrath or society's wrath. Looking at her taking such an extreme step, he still thinks about her "mistake" than knowing the reason behind it. Because she is "His Girl". His Girl is defined as a girl who is a "virgin" for him but not by a person who "lives for him and lives with him". What if someone raped her or even Viraj himself took advantage of her in an intoxicated state thinking she is "His Girl"? As per Baby Makers, if someone thinks a woman is his girl then she can be treated in any manner. She can be threatened to kill and it is "love to stop yourself".
While Sita from Ramayanam is full off good qualities this Baby makers' Sita is representation of everything opposite. Irony might just commit suicide somewhere, tell it that it just doesn't end here. But the boy who claims to love her doesn't try to ask her why she wants to throw him away by "sleeping with him". He doesn't doubt for one moment even why the person whom he claims to truly love has been pushing him away. He doesn't even think a second about why she is desperate and how can a "commercial" girl throw all his "gifts" on his face but not accept his "marriage proposal". Even the dumbest person on earth when gets hurt and is clouded by emotion tries to question at least once. Also, when he is able to know that a girl is a "virgin" then why is he unable to understand having a boyfriend might have made her push him away? Why is he and Anand, true lovers fast to judge her as "prostitute" and "gold-digger"? How come their "love" and "lust" are right and her "actions" are that of a "gold-digging opportunist"? If being a virgin is the criteria for being pure, then why Anand always asks her to let him kiss her and hug her? So, "His Girl" can get physical with him and go to any extent but a misguided "His girl" cannot come back into his life. And that person ends up giving us a "message". That person's perspective becomes the ultimate story and screenplay driving force.
Baby makers got into a manipulative take on Teenage love where aspirations and desires push people into the wrong directions. If Teenagers cannot learn from their mistakes and move on, then how come that life is inspiring enough to be shown on the big screen? People who make films are expected at least give morality and moral obligations to characters that common people do go through with. Baby makers just went with a confused take on love as how confused "screenplay" you make that big a "cult" you become. Vaishnavi Chaitanya is good as an actor and hope she is not remembered as "Srujana Tinnavara" saying "Baby prostitute ra". While the makers might have thought they are representing life, they just represented an "amateurish society with no moral values". The story could have been about people who lost themselves in "Age-ly wilderness" taming it and finding themselves back as that leaves you with the hope and smile that "First Love" brings after an age. It just ended up being lost in the wilderness and we ended up with "Cult Imposters".
Theatrical Trailer: Baby Movie Review
Baby Movie Review Baby Movie Review Baby Movie Rating