Veera Simha Reddy : Gravitas of Emotions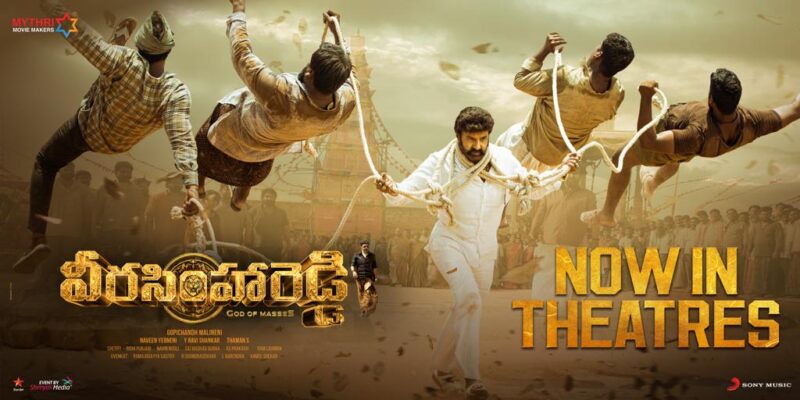 Star Cast: Nandamuri Balakrishna, Shruti Haasan, Honey Rose, Varalaxmi Sarathkumar, Duniya Vijay, Chandrika Ravi, Lal, and Naveen Chandra
Edited by Navin Nooli
Cinematography by Rishi Punjabi Veera Simha Reddy Review
Dialogues by Sai Madhav Burra
Screenplay & Direction: Gopichand Malineni
"Athi Sarvatra Varjayeth!"
Keep the above quote in mind. Will come to it in a moment.
I know whenever I talk about the coveted "mass commercial formulaic" films from Top Stars, those who follow me get upset. Or many have formed an opinion that I hate such action-heavy cinema. The reality is different. I have grown up with Telugu Cinema being at its peak in delivering commercial action formula cinema day in and day out. All I ask for is quality in writing and not just making. Keep this also in mind, while you read. These words are for those who think I have the luxury of time and money in my life to go to movies in the wee hours and regularly to just spread negative word about them. "I try to make my point clear by writing why I felt a movie did not work and what happened according to me." Counter it with the right examples and we can discuss it. If not, then ignore me. Kindly, don't keep telling me that I go to movies to spread negative WOM.
Jai Balayya! Jai Jai Balayya!! – These slogans have become common for Sankranthi so much that I thought last year, it is not Sankranthi yet, as no Balakrishna film has been released. This year though, the Telugu Festival box office opened big time with Balakrishna's film, Veera Simha Reddy. Love the commitment shown by Nandamuri Balakrishna, at this age to reduce his weight and act in action sequences, so actively. Look-wise, Veera Simha Reddy's old getup is the best in the last decade for him. Young getting up seems to be forcing him for some reason. Why cannot a hero be old and still pull off being a commercial star in a big action film? Maybe, our filmmakers should start addressing this. Many might have felt awkward to see even NTR, ANR, and Krishna kind of big stars and great actors in their 60s, trying to play young. Why should we force our next-generation seniors to go down that same path? I say this because NBK as Veera Simha Reddy is more believable and Akhanda is more visually appealing than in younger get-ups in both films.
Varalaxmi Sarathkumar and Honey Rose made the emotional scenes more convincing to watch. Their presence and acting abilities do promise us better roles for them and they will pull them off too. Shruti Haasan might have given up on acting beside younger actors but she still has the energy and screen presence to be a commercial heroine. Just let's hope she is not reduced to terrible characters like one in the next one. There is a surprise character in this movie and that belongs to a young boy. It is actually, his revenge that forms the crux and core of the story. In fact, at every important moment in the flashback, his presence seems to be inevitable. Gopichand Malineni gave this character to his son and the young boy did his best.
Now, let's get down to our main discussion, Faction films are nothing new for Balakrishna and Telugu Cinema. We have seen him in Samarasimha Reddy, Narasimha Naidu, Simha, Legend, and many more films pulling off such roles convincingly. But an overdose of mass stunts and high voltage action with build-up has gone too far in this film. Almost to the extent of Palnati Brahmanaidu, where the infamous train going back scene has happened. Here, he kicks a car that is stuck in the sand, slides 100-150 meters to save a falling tent roof, he kills hundreds of Men in fights with no respect for gravity. Well, let's not get into gravity and fight after fight as they have almost become synonymous with his films but sliding and hitting a car are just taking the heroism too far. The believability factor needs to be addressed in Commercial films (take his earlier faction films as example) as well and we cannot just execute anything and say believe it as it is being pulled off by a hero with a huge image. Maybe it is time to get creative in bringing believability and then adding heroism to it than just pulling off some improbable stunts.
Shri Krishna as a youngster killed Kamsa and this angered Jarasandha, who cannot be killed by him. So, Shri Krishna never tried to kill him but annoyed him, played with him, and never let him win. There is a fun element in Jarasandh and Shri Krishna wars. Jarasandh attacks 17 times and in 17 different ways, each time increasing the risk, and every time Krishna without killing him, defeats him. While Duniya Vijay's character seems to have been inspired by this thread, but the makers did not bring that risk factor, or fun factor to his attacks on Jai or Veera Simha Reddy. It just feels like he comes running at him with a new bunch after bunch and Veera Simha Reddy sends them away without being tired. But for a watching viewer, they don't add up anything else than give headache and fatigue.
With the amount of running he did and the beating he took from Balakrishna, Duniya Vijay might just take out on a few more villains in his next films as a hero. I pity those poor souls. Coming to the writing part, there is nothing new and in fact, everyone in this movie seems to be okay with pre-marital or extramarital affairs. The height of it is Veera Simha Reddy convincing another family about this relationship that otherwise many think of it as an illegal affair being a long distance "marriage" and then the son also accepts it without much problem. Maybe the writers live in a world that is so forward but even in western culture, such relationships do have troubled children and face lots of social discrimination. People look down on them and this fact of their leader having a son out of wedlock, doesn't matter to his followers the son takes over his father's responsibilities, and the faction accepts.
Veera Simha Reddy's plot has many threads but none of them are touched on. Here we can bring the first quote – "Athi Sarvatra Varjayeth" and say everything went over the top than planned and execution doesn't convince us one bit. They are brushed under the carpet. A Son and father who never net in 30 years don't find it awkward to connect. A relationship that is deemed as "illegal affair" doesn't crave for legitimacy. While in the same story, a villain keeps attacking Veera Simha Reddy again and again, because his wife did not allow him to touch her for 30 years. You know relationships are complex and each one has its own story to unravel but these kinds of characters seem to be living too far away from our "socially confined logic". As the director doesn't want you to stress on them, he creates a scene for the fight and then another one for elevations using the same relationships. Had there been scenes of awkwardness being addressed, had there been scenes of sister spawning hatred among villagers too or scheming things to use illegitimacy to corner her own brother, things might have been far more interesting. Unfortunately, this film just feels like an excuse excel sheet framed by the director asking writers to fill in gaps between fights with some scenes.
If it boils down to the sister killing her brother ultimately, why can't she try it herself and fail? Then go out of desperation to Duniya Vijay or Pratap Reddy? Why can't a lady ask Veera Simha Reddy to marry her and then leave him for his decision to not have a life that his sister lacks – "a happy marriage"? This way she can easily avoid illegitimate claims on her son and still be far away from him to honor his wish. Why does a sister in a minute think that her loving step-brother turned into an evil step-brother in a moment? There could've been a few more things that trigger such doubts and underlying dissatisfaction that spewed out with this incident. Fans might just want to see their actor on the big screen, but after they throw confetti, blow a whistle or two, and dance in front of the screen on the first-day first show, it depends on other audiences to watch, understand and carry forward with any emotional logic that cinema provides to make it more believable. Well, all said and done, Gopichand Malineni wanted to show Nandamuri Balakrishna in a certain get-up pulling off some stunts and he did exactly that. But if he had concentrated on telling a story as well, this would have been "Chennakesava Reddy" done better than just being "Balakrishna and his fighting abilities".
Theatrical Trailer: Veera Simha Reddy Review