Radhe Shyam: Survival of the Fittest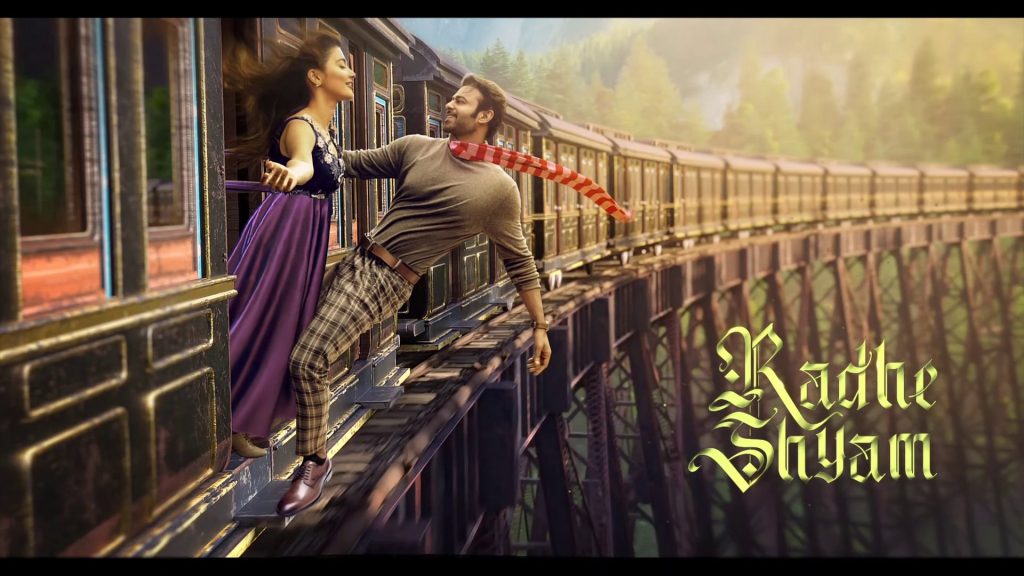 Radhe Shyam Review
Star Cast: Prabhas, Pooja Hegde, Krishnam Raju, Bhagyashree, Sachin Khedekar, and Riddhi Kumar
Music Composed by Justin Prabhakaran
Background Score  by Thaman S
Cinematography by Manoj Paramahamsa
Edited by Kotagiri Venkateswara Rao
Directed by Radha Krishna Kumar
There are many doubts about Darwin actually giving out the quote, "Survival of The Fittest". But it definitely means you need to develop skills that help you to survive certain conditions and does not mean you lose it out or you'll be dead. if you're not fit. This is the difference between giving out a metaphoric quote and a literal one. Many moons ago, I had the privilege to work with Chandra Sekhar Yeleti, revered writer and director, who narrated to me the basic idea behind Radhe Shyam, destiny vs willpower/ambition. The idea (credited by makers) came out as Radhe Shyam film now and Radha Krishna Kumar, this film's writer and director, adapted the story idea into a grandiose. 
After writing reviews for many films and trying to get acquainted with the right amount of knowledge to understand what a maker is trying to say through their film, I am going to try out a different format to explain how I felt after watching this epic. Yes, it is an epic. (Spoilers Ahead … Save yourself by reading or if you just need to watch, then go and book a ticket).
Actual Scene: Vikram Aditya, a palmist meets Indira Gandhi, the Prime Minister of India in 1976 and predicts an Emergency.
What Director intended: Elevation to Prabhas character, who is playing a palmist, who can never go wrong.
What we saw: A laughable excuse of a scene for Hero to leave India and for the story to happen in Italy.
What went wrong: Indira Gandhi is not a relevant politician Today. Even if people try to get behind the idea of her asking a palmist to predict her future, being in a position where she can decide the future of an entire Nation, the absurdity doesn't start or end there. People don't entirely believe Palmistry as science and saying that a Prime Minister just like that invited a person just because Paramahamsa Guru, said so, makes it all weird. Even if we give logical brain rest, the creative side of the brain will also feel embarrassed to look at such a poorly written character introduction scene.
Remarks: 100 cheers to Radha Tarantino for aiming to alter history. Only cheers, not marks.
Actual Scene/Sequence: Prerana asks any man who tries to flirt with her or who is smitten by her looks, "can you hold my weight?" Vikram Aditya doesn't just manage to hold her, he joins in her freaky little adventure. She loses herself for a moment like always but gets amazed by looking at him joining her and then saves him.
What Director Intended: Foreshadowing to the entire love story. Prerana is on the verge of falling and she needs someone to not just be smitten by her beauty but hold on to her when her inner turmoil is pushing her into an abyss. It is hard to handle. Here, Vikram Aditya takes the challenge and he even becomes part of her adventure. Eventually, she understands the risk involved and saves him, herself both from falling out of the life train.
What actually we saw: Pooja Hegde trying to be a poor version of "Geethanjali" – Geetha, who asks young boys who flirt with her, "lechipodama" (Shall we run away) for pure fun. Prabhas not being half as clever or a quarter as likable as Prakash from the said movie. The entire scene played out like a visual achieved by a team that had funds to waste as the context was not properly set up or paid off by the director.
What went wrong: Lack of chemistry between the leads. No, real introduction to this risk-taking, fun-loving, care-free side of the hero and heroine. You need to set such scenes up and then hope the audience gets the metaphor you are implying through it. No such effort was visible from the director and writers.
Remarks: Radha Spielberg has imagination and imagination, only.
Actual Scene: Prerana in order to prove Vikram's outlook towards his predictions wrong, goes for the ultimate sacrifice. With it becoming his inspiration (Prerana) in fighting against destiny.
What Director Intended: Metaphor to say using a hero to Audience that everything is not predetermined. You can fight against what seems to be like your destiny, with proper inspiration and willpower.
What we actually saw: Random flashes of torch lights being thrown around in a Tsunami driven ocean. Suddenly Hero swinging from one point to another and then random jellyfish waking him up mid-drowning to swim back up. Heroine doing nothing to really inspire Hero.
What went wrong: If your main premise is a romance that challenges destiny, then it should have been like Fault in Our Stars and to an extent Jab Tak Hai Jaan. One person is adamant about their beliefs and another person breaks those beliefs literally. Finally, the adamant one realizes their mistake and gives in. When the time comes, the one who was previously adamant now changed ends up being the symbol of positive light when the other person is slipping down an abyss. Here, it just comes up as a few good frames attached together and lacks in narrating any story with them.
Remarks: Radha Nolan can re-define Science while Radha Cameroon comes up with visuals.
Well, I can take each scene and try to give my own notes with the Limited knowledge I have acquired over the years. But that doesn't serve the purpose. My purpose is to say what went wrong so that someone who reads this can correct their idea. I believe Radha Coppola is beyond repair as he is in Zack Snyder's territory of visual poor-tery on screen with all style and no substance. When Vikram has to kill Bethal of beliefs inside him then Love finds him and gives him true Prerana/Inspiration. This logline can create wonders and a filmmaker who is not Radha XYZ, might be able to pull off. For now, if you need to sleep, play this film as a lullaby-like how before the exam you open the book and immediately fall asleep. If makers have to lose 250 crores to understand what a good script is, then let be it.
Radhe Shyam Review