Doctor : Prescribes "Prevention" than "Cure"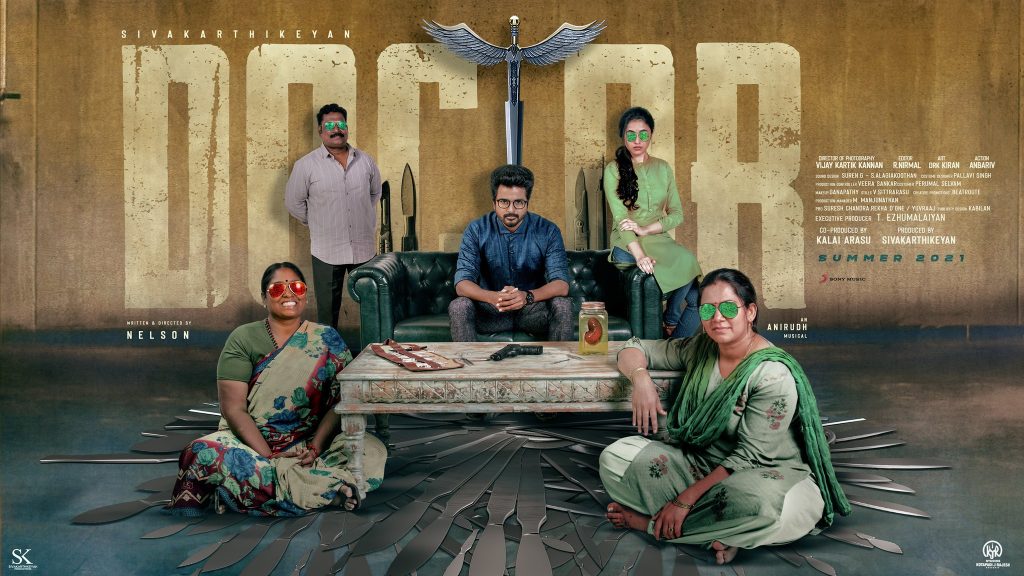 doctor movie review
Star Cast: Sivakarthikeyan, Priyanka Arul Mohan, Vinay, Yogi Babu, and Archana Chandokhe.
Music Composed by Anirudh Ravichander
Cinematography by Vijay Kartik Kannan
Edited by R. Nirmal
Directed by Nelson Dilipkumar
When do you need a Doctor? The standard answers always involve a problem. But what if the problem is ignored and let to prosper even though being slightly edgy, slightly daring, and dashing can prevent it. Yes, if someone tells you that a high-stress environment can increase your blood pressure, you can prevent stress environment by changing jobs or decreasing the burden. But if you decide to latch on to pills, then you will develop kidney malfunction and liver problems as the medicines will take a toll on other organs. As a society too, we started believing that our democratic systems have failed and stopped believing in our own selves to change it and try. This Doctor satirically questions our "conventional" wisdom to let the problem grow by ignoring it. This problem if ignored can come and knock on our door too. If you are strong then it will make you an "exception" but what if you're weak? All you can do is hang tight hoping for a solution or hang yourself losing all hope. Nelson advises us to take things into our own hands rather than doing either. How?
He asks us to care about the things that need to be done in an "orderly" fashion to be done in that order. He asks us to be practical regularly while letting emotions take over the decision-making power when needed. Fighting for a cause needs emotional resolve while "how" needs a practical approach. Nelson Dilipkumar comes up with a character that balances this aspect intelligently.
He is a mix of Ramu and Aparichitudu. If Ramu had the guts to go out and become a military officer or Doctor, he would have been responding to situations like a "child at heart" and be more emotional. Here, Nelson added Remo's manipulative self into the mix in the "how" approach while emotions are left on a sidewalk, at least they appear so. Shankar takes the obvious routes of heroism in his films but adding slight satire and a non-emotional side to his situations leads give us Nelson's core. At least for his first two films that remains true.
In Kolamavu Kokila, he used the theme of Gentleman, – "System vs the Common man" and subverted the "hero" character to a highly fearful "heroine". Unless she learns how to fight, her problem with the system won't be solved. The system or at least the protected by the system, the pillars of the system force her to use her body to escape from the problem. She doesn't budge has she believes in purity again defined by society, because she says that the rule, that she likes to follow. Very adamantly she sticks to protecting herself and doors start to open as cracks within the system let her slip through.
Now, Nelson picked up Anniyan/Aparichitudu's theme of "System" challenging the social norms and people letting it, in Doctor. In Anniyan, Shankar makes Hero the problem, and hence, the entire society tries to alienate him and then question his ways. Here, Nelson lets the problem be "common" and then asks the hero to go & find alien ways to solve it. Hero very obediently starts to manipulate society and its darker forces using unusual silly methods that no one really cares about. Practically speaking while it seems improbable and impossible, a highly clever individual overthinks and overindulges in things, hence, ignoring things that appear to be "Silly".
Nelson takes us through the silliness of these deeds and then executes them with utmost care and sincerity asking us to not take anything seriously. When you are ready to laugh at things and take everything in humour, you don't mind silliness. Nelson doesn't miss the core emotional values but keeps adding humour to it as the plot needs more and more silly things to happen for an impossible mission to get a positive solution. The doctor operates through the problem with clinical perfection and the silly antics start to grow on us. Nelson very smartly subverts the "heroine" to be a "villain" and questions us if "adjustment" is normal?
His thinking levels are different and his capability to ask a question though silly yet tight poignant humour is also unique. He doesn't leave the "Fight Club" premise and gives solid reason for Hero's character. humanity as a reason. Nelson creates a world of his own in his movies. He successfully connects us with the characters. He believes in cynicism but not with a purpose. He gives his leads a "Responsibility" (The break-up scene and the climax scene with the heroine in this one and the scene where Nayantara decides to not accept a rich man's "lust" offer). They are not flexible and their foundations are not going to crack under pressure. They all ride against the tide when it is needed. While things in Nelson's world work for him, his core suffers always holding on to a weak structure. If the structure strengthens his core then we may witness a really dark satire on action drama's in Beast subverting Shankar's other big hits.
Side Note: Why Shankar? In the past three decades – Shankar is the only filmmaker who ruled the box office with his own commercial formula. Subverting his "heroes" which is almost anti-establishment seems to be the norm for Nelson while giving them tribute in his very own unique style. Vera Maari … Vera Maari Nelson.