Jersey: A Selfishly Selfless Tale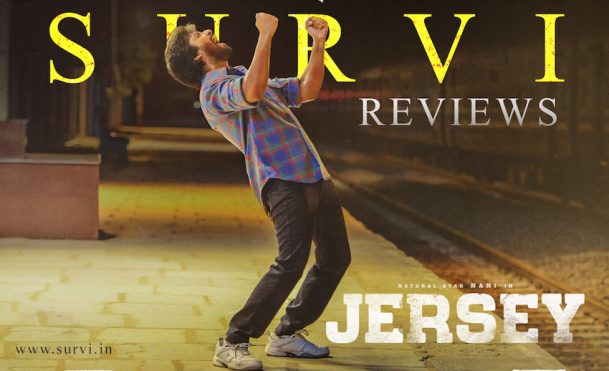 Star Cast: Nani, Shraddha Srinath, Sathyaraj, Sampath Raj, Praveen, and Ronit Kamra
Music Composed by Anirudh Ravichander
Cinematography by Sanu Varghese
Edited by Naveen Nooli
Written & Directed by Gowtam Tinnanuri
Humans are made of bricks of emotion and we always end up feeling something or the other how much ever we convince ourselves that contrary is true. Jersey is a tale of that roller-coaster ride. At one swing we reach the pinnacle and at the other, we feel the downside too. This is not a film about a team learning to live life through Hockey like Chak De India and this is not a film like Iqbal where someone being able to play in itself is an accomplishment. Even though it touches similar notes like 1983, it is not about suppression and willfully killing a talent. Jersey is more about a journey than a destination.
We are always burdened about what is our purpose and what do you leave for future generations? We question ourselves many times whether we are giving the right direction to the next generation or not. Jersey is such a film that talks about leaving a legacy and becoming an inspiration to many around us. The story is a thin thread but it carries the weight of a lifetime.
Every father and mother tend to be selfishly selfless. They try to do everything they possibly can but for their children more than others. There is nothing in thinking about us and our aspirations. Few may think life and love demand sacrifice all the time, but they depend on perception only. Just like how for Arjun, a sacrifice is not something that he does to gain some brownie points similarly for Sarah, she needs a reaction for all she is losing. Both are human and both are valid in their perspectives, that is the beauty of life, when everyone is morally right, there are no rights and wrongs.
The movie cleverly tries to connect to the characters by telling what we need but not what we don't need. It tries to speak through the silences of a household. It tries to speak through the personalities of its characters. It speaks through simple gestures and never shared turmoils. Arjun is a progressive loner who is inspired by candle-like many parents. Every parent wants to make an impact on their kid's life so that he/she will learn from them and their mistakes. We see many nomads and aggressive people turning into more calm heads as they don't want a bad image to hamper the good judgement of their children. Hence, to get back to doing what he always wanted, needed him to celebrate alone. He can't spill out the truth and gain sympathy. He is an epitome of suffering in silence and celebrate in a group.
After all, the legacy that someone can leave most of the times is a better version of them, in the form of their kids. Even if they don't end up being better they will definitely learn. Jersey is not about a cricket player but it is about a father who is becoming a bad influence. A person that family slowly grows to hate. The family draws more and more inspiration and direction from its head but when the head itself seems clueless, someone has to pick up the pieces and give a direction. Sometimes, the head himself or herself start making amends as they realize where life is going wrong.
Life can never be long, but it can always leave an impact. Alexander did not live for 70 or 80 years but his impact is still alive. There are many more positive and negative examples in our history books that are chronicled for us to learn more from their lives than to just try and remember the dates, which annoys everyone and alienates the purpose. Knowledge doesn't confine to spellings, dates, and definitions. Knowledge of Nani, s/o Arjun, will be about how not to give up and not lead life by a bad example at any moment.
The shot-making in this film is right from the Top drawer. There are no shots that over-dramatize or cut the feels short. Always someone will have their own choice of shots but for a story to leave any impact, storyteller's choices are more important. Gowtam could get all of his team to feel inspired and create something that speaks volumes about their passion. Somehow no one felt the need to make a film that is OK. He did not just write Arjun and his character but created an authentic world around him. We see 90's coming alive on screen with Arjun and Sarah. We feel like that young kid fixated on one expensive gift that parents cannot afford. We feel like that wife who is unable to carry everything on her shoulders and looking for a companion. We feel like that friendly coach, who wants to be the best advisor. And we feel like Arjun, who values life more than anything. The devil lies in the details and the eye of each and every person on the team worked like a devil, to get even the simple samosa price right according to the time the story is running. Anirudh Ravichander's BGM and Sanu Varghese's camera work are complemented by a dedicated art team. The director could create something that many people will remember with all the resources he could acquire.
Even the performances from actors compliment each other. Nani after a long time surrenders himself to the script. Knowingly or unknowingly, every actor gets into a comfort zone and they don't tend to see it as a problem. But it is always required for some Arjun (either Reddy or a cricketer) to bring out the actor hiding under those layers of comfort. Nani found that character that really pushed him beyond the limit and he went there. This made him shed the star burdens and breathe free. Hope, he continues on that path to fly even high. Shraddha Srinath is a real gift to this generation. Her level of acting prowess really makes the character of Sarah have layers than just be a monotonic one. All others have put their best foot forward too.
This movie did not just happen. It is not a fluke. We can see that ambition in creating the details and that finesse in the writing. It was a film that traveled with the maker for years as he seems to have carefully crafted each beat. Some films make us gladly draw parallels to others as they seem to be compliments to originals than just someone trying to ape them by hitting such beats. We can see that this film is like Chak De India but the triumph of the character lies in finding himself than the game. Chak De is more about a person proving his worth to the world that couldn't understand him. In Jersey, Arjun's world is blinded by himself but whatever is on display from him, they accept him as is.
Similarly, Iqbal, 1983, Mister Pellam kind of movies do appeal in flashes but their beats are way different from how Jersey imagines the world and executes the points touched in them. Never our life feels fulfilled until we get a chance to live by example. Arjun's lonely battle is with the demons of regular life that for others seem to complete them. But for him, they are consuming his free-spirit and for a man who couldn't bear even a small word against his love of life, to let be slapped or to not confront ever, is more about restraining to the fact that the demons are winning more than he can handle. Hence, he screamed out alone when he could find a chance to win against them.
The movie is more about such moments than the game of cricket. It is speaking about the game of life that is never complete and we have to always find a way to make the incomplete ring shine brighter than ever. In the game of legacy, we never lose we either end up leaving behind an impact or winning the moment for many other moments to find us. Jersey is such a moment won by the team and we await for many more as the circle of life is never complete.
Review of #MalliRaava : Click Here
Theatrical Trailer: