Super Deluxe: Theory of Everything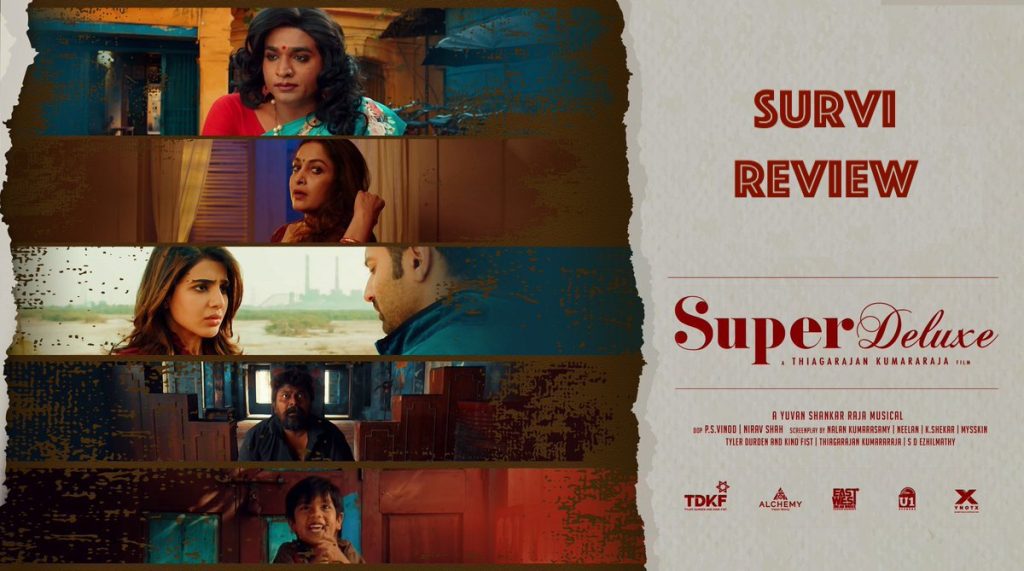 Movie Review: Super Deluxe
Cast: Vijay Sethupathi, Fahadh Faasil, Samantha, Ramya Krishnan, Mysskin, and Ashwanth Ashokkumar
Music Composed by Yuvan Shankar Raja
Directed by Thiagarajan Kumararaja
The actual thought process behind me starting out this blog is not go become popular. Popularity doesn't really attract as much as knowledge does. Believe me, I know I am not at all popular and I don't think I should be chasing it ever. This exercise, yes exercise, is to improve my perspective more as a discussion can only start when someone speaks out about their observations and beliefs. If someone doesn't, then that someone could never have become sir Issac Newton, Albert Einstein, Hitler, Donald Trump, Terrorist, Peace Love, Pessimist, Optimist, Troll and so on… The point is discussion improves our purview as knowledge always is bound to help us change than just make us a Living Being.
After all, we are a version of an Ape that could figure out a way to become the most skillful animal in the Universe we KNOW. See, WE KNOW, is the key here. We haven't observed any life form outside our solar system but try to assume about it and get into contact with it someday. These ideas that today we believe are absurd and fiction might turn into reality someday as our Reality was a fiction to the First Ape that formed into a Human. Life in itself is like that.
Why so much prologue and self-indulgence before getting to analyzing a movie? You might have not asked it or you may be asking it or You might have been thinking about asking such question, as every state is co-existent, according to Quantum Physics and Mechanics, this explanation to my prologue is necessary as much as it is unnecessary. For you, it is a necessary explanation but for someone else, I am just showing off and for some other, I am trying to figure out an honest way to explain to you what my perspective for this particular review is and for another, I am just beating around the bush. Whatever I might be doing here, all perceptions are true and all are co-existent. In a nutshell, perspective is the only truth for a human while for Universe, therefore Nature, NOTHING MATTERS, NOT EVEN THE MATTER!
At a universal level, existence is the key and whatever you do, right or wrong, there will be consequences but never judgments. That is our perception, that's it. No Star is ever going to ask why are you observing it and no Galaxy is ever going to not be your knowledge source. It is just way you want to look and understand. Not repeating myself but trying to just clearly state. Now, why is this important, this is SUPER DELUXE!
The movie starts as a writer's weird obsession with the taboo subjects in society, which mostly happens to be SEX. While we humans funnily loathe it to the core and judge a sexual urge, it is the very thing that helps us pass on the information, as new generations are definitely not going to come into existence with us apes not reproducing. Yet, we pass sleazy comments, we judge, we loathe, we cry that we can't perform, we add emotions to it and we make it a holy thing too. How confused are we?
We are! There is no question that we aren't. For a bus driver driving up the hill and down the hill, is not a fun exercise as much as it is for a passenger. So, the act might be interesting, funny but consequences, aren't at all. Starting with such a taboo and basic element in our society, Thiagaraja Kumararaja starts to dwell into what love is? What an opportunist can do? What anguish is without purpose? What sin does really mean? What boundaries are? And more importantly what Universe is all about and why it is important to ask big questions when we feel we are deprived of simple basics like food, water, shelter, clothes, and sex?
The answers always lie around us. But we don't have the imagination of the purest soul to not be scared. We don't have the courage to accept US and always try to justify ourselves with reasons after a point makes no sense. We fear acceptance, judgment, crude selfishness yet we all crave to be accepted, judged and are selfish. Unless someone tells you that what you did is selfless in their perspective, your perception is always devoid of such high-level judgment as you know the TRUTH, what triggered you to do something!
Kumararaja could expertly create situations that hold our interest and kept us always guessing what will be his next point. What is the whole point? He never really wanted us to be comfortable as if we get too comfortable we just end up noticing the performances, camera angles but not the meaning behind them. He did not let reality for one bit to come over the logic of the film, as he is realistically logic in unrealistic situations. He could find human drama in a conversation with a corpse while he also said that people do things out of curiosity or necessity or things just happen, that doesn't make them bad or good but that helps them evolve. When did a simple film about one day, few kids decide to watch a porno make them go through a life worth of memories?
Our one good or bad deed can result in some form of outcome in other's life. We may turn out to be their God or Devil. We may be sitting on a treasure and never explore it as unknown is scary. I might be sounding vague but trust me I am trying to not spoil your experience of watching it for the first time. Once you watched it, this review will make more specific sense, trust me, if you wish to.
The good, the bad, the ugly, truth, lie, real, mystery and emotions all are a result of our attachments to matter. As matter keeps changing and evolving even we tend to evolve or just dispose it. Imagine us being open to accept that bigger questions matter in Universe than boundaries, than our egos. Maybe all the time, we wasted fighting, we might really observe more, invented more. After all, it took a simple thing like an apple falling from the tree, for Newton to figure out gravity and a simple everyday imagination lead Albert Einstein to give us Theory of Relativity, which we are still trying to prove if it is practical enough or not.
Imagination is the key. When all that constant for humans is perception, then keeping us in someone's shoes should help us to understand them. Even if we don't understand them, we will at least understand US and accept them. Unless and until we completely eliminate total manipulation, total selfishness, total shrewdness that acts to make us opportunistic we can't see human tendency to crave for something and understand the anguish it leads to when it is denied. Samantha, Vijay Sethupathi, Fahad Fassil get more screentime and space but the questions that start with their characters end up as solutions for someone else and themselves too.
Actors, cinematography, music, writing everything falls into the right mix. There is no one trying to outshine another. It is all about the concept, not individuals. Hence, Yuvan Shankar Raja lets the movie unravel on its own that giving audio clues about what to feel. But Thiagaraj uses often neglected sound department very well. He gives you clues to understand things happening with carefully constructed sounds. There is no coincidence for him in the world as everything just exists. Similarly, every technician whoever worked, whoever inspired, whoever invented, whoever theorized all existed for him to make this movie, yes, literally everyone.
Does this one movie exist because of our existential questions like how should I live? How will society perceive me? What is the Universe? What is my importance in all the bigger scheme of things? As our mythology says, by making Lord Krishna as the guru, Everything is US and from US comes everything.
 Theatrical Trailer: