K S Ravindra's Jai Lava Kusa (2017) Movie Review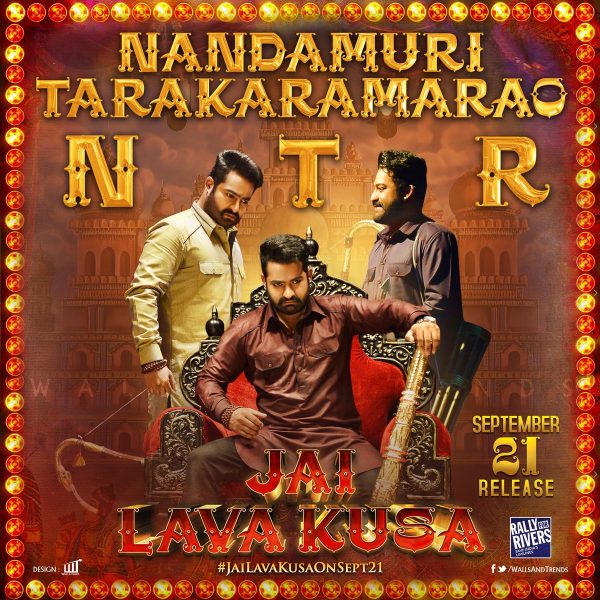 Ravindra's Jai Lava Kusa (2017) Movie Review
Cast: NTR Jr., Nivetha Thomas, Raashi Khanna, Ronit Roy, Hamsa Nandini, Abhimanyu Singh, Harish Uthaman and Tamannaah
Music Composed by Devi Sri Prasad
Cinematography by Chota K Naidu
Edited by Kotagiri Venkateswara Rao
Directed by K S Ravindra
Censor Certificate: UA & Runtime: 158.15 Minutes
"Asura Asura … Chitra Chitra Himsaka"
This lyrics correctly depicts my frustration on the director and the story writers after watching Jai Lava Kusa. The oppressed and suppressed feeling that you get after watching a great live performance go to the doldrums due to lack of proper story and puranapul screenplay. It just doesn't blend at all with the intensity of Jai's character and Bobby should receive as many brickbats as we can throw at him.
Mani Ratnam tried to interpret Ravana's character in Ravanan and we have to say that it is the best on-screen adaptation of a character. His story and screenplay had too many loopholes but Beera as Ravana is more apt representation of what Ravana is for Asuras. He is not just a man who tried to rule with Iron Fist. He is loved by his countrymen, loved by his wife and sons. They took pride in what he is and also accepted his shortcomings. Similarly, in Ravanan we see Beera's rebellion is with those who oppress and police try to work with them. In a strange sense, Mani Ratnam tried to say Rama and Ravana, both are just equally ruthless in completing their duty.
So, what is Ravana? Why Bobby's version is dumbfounded representation? Bobby tries to emphasize on Ravana's rebellious side. As Jai, Ravana is also oppressed by his own brothers, Devathas. But he doesn't become a ruthless man just because of that. His hate towards them makes him a scholar and a man who has an unbelievable mental strength that translates to his body as well. He is a man who fought more with his talent and mental skill than his body strength. He lost in the hands of Karthaveerya Arjuna, Vaali when he underestimated their strength but he won against a fully loaded army of Devathas with a handful of Asuras. He is seen as a god among the Asuras because his pain is just and he had blessings of Lord Shiva because he believed everyone deserves an equal chance to live and prosper.
Ravana is not just a simple man who thought power will solve his problems. He is an egoist but that is at the later stage. Here Bobby tries to make, Sai Kumar the guardian angel, indirectly Shiva who tries to show Ravana his true purpose. But doesn't use him well enough.
Also, Narada who misleads Ravana so that he does all the misdeeds is represented slightly in Posani's character. Still, when one says, Jai is Ravana and Lava, Kusa are Rama, Lakshmana, we just end up laughing. Also, there are two Sita's here and Ravana aka Jai, while abducts one, tries to force himself on another. So, a half-baked representation of Ramayana and Ravana is what we see throughout. In Ramayana, Bharata and Rama looked similar, so Kusa in the place of Lava tries to rule, the Lakshmi. But Ravana abducts that too. So, in a way, Bobby tries to represent Ramayana in his small Jai Lava Kusa but the characters he writes are just caricatured sketches rather than fully realized ones.
He takes the story points from Krishna's movie Raktha Sambandham (1984), where one of the two siblings feels oppressed and suppressed by his own father and brother. Also, Ajith's Varalaaru had a similar point. Maybe all the triple role films need one character to be negative and another two positive. Here the director tries making the antagonist as pure evil and also, wronged man at the same time. In a perfect world, a wronged man turning towards the positive end of the spectrum after years of negativity is a great story idea. But in TFI, it is a masala commercial mixture that works out very well at the box office. Jr. NTR himself did that in Temper, so what new does Jai offer? Nothing.. Except for his performance and prowess to show off that he can handle three different characters at the same time with great ease. For an actor, it is important that he proves himself at every given point but for a director shouldn't story be the first priority?
Bobby loses his grip of narration after an interesting take off. For fans, it doesn't matter if the characters have a backstory, if the scenes have a proper emotional core, all they need is their hero to be shown in a specific way and when they get it, they enjoy. But then does Bobby need to just make a movie for them? If that's his goal he achieved it with 50% accuracy. He let Jr. NTR shine as Jai, gave him correct angles to show off his expressions and one or two scenes for the actor to show different emotions in different characters at the same time. But purpose did the story achieve? Why was there a necessity for Triplets? Why should Jai look like Lava and Kusa? Did that bring novelty to the story? How?
Haven't you seen, a villain trying to force himself on a heroine before? Haven't you seen one look-a-like going in the place of another? The novelty here is non-existent. Here, Bobby wanted a story that can get him Jr. NTR's appointment and of lucky, a chance to direct. He got lucky and the audience had to bear another half-baked attempt from Jr. NTR.
In the conclusion, we can say that the entire technical team tried to finish a task of completing the movie in given time. Be it VFX, be it Cinematography, be it even story every department lags behind from the finish point in achieving the endpoint. Trying to say a story on the lines of Ramayana and bringing out Rama in Ravana is a good attempt but that needed an expert hand but not a commercial mindset to work it out as a good film. On the whole, Tarak can go out and show some scenes as a showreel for his talent but should look to select a script that is devoid of loopholes and well-defined.
For Anjaneya, Rama is God, but Rama became God to many because of his way of life and not because he killed a Demon. Similarly, for Fan-Anjaneya's TarakaRama is good enough but for others, the unimaginative story overpowers as a Demon.