A Mahadev's Jaguar (2016) Movie Review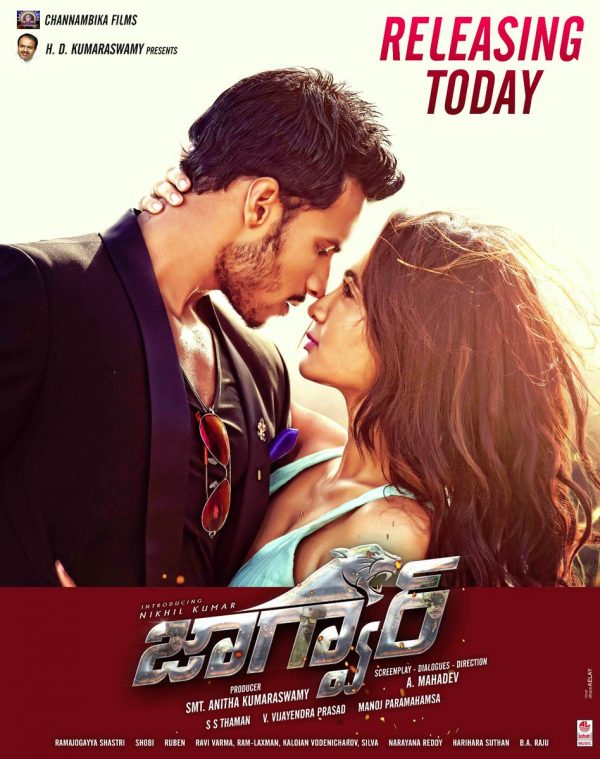 Movie Review: Jaguar (2016)
Cast: Nikhil Gowda, Deepti Sati, Brahmanandam, Jagapathi Babu, Sadhu Kokila, Kavita Radeshyam, Aditya Menon, Tamannaah and Sampath Raj.
Directed by Mahadev
Music Composed by S S Thaman
Story by K V Vijendra Prasad
Screenplay by Mahadev
Edited by Ruben
Cinematography by Manoj Paramahamsa
Censor Certificate: U/A & Runtime: 153 Minutes
When a rich kid is to be launched, there is usually a lot of fanfare. If affordable, the launch vehicle is something strangely put in the usual trappings of commercial cinema. So the ingredients might be the same, but the product is a odd confection.
H.D. Kumaraswamy's launchpad for his son Nikhil Gowda is a subversion of the above. Loads of colored fire power decorated on a paper thin, done to death, congestion with cliches points wrapped in a narrative we left a decade back..
In a Bengal Tiger meets Oosaravelli meets State Rowdy meets Mask meets Adivi Donga meets Untraceable and whatever else not story-line, Jaguar begins with a masked vigilante attacking the popular judge and killing in a very Ganesh-style interface.
After a cliché 1 enters into cliché 2 where orphan medical student S S Krishna (Nikhil Gowda) falls in love with Priya (Deepti Sati) and changing the new tradition in Shanti Medical College. Priya accedes to boy's ardent pleas and love blossoms in a very fine moment of the film. All is well in la la land until Jaguar starts going behind Chairman (Aditya Menon) and SS Channel MD Shaurya Prasad (Sampath Kumar) to blow out shakespearean hero and science comes to the rescue. All and motley shifts base to 'Corrupted Hospitals', 'Backstabbing Friends' and unfurls a mayhem that's ever seen in Tollywood film industry, which comfortably ends in an ending unabashedly conventional and miss-squelch of a routine Tollywood commercial films.
Nikhil Gowda, the much touted newcomer, came out with absurd histrionics, thoroughly marred by extra dose of acting. Deepti Sati is eye catching and carries her short dresses with élan. Sampath Raj and Aditya Menen are miserable in their roles as powerful persons in society. Bajrangi Loki and Adarsh Balakrishnan are perfect short characters. Brahmanandam as a fake masked vigilante is sickening to watch. Rao Ramesh as Nikhil's father is good. Ramya Krishna disappoints in a short role, with great scope of histrionics.
No doubt the movie is grand and well made technically but it lacks staidly on the script level as the viewer never seems to be into the narration at any moment. The excitement of watching a masked vigilante movie drops drastically as nothing happens in the first hour and we are just watching a love story of a boy trying to win over a girl. The script of the film is so loose, I just want to call something 'non existence' in the film. To be honest, I hadn't gone in with any major expectations from the story. I thought a masked vigilante film would mean mind-boggling action. There was action, but 'mind numbing' would describe it better. I was intrigued by the decision to open with hacking – media – live streaming, but it had no proper relevance to the story. I was shocked at the moment, when Nikhil showcases the first live murder on TV when everything was off due to no electricity; even government officials fail to close the second third transmissions of regularly hacked news channel; Nikhil's father believed in protecting life, but Nikhil never believes on his motto and continues killing everyone on his way; The makers never showcased what happened to Nikhil post everyone witnessed his glimpse on live TV killing two popular business man in town..etc. At this time I revised my expectations, who said action movies have to move at a jaguar pace? This Jaguar is defying the narrative style of the genre, why walk towards banging the door at them in just 30 minutes. Yet I couldn't help smirking at the boozed dancing dog and painting dog sequences. The smirk turned to an eye roll the second time, to a 'no way' the third and infuriated haplessness over took after that.
No doubt Mithrudu fame director Mahadev tried to bring something new to Sandalwood by picking up the rejected formula from Tollywood, but he just got decade late in doing so. The action drama has grown in South Inia now and film makers should understand that serving old wine in a new unattractive bottle wouldn't cover up for their lethargic storytelling. And I even wished they had taken more time working on script than wasting crores of money on Art, Action and Actors. Musically Thaman SS has surely added new stock to his sound library, but has come with only few fine tracks. The editing of the film is choppy and the transitions between few important scenes are very precipitous. Cinematography of Manoj Paramahamsa is neat. Production values of "Channambia Films" are grand.
All is said and done, Jaguar is waste of money, time, and talent. Go for a rerun of some Tollywood commercial films mentioned above to save yourself from this loathsome film.
Survi Review: 1/5