Harris Jayaraj's "ORANGE" (2010) Audio Review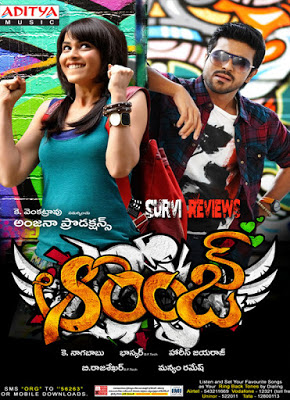 Movie Name: Orange
Staring: Ram Charan Teja, Genelia, Shazahn Padamsee
Banner: Anjana Productions
Director: Bhasker
Producer: Nagababu
Music Director: Harris Jayaraj
Audio Release date: 25th October, evening 0530pm
Place: Shilpa Kala Vedika
Audio of the Telugu movie "Orange" with tagline 'O Range Love Story' released on 25th, October 2010 at a grand function in Shilpa Kala Vedika,Hyderabad. If you like romantic, action and the highly praised a very touchy harmonial song then the audio album has a very good collection for you. The audio CDs and cassettes of Orange are now available in the market. All songs of this movie are fresh, so touchy and romantic..
1.Ola Olaala Ala
Artist(s): Karunya, Ranina Reddy
Lyricist: Surendra Krishna, Kedarnath Parimi
A western melody with perfect beats, the song has good orchestration which is a hallmark of Harris Jayaraj's songs. Leaving his signature in the song, the Harris has managed to ensure that lyric and the music go hand in hand. Karunya & Ranina (FM) were Asset to the song.
2.Chilipiga
Artist(s): Karthik
Lyricist: Vanamali
Begins with a perfect rhythm, the song has a catchy dilly and the mesmerizing Guitars in between to caress the listeners. The open-throated Karthik in the company of chorus manages to create a romantic ambience. A difficult composition by Harris Jayaraj, but made to look at the easy at the end.
3.Nenu Nuvvantu
Artist(s): Naresh Iyer, Nadeesh
Lyricist: Vanamali
The young and talented music composer Naresh Iyer, who managed to hog all limelight with Roobaroo (RDB), has crooned the song in the company of Nadeesh. Being a Proffesional singer Naresh himself has helped him render the song with needed life. A typical Harris number, the song begins on a brisk note with a catchy humming, the is a big attraction. The additional percussion strikes.
4.Hello Rammante
Artist(s): Vijay Prakash, Devan
Lyricist: Rama Jhogaya Sastry
The introduction of Hello Rammante mellows you down a little only to be surprised by the heavy sounds of the electronic guitar. This gifted singer Vijay Prakash never fails to grab attention. Only with his voice though! Harris's rock-base music, in some places seems out of place but because of the fantastic Vijay and Devan, the song wins for their rocking voice.
5.O Range
Artist(s): Benny Dayal
Lyricist: Vanamali
O-range reminded me the title track of Ye mera jahan (Khushi). Like all other Harris jayraj compilations this title track is merely a fast paced and lively number with a hodgepodge of Hindi and telugu in its rendition. The song has been sung again by Benny Dayal with a lot of electronic music which just makes you want to dance.
6.Rooba Rooba
Artist(s): Shail Hada, Chinmayee
Lyricist: Vanamali
Harris Jayaraj's hard work is evident in the way, the song has come out. Rooba Rooba will top the audio charts, the song is oozing with energy all through. The thing that appeals to you the most is the splendid orchestration. Harris mastery in mixing and instrumentation is the real attraction of the number. Shail Hada, Chinmayee play their part well.
Survi Picks: Rooba Rooba, Ola Olaala, Chilipi ga
Survi Verdict:
Harris has once again proved that he is cut above the rest and can tie down the music-buffs with his splendid orchestration.A few songs may remind you of things here and there, but overall,Orange Audio by Harris Surely An O-Range Audio in Ramcharan's Career.Go For It Guys.. 🙂
www.twitter.com/pavansurvi