Jigarthanda Double X: Coalition Conundrum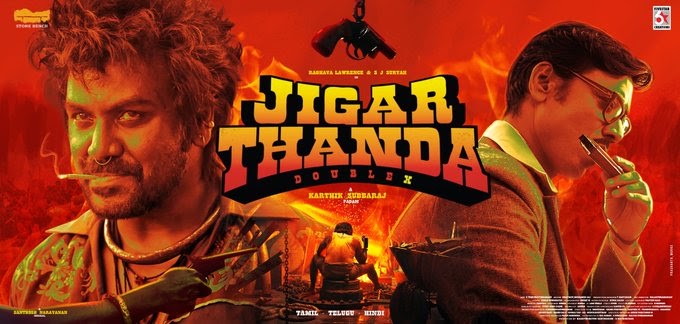 Star Cast:  Raghava Lawrence, Shine Tom Chacko, S.J. Suryah, Nimisha Sajayan, and Naveen Chandra.
Music Composed by Santhosh Narayanan
Cinematography by Tirru
Written & Directed by Karthik Subbaraj 
When you are trying to get into the head of an experimentally indulgent director, you too try something fresh in writing. So, this piece about Jigarthanda will be something similar to it. Hope you will enjoy reading this one.
Spoilers Alert 
"Greatest ever ambition always destroys your sense of simplicity." 
Takeaways from the film:
Marrying two different worlds is not easy
Not everything needs to be said out loud
It is important for ideas to be nurtured like how nature nurtures living beings
Any coin has two sides but it should remain the same coin or the same alloy that is used to make the coin.
Mythologically movie tries to take Kannagi's story inspiration while being Bhasmasura meets Dattatreya origin story.
Execution can never supersede Writing.
Let's Dive into Mythology, like always, first…
Kannagi's story is directly referred to on our face by the writer Karthik Subbaraj. In two lines, we can say that a woman burns down the entire palace and herself as her husband has been wrongly convicted by the Madurai King. In the film, Karthik used this story to state the same as the Goddess killing herself to let the King not evacuate Elephants from the forest. In a way, he equated tribes to Elephants in this movie. Bhasmasura's story from mythology is popular in stating how your biggest boon can become your curse. Bhasmasura asks Lord Shiva to grant him a boon that he can burn anyone by putting his hand on their head. He asks Shiva to let him put his hand on the head of Shiva to try it out once. In Dattatreya's story, he is born when Anasuya and Atri are praised as the ideal couple by Tridev. They call Anasuya as ideal Pativrata (a wife very committed to her husband) and hence, Tridevi tries to test her. Tridev goes to her home as a guests and asks her to serve nude. She changes them to babies and like a mother feeds them. Tridevi runs to her asking to return their husbands to the original form. She does and the three give her boon that a son will be born with all of their qualities. Hence, Lord Dattatreya was born.
How is this mythology imbibed into the story ?
Kannagi's story is already discussed. Dattatreya is none other than SJ Suryah. He is a person with the qualities of all three – the ultimate creator. He hopes to become the destroyer – Shiva and kill Ceaser. As he grows close to Ceaser, his human instincts to save him become stronger and like Vishnu, guide him to the right path. Finally, as a creator, he writes a new story for his sacrifice. Hence, he becomes the ultimate creator. Anasuya, in this story, is Mother Earth. Now, Bhasmasura's story has been adapted in two ways – a) the Police officer and actor-politician bring their downfall by appointing this creator; b) Ceaser in trying to be the hero, that he isn't, brings his downfall. While one adaptation kills the Asura, another adaptation gives Asura's death, a meaning and brings out the issues of Nature's children. Karthik Subbaraj has stated that he wanted to not repeat anything from Jigarthanda but this Bhasmasura story is slightly adapted in that film, too. At times, Satan can become an Angel, if he is attacking even bigger Evil. That's the crux of Jigarthanda Double X.
What ideas did work ?
The most important idea that caught my eye is that nature is supreme. Yes, when you try to play with nature, it has its way of getting back at us. Where there is an issue there is always a solution. A heroic sacrifice might come out after years and be remembered forever. Socrates, Galileo and many scholars did not find acceptance for their ideas immediately. Their ideas have opened new avenues today. So, nature always has a way to tell you what is the right thing. In this movie, equating Elephants with tribes has worked brilliantly for me. Elephants roam in herds and they like to form families.
We were all tribes sometime in evolution. As we grew our knowledge, we started growing greedy for non-existent money and power. We are the ones who created this society and rules. Had we tried to make a living that is more or less happening and involving everyone, today, we might be enjoying life like Harappa or Mohenjo-daro culture. Today, we either kill nature or manipulate our fellow humans to gain the upper hand. We take pride in being the richest and being able to afford all kinds of facilities. But all these are things that we created. See the connection, we started creating and thought we could re-design everything as we please, but our bubble-like lives are still dependent on nature.
The tributes to Clint Eastwood, authenticity in creating a period, Santhosh Narayanan BGM, and songs. These are the next best things in this film. The technicians behind these ideas and execution have done their best. They did not just give life to Karthik Subbaraj's world but they brought authenticity and believability to the entire narrative. In places, it is Santhosh Narayanan's music that gives another depth to the scene. It almost felt like SANA took it upon himself to give new tribal sounds using authentic instruments. His BGM gives more impact to the interval scene, tribal village scene, Elephant vs Human fight, and climax shots. Also, shot-making is the best of Karthik Subbaraj's movies. it almost felt like Tirru challenged himself to catch details without disturbing the vision of Karthik. My favorites are Clint Eastwood projections, and Tribal Village portions. Also, a few shots in the Elephant and human fight. Another idea that I loved is Art imitates life and reversely, Life also imitates art. He used Clint's references to bring this aspect.
What are the ideas that did not work ?
Not all filmmakers, but few fall prey to their indulgences. Their vision works for them and they want it to work for everyone. They see their signature in such indulgences and that becomes a great issue. Quentin Tarantino makes great films but his indulgences like lengthy dialogues, very exposition-heavy conversations, and yet times, "doing for the purpose" of doing something does kill the experience. He did give memorable films but then when his indulgences interfered he did give mid-movies for his level. Karthik Subbaraj is not in that zone. He is highly inspired by him and in this film, he tries to create a reality that works for him like Quentin Tarantino asks you to submit to his vision and enjoy what he has on the platter.
Karthik Subbaraj tries to match his vision, his kind of world to what is set in stone for Indian Cinema. He tries to marry them both. Or it could be him trying to be an Indo-Tino (QT) filmmaker, as he grew up watching Indian films, he cannot get rid of that aspect completely and as he wishes to be Tarantino, he cannot let go of this desire, too. Hence, he ends up being Indo-Tino. He tries to establish a character like an Indian filmmaker does and then tries to twist it like how Tarantino does. The problem lies in not getting the best of both. If he brought the best of both as he did in Jigarthanda, this movie would have been another masterpiece. But this movie ends up being an attempt that either you enjoy once or forget immediately.
His pacing and handling of issues are more or less too whacky. At times, his writing has oscillated between amateur to legendary. It appears to be amateur in places where it should not. For example, in a scene where Raghava Lawrence needs to understand why he needs to be a hero, Karthik says he wants this hero worship and he becomes one. Even in a film like KGF [2018], the hero is a hero because he slowly understands the plight of others and stands with them. Raghava at the last moment, understands that he is being a political pawn, he tries to be a film hero but not the saviour that people need. The flip happens rather randomly and he is ready to become a non-violent protestor. Also, the man who is shown as a crude politician, who is running the shop with rowdies, exposes another scandal without any proper reasoning that showcases that he had a change of heart.
Even SJ Suryah randomly oscillates between being a killer and a cowardly meek person. We are given enough meat to understand his character. He does the right thing because he seems to be a good guy. From Karthik, we don't expect such random reasoning. There is a lot more that he could create to make these transitions smoother rather he went for theater moments. Trying to bring back the memories of Jigarthanda where the play gave us insights into the characters, he made them just moments with no real depth. Raghava Lawrence's character has been monotone till the pre-climatic moment. Not something, we would expect from a filmmaker like Karthik Subbaraj. The two sides of human nature – a destroyer and a creator, are metaphorically two sides of one coin. But they are made of the same alloy and he missed making that alloy stringent enough. Here, the alloy is screenplay.
Conclusion..
Like coalition governments that exist to just run a government, this movie also tries to collate ten ideas into one piece to exist as a film. Complex compounds with complex bonds exist so that we can have benzene, and alcohols that can really help in solving bigger issues. This film script needed the ideas to form complex compound bonds between each other like a Benzene or Ethyl alcohol rather in trying to make a political statement they ended up all being coalited with each other like set pieces. One idea crosses over into another just because Karthik Subbaraj wants it to. Jigarthanda being a complex drink and mix of all flavors appeals because everything comes together. Trying to make it Double X, he seems to have put everything out of proportion, and hence, it appears more indulgent than an organic piece that is memorable.
Theatrical Trailer: