Adipurush: Illusional Delusion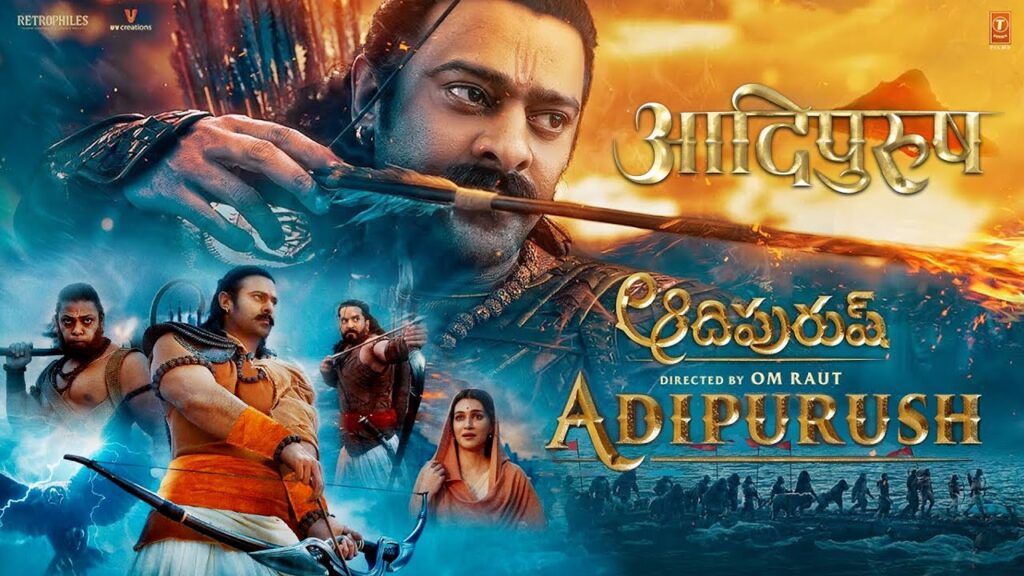 Star Cast: Prabhas, Kriti Sanon, Saif Ali Khan, Sunny Singh, Devdatta Nage, Trupti Toradmal, Vatsal Sheth, and Sonal Chauhan
Music Composed by Ajay & Atul
Cinematography by Karthik Palani Adipurush Review
Produced by Bhushan Kumar, Krishan Kumar, Om Raut, Prasad Sutar, Rajesh Nair, Vamsi, Pramod Adipurush Review
Directed by Om Raut
Regular readers of my blog and reviews know how much I love mythological epics like Ramayana and Mahabharat. As a kid, my parents used to encourage me to learn about the epics and inculcate whatever values I can. But I never became a devotee to the characters while I remain a devotee to the written material and style of presentation by Sage Valmiki, in the Ramayana case. I am just sharing this as an alert or caution to how strong my views on Adipurush and why they are, to give a context before you read. The majority of readers love Sundarakaanda, because it has Lord Hanuman realising his powers, mistaking for Sita could be dragged into Ravana's "Bed" and then finding her in Ashoka Vatika. Then, he proceeds to make a gut-wrenching conversation with her and calls her his mother. In fact, Sita is way younger than Hanuman but when he calls her his mother, she also feels her motherly instinct awoken. Later, the most popular heroic destruction of Lanka by him and his show of strength by making his tail into a big Aasan. I think most of you, readers, are reminded of those moments from Ramanand Sagar's Ramayana [1987], Bapu's Sampoorna Ramayanam [1972] for sure.
Yes, it is important to take these tales to the next generation and generations to come. Whether they are true or fictional they have a lot of values to offer and it is a must for youngsters to try and think about inculcating them. It is important to know what commitment is. Ram is the most committed human being to his values – flawed or well-balanced. He did not try to change them with time. His father announced him as the next King but the next day, he decided to give it to his brother. He did not question his father, because he believed giving word is like writing an agreement. Same way, he gave word to Sita that he will never think about any other woman and stayed by it throughout his life even when they got separated. Ram did not want to mend rules in his favour but picked his side cleverly. When Bali is visibly strong, he thought about Sugreeva's commitment to be good. And also he respected the judgement of his most loyal friend, Hanuman. When Hanuman decided to side with Sugreeva and knowing how good and honest Hanuman is, he decided to ask Sugreeva for help. Even if it meant mending his principles and hitting a person from a hideout, he did not hesitate. He believed saving his friend and being committed to his principle of helping the most needy against oppressors is a must. Ram emphasized on belief and hence that resulted in building a Sethu [Bridge] on Sea. He is not prayed to as God because of Valmiki or Hanuman or our parents or temple priests or following some ideologies. He is God because of the qualities he possessed and the commitment he showed to follow them. People did not fear him but loved him while Krishna is feared and loved.
Adipurush does nothing to show these aspects of Ram. He did not kill some big Demon King and become God. His penchant for not giving up when he did not know who abducted his wife. His belief in finding the best possible army to help him no matter who they might be. Even though they are not as well equipped as Ayodhya soldiers, he did not ask Bharata but decided to walk the path he chose to be on. He never lost hope to find his Sita back and he never lost his vigor in fighting someone much more powerful and worldly clever than him. He found ways to win against that demon king and his entire army with whatever resources were at his disposal. So, where did all this go in Om Raut's re-imagination of Ramayana? Why Ravana suddenly became a self-obsessed hippie who is arrogant but not a scholar who became a prude? Why Ram's rousing speech became an unwanted and unwarranted monologue?
It almost feels like Om Raut believed that Ram is a love-struck prince who suddenly found people to help. And fought with a Demon King who could time-travel to 3500 AD from 7500 or 8000 BC. Om Raut's vision lacked clarity of thought. He doesn't know how to handle proper emotional content and even in Tanhaji [2020], it is evident. When you take up a subject that depends on how well you help audiences connect with an emotional core and you think war or Action sequences can fill up for where you lack, you're doomed. Om Raut did that at every step of his film. Skipping over the entire Ram and Sita love story, where their love and chemistry evoke the required emotional connection, is the first basic mistake. Then trying to prolong every scene to show the magnitude of Raavan he created, is the second basic flaw. This doesn't come under style over substance it is just technological abuse. Later, skipping over humanizing parts of Raavan just to showcase him as a Demon, is the biggest blunder. Not trying to build on the emotional trauma that Ram is facing and getting desperate to meet his wife, each day and not showcasing Sita's craving for his presence beside her, blunder again. Biggest blunders of all – casting and make-up. Prabhas in Baahubali [2015] get-up can be shown as Lord Ram but in Om Raut's vision, just looked wrong.
Ram when he defeated Raavan, according to some calculations based on Valmiki Ramayana was of just 30 – 32 years of age. Raavan was 85 or 95 years old. In this film, Raavan played by Saif Ali Khan looks 40 something while Prabhas looks 45 something. Bulking up the body doesn't cover the face. The entire look depends on the face and facial expressions. Nobody likes you because your hand weighs 100 tonnes when your face shows the weight of building those muscles. Sita could be tall but according to Valmiki was far more expressive than two-three stock expressions of Kriti Sanon. Lakshman was short-tempered not a man with prejudice. Indrajith was a smart tactician and as handsome as Raavan, not a tattooed gore kid of a hippie Westerner father. And that motion capture creatures – better to have deleted all of them. Gen Z might love and like Marvel and DC comics but Ramayana is not comic and they're aware of it. Suspension of disbelief and creative Liberty shouldn't be excused to show some VFX shots referred from Hollywood films [ Flash effects for Indrjith, Killing of Indrajith had a similar sequence to water beneath the mines of Mandalore, Dementors like creatures from Harry Potter Prisoner of Azkaban lead by Loki with scepter for the introduction, Kishkindha characters had similarities to Planet of Apes and a sequence reminding Black Pather, Ravana's Lanka reminding us of Thor, Moria from The Hobbit, Sea God reminding us of Moana, and many more.. ] at every nook and corner. When Ram could run behind the man flying and knew the abductor is escaping, do you think he could have just run along and not tried to hit that bat-like creature with an arrow? If Valmiki watches that sequence, he might curse Om Raut for ages for just ruining his Ram character for the sake of "effect".
There are many moments that Om Raut ruined with slow-motion or hi-motion frames. Every frame is said so slowly for the effect that we feel like fast-forwarding at 200x speed. Still, it might seem too slow. A serial like Radha Krishna had better VFX in mythological settings than this extravagantly budgeted epic disaster. Even Marvel and DC don't want their VFX-heavy showdowns to last more than 20-25 mins. These are also called boring and too long. Adipurush expects you to digest a 55-minute-long one-battle scene with no respite. Om Raut seems to have stumbled upon a version of Ramayana written by a 4-year-old kid after watching comic book films and hearing Ramayana from his grandmother or grandparents. He might have thought this is the version that will connect to children but a 4-year-old cannot understand emotional core and feelings. All he or she would want is a big fight. But even they fall out of breath after 10 minutes or 15 minutes. Om Raut thought 55 minutes would be the right amount. Hence, Adipurush remains a first draft executed taking people for granted rather than giving it all years of thought to get the balance perfect. Well, what more can we expect from a 4-year old's unevolved take on Ramayana.
Theatrical Trailer: Adipurush Review