Cobra: Probability of zeroes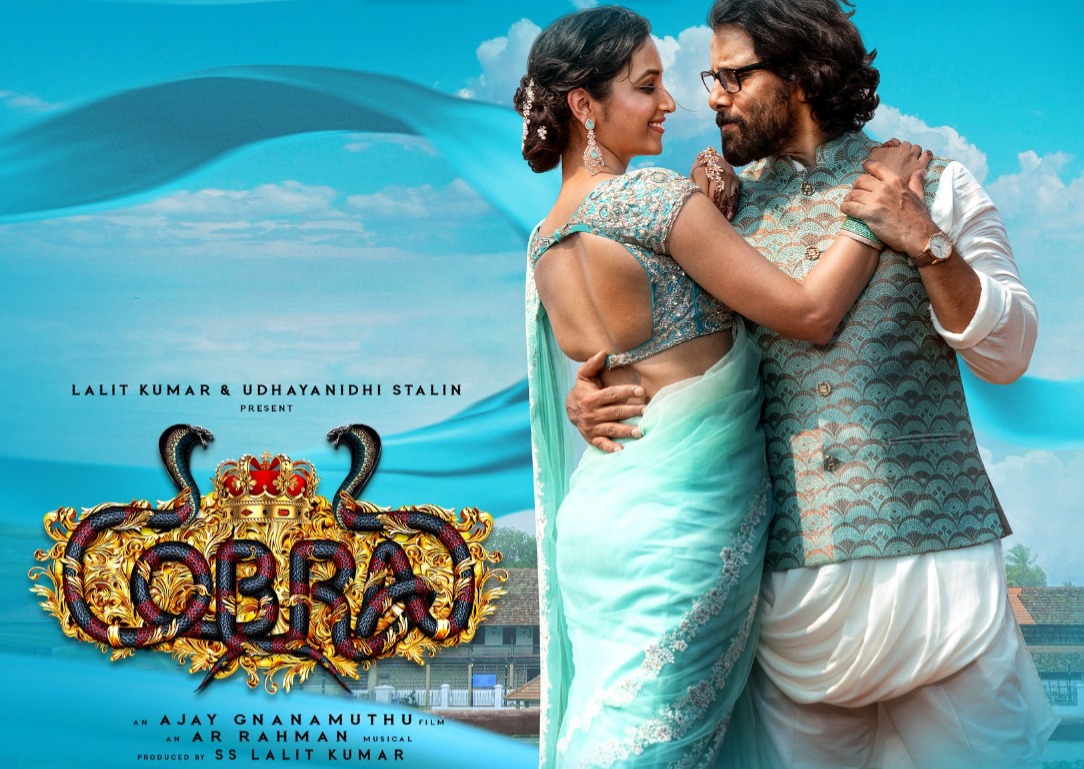 Star Cast: Chiyaan Vikram, Srinidhi Shetty, Irfan Pathan, Roshan Mathew, Robo Shankar, Miya George, Meenakshi Govindarajan, and Mirnalini Ravi Cobra Review
Music Composed by A.R Rahman
Produced by S S Lalit Kumar Cobra Review
Directed by Ajay Gnanamuthu
Cobra is an intelligent animal or reptile…
Never knew this and don't have a real interest in fact-checking that statement. Even if it is true – the film tries to prove it to be 2000% false. Then why should I try to waste my time in fact-checking when people who make the statement themselves prove it wrong? It is like going for Pythagoras' Theorem and ending up proving that a2 + b2 =/ c2. Now, after doing that if someone expects claps, money, or fame in return all we can do is give them angel numbers in collections – 1…2…! Well, I'm not trying to crack jokes at the expense of someone's hard work but if they try to be over smart in everything they do then showing them mirror in some form is my job and to put it like that, every viewer's job. Maybe some will never speak up, maybe collections will, as always state it as obvious as it can get. But if waiting for someone to do this showing of mirror thing, if no one speaks up, then it will be a failed attempt at using "Game Theory". According to the logical explanation of the theory, behavioral patterns of people can be analyzed to decide the outcome of certain activities that they perform. So, if no one shows a mirror – Peacock will never know its beauty and if no one records & plays back – Donkey will never realize its heavy tone is not good for singing.
Spoiler Alert
Probability of Alternative realities of two people being identical and exactly same is rare but it's true.
Twins, identical twins, and conjoined twins have different patterns to be observed. Some twins show rare and complex yet similar behavioral patterns that make it hard for them to be separated. While some love to play pranks by play-acting, some hate each other so much that they promise to never cross each other's paths ever. Expecting one brother among them to be cruel enough to kill another one or vice versa, be so caring that he or she would die for another one makes it a film story than believable truth. So, giving the audience time to digest this information and then observe the behavioral patterns of both to identify their "hero" is also important. Nagarjuna in Hello Brother [1994] played both the characters with equal honesty but a major amount of people sided with Deva, hence the last fight with Deva playacting fight moves and Ravi unknowingly repeating them by nature won claps and whistles. In Ramudu Bheemudu [1964], Ram NTR gathered sympathy while Bheem NTR became a mass favorite. But in Iddaru Mithrulu [1961] film, both ANR characters behave the same and look the same. People still cheered for both as the screenplay gave both of them equal space to perform and win audiences' hearts. Ok, if these seem to be old examples, take Manmadhan [2004] – where Simbu plays two characters and assumes the other's personality for avenging his brother's death. The behavior of the two brothers is highly different but the other one transforms into a monster that his brother became unable to digest betrayal. Both of them appear identical in showing their anger, their emotion will only come under control after they execute or terminate the reason that caused this anger in them. But the innocent one kills himself unable to live with the fact that he can be a monster while the other one stays calm and learns to live with it. He turns into a criminal too but is happy to lead a life like that. The conclusion from that movie is two types – whether you see him as a criminal or see him as a hero "correcting" mistakes. Whichever you choose, you end up finding faults. Hence, the tagline "Only God can Judge him" suits it. In all the above-mentioned movies, choices are left to audiences giving space to both the characters to breathe. But Cobra writers want you to side with the schizophrenic brother. Why?
They felt the story has more emotional depth when you see it from the angle of the one who sacrifices. But they did not ask themselves if that sacrifice can be made worth it. At your home, if you ask your parents for money to buy a book, your parents might immediately arrange them for you. But if you ask them for going out or do trips or events or films, they would smack you or scold you. Some parents will try to encourage that too but rarely. Parents after growing up and becoming Grand Parents try to "spoil" grandkids. They want to relax from the heavy lifting and for fun, they try to become friends with younger ones. At the same time, they teach them some valuable lessons too. Life does that to many of us after becoming adults and Cobra writers missed this calculation. Life would have been hard on both twins. Schizophrenic brother would have suffered more due to the guilt he holds and for becoming a criminal. Writers never even give us a glimpse of that. First of all, When such a loving brother sees that someone killed his little one and threw it somewhere, won't he search? Why can't these murders or money-making efforts be dedicated to finding his brother? Again, writers thought that this is all too simple, we need to make it a maze. Had they just tried to tell a fancy story, they would have thought about many of these things, I am talking about.
A butterfly flapping and flying should create some energy and that energy should be multifold as energy can neither be created nor destroyed. In some form, if some momentum is caused, then it will keep increasing to a level of infinity causing ripples.
Makers of Cobra tried to use mathematical theories [ Ricochet effect mathematics] and fancy names [Cold – Cold of Line Distribution] as well. But they never let visuals sync those theories in practicality and use the words to describe the brilliance behind using those theories. Even if someone wants to cheer for the main lead for pulling off such a brilliant plan, being "lectured" while watching just kills the effect. Sukumar tried to use complex probability and trigonometry in saving a heroine fight in his Nannaku Prematho [2016] film. But it came out as a laugh-out-loud sequence for the majority not because they are uneducated or fans only want the commercial hero to yield an axe or a sword, it is because the director tried to show the hero getting busy with convincing the lady who is panicked to the core and talk to her at length or blabber. She is amazed and frightened at the same time just like audiences getting agitated and irritated. Had Sukumar made the hero wait and make sure that his calculation is right and then correct one miscalculation, then the chances of audiences also digesting the entire sequence with the heroine looking at the hero shocked in awe, followed by her teasing him to not let him express himself freely, there would have been chances for that sequence to be remembered as one of powerful new wave hero elevation and not some troll material. In Cobra, had the writers not cut to different places randomly in the hero introduction scene and let the audience sync in why a Prince needs to be killed by a hero or if the hero is playing a villain, then the desired effect of "hero introduction" would have been achieved. This introduction just seemed like look how many genius ways are there to commit a crime. The crowd doesn't get behind every hero that they worship outside the theatre when they appear randomly. Vijay gets the highest of cheers when he is introduced in a sequence where he is helping someone. Vikram's Kamal Haasan got the highest cheers in the Interval sequence as if it is his "real introduction" even though he appears regularly in brief flashbacks because his "mission" and the kind of people he is murdering are established well and truly in the minds of audiences. Even Vikram is a very complexly written screenplay with many cutbacks but no one complained it is too complex or too plain to follow. Why?
Because Vikram gives you time to travel with the characters. If Vikram's story is being dug out, Amar's story goes forward. Investigation keeps bringing interesting twists while Sandhanam grows through the first half as a dangerous threat. These three character introduction episodes add to the story than be set pieces. Cobra's first half tries to talk about the assassin brother and his life that doesn't even move an inch. He kills two people for a villain and then some grad student and a "Turkish Interpol" (Irfan Pathan) officer keep searching and solving puzzles after the incident. They do throw a challenge before the interval but a man who always calculates his options to be safe doesn't even think about escape before entering into a trap set just for him. Had this been something that he cannot escape even if he tried, then movie gets interesting. If there is a The Dark Knight then Joker makes a better villain than some random supposed "White Knight". Giving a reason for actions and time for that reason to sync with audiences is highly important for any writer and director. If we never give a reason, we will end up showcasing random events that make no sense ever. A. Gnanmuthu just kept going for surprising and show audiences his brilliance which turned out to be a silly choice.
Blackholes are the biggest information gatherers and storers in this Universe, as they radiate out, they give out that information back.
Cobra writers had numerous whacky ideas and audiences have complaints about all of them but in Vikram, a quirky idea like using fake moaning of a woman as BGM worked fine with a major group of audiences. The difference between both of them is that the Cobra screenplay works as a black hole that sucks up all the information and radiates it out at a leisurely pace. It takes billions of years for all the information a blackhole absorbed to be radiated out. Hence, the Cobra movie also needed 2 hours and 45 minutes to really come to the point after beating around the bush – why the lead is doing all this? In Gentleman [1993], why a "hero" is doing all the good things yet committing larger sins had to be held back till the end. But before that, for audiences to route for him or to get an idea that he is doing something good, the director and writers showed his good qualities and the supposed police who should be appearing as a good man gets exposed as an unpredictable and intangible personality whom we fear. So, if somewhere you want to hide the reason, then you have to create other stuff around him that brings out his other good qualities. Ajay Gnanmuthu tried the same pattern by giving more importance to the heroine's love track. If you carefully observe both the films have similar tracks where the heroine is so deeply in love with hero that she is obsessed with him to the core. Director there used it to help for story progression and here, this young man tried to make it emotional content that really tested patience. A psychological thriller cannot be a daily serial too, at the same time. So, a scene that doesn't need more than 2 mins in this kind of Screenplay cannot be dragged to 10 minutes as it feels like an eternity. The audience main interest, at least in what I have observed, lies in the investigation side of the story than the romance track. Or at least, it should be comic enough to not really worry about the length. Trivikram Srinivas who has been sticking to a pattern of stories did apply this in Athadu [2005]. Even in the most serious situation, you get a punch line that doesn't dilute the intensity or drag it out too much. In Julayi [2012], he overdid it but maintained a slight balance in keeping the tone light-hearted. In Khaleja [2010], he messed the balance but still saw that they are all interesting, hence it took time for people to warm up to it. Sadly, Cobra is a lost cause on all fronts except for the interrogation scene [even though inspired by short film Inside]. Chiyaan Vikram again proved his capability there.
Take a sequence like Trisha being playfully flirty with Mahesh and then slowly, Mahesh reciprocating it in Athadu. That shows the character's growth and without being on face, the subtle change makes us happy. Cobra tries to be more melodrama with similar one-sided love scenes. Had the director tried to avoid melodrama even if it is for lady audiences, the movie would have moved faster. In 20 hours, the time that One brother gives to another, the story finishes as rushed as it can get. Both the love stories don't have parallels to draw from either for us to say ok theory of similarities is happening ricochet effect and Cold of Line. But nothing of that sort has even been attempted. It just seems like Ajay Gnanamuthu decided he needs an Anniyan scene kind of a scene and wrote a screenplay (by inspiring important scenes from various films, including What happened to Monday) around it.
Real science lies in observation not theorizing…
AR Rahman, Cinematographers, Editors, VFX artists, and Production designers everyone did their best to show each penny spent on screen. But the writer lost track in the very first minute. If someone can easily hack an Interpol system by sitting in an underground tunnel then can he or she not think about backup plans to escape, if ever got caught? A mathematical genius knows about clearing the tracks but a computer genius doesn't! The writers did not care about explaining things that really need to be explained or shown dumping information and hoping for us to connect with it without giving any reason or time. If someone randomly reads out what they wrote they will end up as students or teachers (painstakingly true) who can never be orators but speakers. An orator connects with audiences and delivers what he or she wishes yet gets a reaction from the crowd. A speaker just reads out written and in assembly, asks you to sit and listen! We wanted Cobra to be an Orator but he ended up being a Speaker to someone who can only speak to himself. If audiences had the power to hallucinate, then he might have been a good orator in them.
Theatrical Trailer: Cobra Review