Major: A hero's mass mis-ambition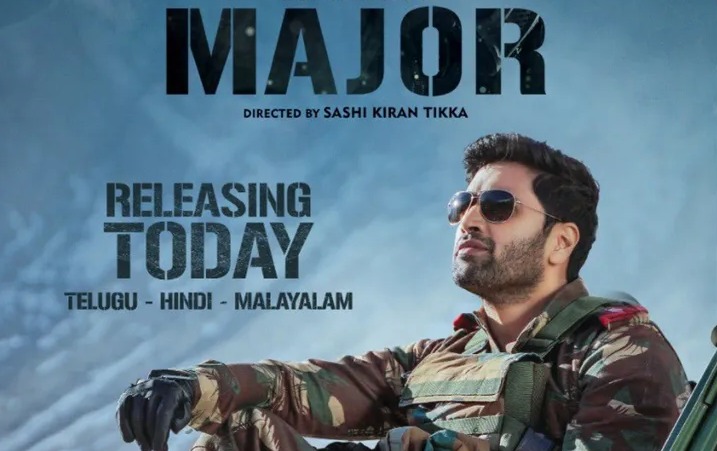 Major Review
Star Cast: Adivi Sesh, Sobhita Dhulipala, Saiee Manjrekar, Prakash Raj, Revathi, and Murali Sharma.
Cinematography by Vamsi Patchipulusu
Editing by Vinay Kumar Sirigineedi & Kodati Pavan Kalyan
Story & Screenplay by Adivi Sesh
Directed by Sashi Kiran Tikka
Trying to tell any story is an attempt to sell something that you either believe in or trust that there is demand for it. Raghavendra Rao kind of legends believed in the second theory. They trusted that there is a crowd for certain stuff to be consumed and provided them with exactly that with time to time upgrades. They could do anything if they put their heart into it and he proved it with Annamayya, Jyothi, and Pelli Sandandi kind of films. The first category is rare and these days it is almost absent. Everyone tells that they believe in the story they are telling but at the end of it all, they just show you a Mirage and call it an Oasis. You run to it and try to get your thrust fulfilled but end up even more thirsty. Unfortunately, after showing some Oasis, Adivi Sesh came up with a Mirage.
Major is his ambition to project himself as a mass hero. Pan-India hero. Had he truly believed in talking about Sandeep Unnikrishnan's kind of soldier life, he would have made a film like Shershaah. The death of the soldier in that film was dramatized, not to increase the "mass" factor but to deliver a compelling tribute. To show how much of a heroic deed, he did. Here, intending to become a mass heroic symbol, Sesh drags out a straightforward mission into 2 hours of hyper lengthy drama that never really cuts into the total full-blown drama side or never really comes into the full-blown action side. Action dramas exist but they try to tell you a story within the framework that the plot allows. Going beyond the plot to tell something that doesn't really matter to the proceedings to just increase the "impact" won't work. For example, a woman and a kid's lives are at stake, literally, and you're asked to listen to a Major and his wife's conversation. This is just to connect this woman's "alone" struggle to the comment made by his wife. Can you take such kind of writing seriously?
He is in the middle of a serious rescue mission. His concentration is on saving hostages. Suddenly, he tries to convince his soon-to-be ex-wife to not give up on him. This conversation would have been heartfelt and effective had he called her before going into the field and during that someone has an issue and he decides to step in. Not heeding her one last plea. She is heartbroken and she hopes he survives so that she can see him really beg her to take him back. Or just want to have that conversation she always hid from him one last time and have him feel her pain. She needs him alive and alive only. Even though she wants to move on and she cannot. I think the latter one has dramatic potential to really give us an in-depth view of a person's psychic. While what we saw is an attempt to say that a Soldier goes through many issues and their closed ones even more. The intention needed a much better scene to showcase depth in characters, not just some writer having a field day by being able to "shorten" things. If the scene has more compelling drama whatever one writes people will at least find some heartful attempt.
A father talking about his son doesn't talk more about his behavior or achievements but talks about his love story! How much ever cinematic liberty you take, can you really get behind that? Can't his ex-wife or window remember that side of the story while father comes up with lines about how he used to win or not win anything but have the heart to compete, have an eye to observe, an ear to listen, and a penchant to seek? Don't you see that having more flow in writing than father speaking about son's love story that too with a stranger when they have come to interview about martyr? That too after the daughter-in-law decided to cut ties! Who are these parents? How come they don't exist in our daily neighborhood but exist in a film like Major?
Fine, I am not going to just bash the film. The intentions are all good. Even the love track works to some extent. Sesh really worked hard to look like the part. Saiee Manjrekar too reduced considerably to look like a teenager. But body transformation doesn't make up for a performance. In fact it is just 35%. Sesh becomes bland and blank in many close-ups. And if I do not talk about Saiee in Mature parts that would be best. Just look at Prakash Raj or Revathi. They are playing their ages mostly but they do play younger parts in this one. But can you really say Revathi couldn't pull off emoting as a young mother and did not show any difference after growing old with her kid? Can you say Prakash Raj did not show any difference in being a caring dad to a young dad trying to understand his kid to a grieving dad who is still proud of his son! Did they both physically transform? Yes, younger actors need transformations and that is not wrong at all. But if that is performance then I can't really help you.
Murali Sharma just walks into the role and he is believable. None of the actors who walk into terrorists' roles are given any character. They are just asked to kill and look like they have been asked to stop in the morning in the middle of too. How one-dimensional can they be? How can a major walk out and talk to the press that too NSG Commando when firing is going on and hostages are under threat? Did you ever see someone doing that? Someone can be cornered and then he or she could decide to fight alone. Here, "hero, as he is mass hero, walks right into a trap"! Can you really call that clever writing or tribute to a Soldier? The film keeps changing the meaning of soldier too. At one instance it says a person who saves others and themselves too is a Soldier. The next person who walks directly into a trap knowing he won't survive is the meaning of soldier. Then suddenly a person who is "present" at that moment is a soldier and lastly, when a person sacrifices then he or she is a Soldier. So, a parent working hard for 18 hours to make ends meet and grow a child into a good citizen, what are they, Negligible entities? A woman or a man who becomes your life partner who doesn't even trust you to share their pain, what are they, expendable colossal damage? If a maker really wanted to give homage, then just show the other side of his or her decisions. A parent feels like he or she is abandoning them, then try to show him or becoming a parent to 100s while training. Using their techniques and caring for the cadets as they do for him or her. If a life partner feels neglected show her or his pain organically. Don't suddenly open with her or him looking into emptiness. That serves no purpose. Can go on and on.
Well, this film has a good score from Sricharan Pakala and good visuals. Lacks in writing and lead performers department. Can't really help but notice their blank faces when the camera pauses to show their pain, agony, and mass! Adivi Sesh is a limited actor and he should stick to what he can do best. Watch this film if you really have to only. Because Sesh and Sashi Kiran Tikka ended up making sugar milk when their intention was to make "Payasam/Kheer".