Sarileru Neekevvaru: Pranam Kareedu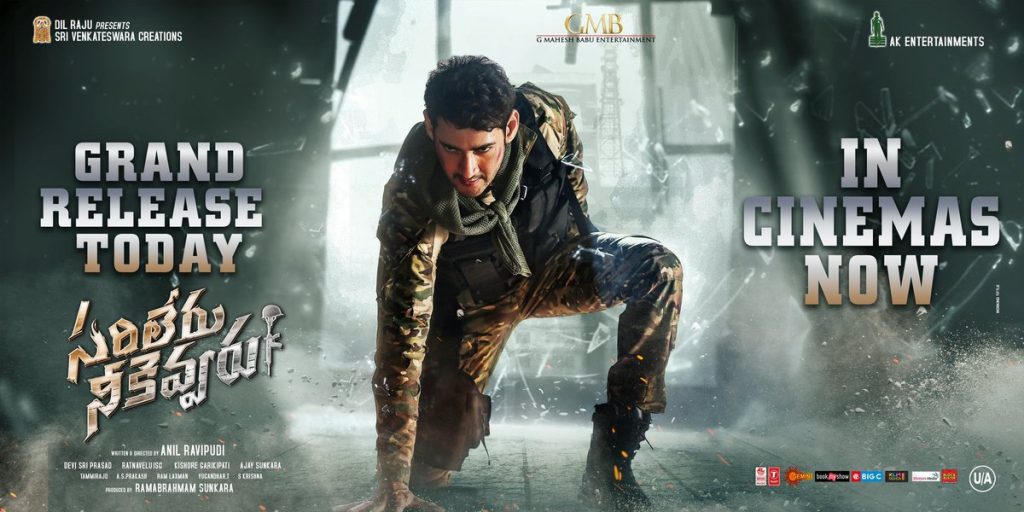 Sarileru Neekevvaru Movie Review
Star Cast: Mahesh Babu, Rashmika Mandanna, Vijayashanti, Krishna, Prakash Raj, Rajendra Prasad, Sangeetha, and Vennela Kishore.
Music Composed by Devi Sri Prasad
Cinematography by R Rathnavelu
Edited by Thammiraju
Written & Directed by Anil Ravipudi
Censor Certificate: UA & Runtime: 169 Minutes
Anil Ravipudi seems to have decided to make a movie with Mahesh Babu that entertains his fans and fans only. For common audiences, a good film contains a decent story (tick mark), a good hold on emotions (tick mark) and some points that connect with their daily life, fun episodes (tick mark), then they say, "take a bow"! But for fans, all they see is Mahesh (tick mark), all they need is Mahesh (tick mark) and they just want him in an energetic role (tick mark), if Mahesh agrees to do all that a commercial Telugu hero does, they say, "take a bow".
A star shines bright when the core is filled with enough fuel and due to heavy mass, the effect of gravity increases and free-flowing neutrons start the reaction to emit the most luminous light and radiates energy to billions and billions of kilometers. But with less fuel in core, the star collapses after a big Supernova blast. So, only fan stuff might make a big noise and shine bright initially, but it is a destructive force, resulting in core-collapse.
Mass MB is highly likable and inflammable but Mahesh Babu's Okkadu had a core, Pokiri had a strong core, Dookudu had a core too. All these films cores made the star shins bright and some late fuses like Athadu, Khaleja, also made him last for long in public memory far before, Srimanthudu tried a blend of all. With small spurts of dim lights, a Telugu star like Mahesh Babu survived for 20 years with new cores contributing as assertive or destructive forces all along.
Today, his fans got what they want. They needed an energetic performance from Mahesh and they got it. Not all scenes in a film have to work, but there should be a strong story that is leading to somewhere rather than random blocks. What are random blocks? Mahesh suddenly deciding to travel to a newly transferred soldier's house, without any proper connection to his story and the main story. When we are trying an out & out commercial mass cinema, we don't have to go for different Mass, core mass executed properly, will give you the required result.
Random block -2: Mahesh deciding to change a Minister and then Minister trying to say that his constituency people are his major support. A power-hungry minister and political leader believes that he has people who support him devoid of all crimes, he commits. He himself says that in his intro that he will be doing mistakes and make people support him, by hook or crook. So, he admits being a manipulative criminal mastermind but just shouts on the road which could be filled with journalists and people who have cell phone cameras, even in his intro & in this confrontational scene. Let's leave the logic, doesn't he seem to be naive to think that people will support even after committing crimes openly, rather than manipulative mastermind?
Random Block -3: A family in train trying to somehow force an Army officer to marry their girl without knowing his character or job. If they have tried to use all the schemes and manipulations to know his character and they belong to the Vijayashanthi family, doesn't that lend itself to the story? Them being related to Vijayashanthi can be random coincidence but by making they scheming scammers for good, doesn't it lend some weight to heroine character, after falling in love with hero upon first sight? Even in F2, Ravipudi randomly wrote heroines family as manipulative and heroines as highly selfish people. Still, comedy worked there and it seemed like an addition to tick off romance & comedy columns in a commercial cinema template here, boring us to death.
Random Blocks – 4 & 5: Hero is randomly equaled to Alluri Sitarama Raju when the man is a freedom fighter but not Superstar Krishna's fictional character. Again a forced reference to Krishna as he is Mahesh's father for fans devoid of any proper connection to hero in the story. Similarly, Minister fears leakage of information but he doesn't try to manipulate the crime syndicate he created to leave a challenge to hero. Again another trait to dumb a villain and a big try to induce a forced social message, political satires so that people, fans clap without thinking what is the connection between story & the monologue. Most importantly, from when did 50-year-olds start getting recruited into Army, that to people who served as Ministers?
This entire film seems episodic and random at best rather than a coherent script. Ajay becoming a family member of Bharathi doesn't hold up emotionally and army angle looks like Ravipudi just wanted to say Jai Jawan, aloud and somehow tried to add it to the story, even if it doesn't sit well with the main script. He had the same approach with his films – horses for courses and he seems to rather stick to such formula than improve on it and write a script that flows.
Finally, one feels that Devi Sri Prasad needs a slight break or good scripts, Rashmika Mandanna needs a look designer and Mahesh Babu needs to do more characters that require him to be active, as he can bring out more to them than to subtle ones. On the whole, after watching the film one feels to shout out, "Memu pranam petti chudali anukune cinema andi, meremo ilanti aara kora udikina pulihora petti vindu bhojanam antaru, badhyatha undakkarla".
Theatrical Trailer: