Athade Srimannarayana: Western Vishnu Purana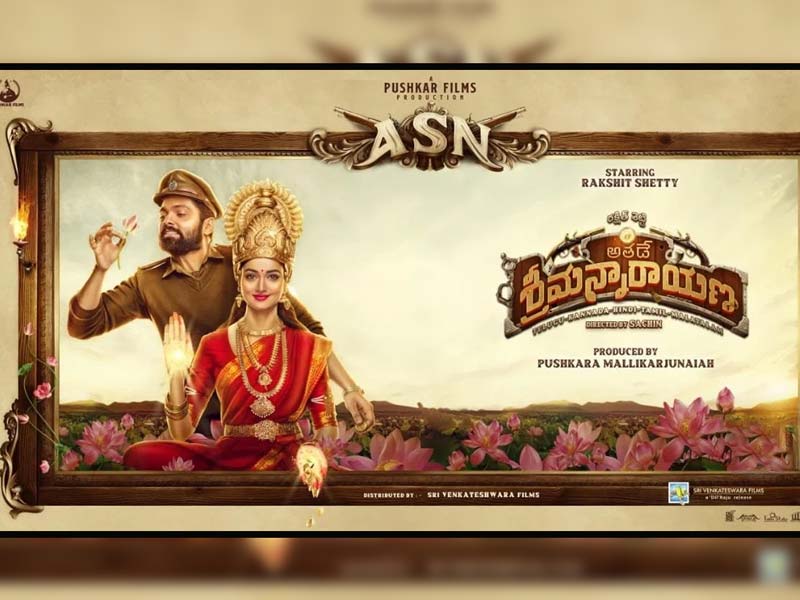 Movie Review: Athade Srimannarayana
Star Cast: Rakshith Shetty, Shanvi Srivastava, Achyuth Kumar, Balaji Manohar, Pramod Shetty, Rishab Shetty, Yograj Bhat, and Madhusudhan Rao.
Music Composed by Charan Raj & Ajaneesh Loknath
Cinematography by Karm Chawla
Edited by Sachin Ravi
Directed by Sachin Ravi
Khaleja really missed to connect with the audience as it tried to stretch the point of Lord Descending on Earth in some form to save helpless, all the way, forgetting to create an interesting plot around it. Comedy took over the film more. But Avane Srimannarayana balanced it properly on paper. Each and every scene is measured to the level of microscopic accuracy that you can just see the effort went behind crafting such an ensemble piece of filmmaking. Yes, not cast but filmmaking. You can see each department adding something or the other to the scene and you don't get carried away by it too. You feel the proper emotion that writers are going for and that is the key to a film like this.
Without going into spoiler territory, I will try to tell, what the plot is all about. It is Vishnu Puranam, that a Harikatha singer would happily celebrate. Srimannarayana, himself starts searching for his Lakshmi throughout annoying her too. Someone from the older generation can easily sell it as a story of Lord's avatar during Kali-yuga as he lost his Lakshmi. Some can say, a retelling of Govinda aka Lord Venkateswara's story with great emphasis on what he is really searching for, Lakshmi that fills the pocket or Lakshmi that fills the heart.
Also, movie writers group, which includes lead Rakshit Shetty, are very very particular in keeping the vibe of Narayana going throughout and even make fun of it. Still, they don't try to explicitly say that the hero is Narayana, himself. Narayana has a side-kick in Narada but Lakshmi, in mythological story left his heart so void that he needed to marry another woman as Govinda and then stay on the Earth forever, with Lakshmi as Alivelu Manga and Bhoodevi as Padmavathi, where she tries to guide him to her, the real treasure that makes him whole. But Rakshit did not stop there, he cleverly made Dasavatharam, a part of the narrative, which we can catch only if we are keenly observing each and every moment.
He made Rama turn slightly Ravana and then corrected it by himself. In the eyes of Lava and Kusa, Rama has hurt their mother and even distanced them to stay as the King. It did hurt them so much that they waged a war on him. When you watch the movie, keep this story in mind while watching the brilliant opening sequence. Later, the hero enters from a screen where Hiranyakasyapa is threatening Prahalada to show Hari and then smashes a pillar, in anger, as the young one tries to say he is everywhere.
Rakshit did not just use it as a great introduction but he carried the idea forward and made Narayana seem to be everywhere and take every risk, he can. He even made hero take all avatars that Vishnu descended as to save people, to go with all the famous stories of the Lord. Vishnu normally descends to Earth when he either has to save some form of Lakshmi or search for her, in the mythology. Take all avatars – he saves Vidya Lakshmi, Vedas as a Matsya, he marries Lakshmi in her true form by helping devathas and rakshasas to find treasures from milk ocean as Kurma, he saves Bhoo Lakshmi, another way to call Bhoomatha, from Hiranyakasyapa's brother as Varaha, he saves a child from his abusive father and goes so wild that he cools off only when Lakshmi takes an avatar, he saves Earth, here Rajya Lakshmi from completely going into the hands of Rakshasas as a kid Vamana, he avenges against evil kshetriya clans to restore peace – Shanti Lakshmi, as Bhargava Rama, he saves a wife's self-esteem – Gruha Lakshmi from embarrassment as Rama, he saves Dhanalakshmi from a corrupt and ill-mannered King to restore balance of power as Krishna. I can't really how we can relate each thing to a scene in the film without spoilers, but you can relate easily. (Maybe I can explain clearly in a discussion outside)
The movie also portrays innocence as the most important quality to never be lost as it hints at smartness being a cruel ally – we never know how we end up in tricky situations if we believe too much in it. In the end, a smartly innocent person can really see what is required while an innocently smart person loses everything to a gullible attitude which lets him believe, he is the only smartest person ever. The transformation of the character of the lead is hinted with this principle. When Ravana overpowers you Rama can't be himself but when Rama wakes up, even a baddie can be saved.
Well, movie writing is brilliant and making is also good. But the editor and director, Sachin Ravi couldn't stick to what's more important and narrate it at a pace that doesn't lose your attention every now & then. Even good things and bad things stay for a certain time period, relevant. If a person only experiences good things all along, one bad thing can break him into pieces. This movie could have ended up like that good person but the writing holds it together so well, that even director couldn't undermine it completely. Not to say that he tried but he became slightly greedy and before he kills his golden goose, Narayana made his presence felt to keep him focused. This film is An effort that will be remembered as a game-changer for sure.
Theatrical Trailer: