Venky Mama : A clueless drama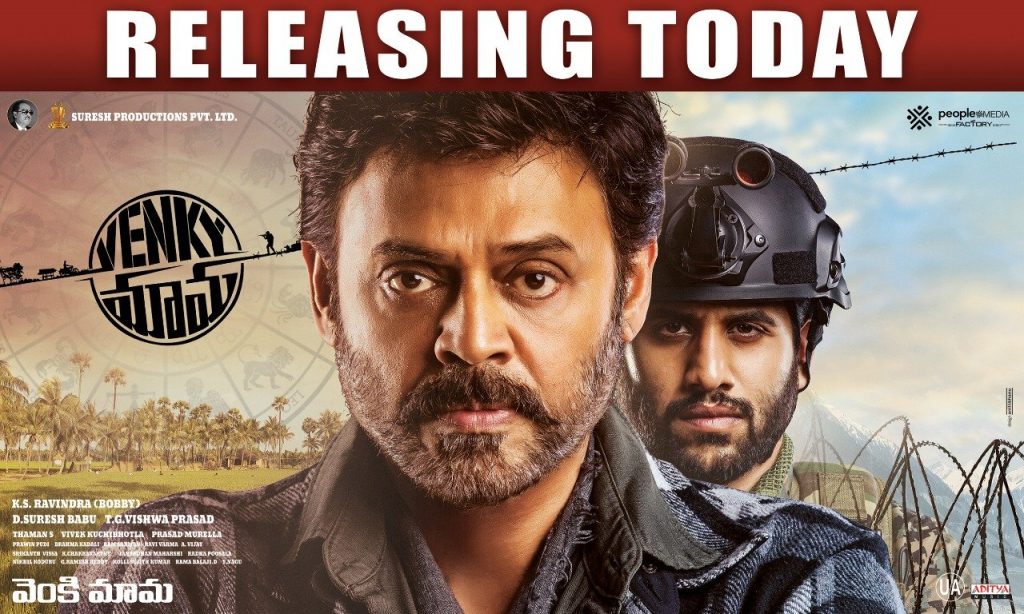 Star Cast: Venkatesh Daggubati, Akkineni Naga Chaitanya, Raashi Khanna, Payal Rajput, Prakash Raj, Nassar, Parag Tyagi, Sampath Raj, Rao Ramesh and Posani Krishna Murali
Directed by K S Ravindra
Produced by D Suresh Babu and Vishwa Prasad
Written by K Janardhan Maharshi, Kona Venkat, and K S Ravindra
Cinematography by Prasad Murella
Edited by Prawin Pudi
Venky Mama starts off with a scene where Venkatesh character helps his sister to run from home and get married. His father believes in astrology more than anything else and as he can predict the future, he says that the couple shouldn't get married. Venky believes that love can win against power in the world. Hence, he helped the couple. Now, his father believes that their child is Krishna and he will cause the death of his Uncle, Venky. He thinks about getting rid of him, even though he loves his grandkid as he may become cause of the death of his son. His daughter and son-in-law die, still, he wants his grandkid to stay away from his son and their family. But Venky goes near the kid, one-year-old baby calls him Mama and Venky decides to go against his father's wishes. Be assured, these are not scenes from 1950's or 60's film, but a 2019 film.
And we start to wonder, Krishna killed his Mama, because he is Kamsa, a Rakshasa, but why would he kill a good person? Or did Krishna kill Kamsa despite him being a good person and a good King? How come a person with same Kundali/Horoscope like Krishna will kill his Mama, without any purpose? So, is all Mahabharatam a purposeless story of good people killing good people just because they thought it would be fun to kill each other? Even Ramayanam from that angle seems like a King killing another king, just because he is Rama and he stood against Ravana, who is also a good person. So, in the world of K.S. Ravindra, Janardhan Maharshi and Kona Venkat, the big mythological epics are just throwaway stories and gimmicks? They neither had a story nor a purpose for acts of their protagonists. Maybe Veda Vyasa and Valmiki should learn from these writers, on how to make sure that they use some kind of purposeless random cause to build some story around characters. May Be…
You can never be assured of how dumb a story writer can get while using big words and names in their stories. Why? Because everyone thinks they figured out a way to connect our regular lives to big mythological storylines and purposes of Gods to make the stories that special and engaging. But the trick lies in using those metaphors in a balanced way, not in a forceful manner. If there is no Kamsa, why would Krishna need to kill his Mama? According to mythology, Ugrasena, father of Kamsa and Devaki, was a good King and kind man. He loathed Kamsa's adultery and bigotry. He even tried to terminate Kamsa as King. Kamsa was an evil man but never let his evil side uncover in front of his family, until he got to know that he will be killed by his sister's eighth son. While he treated all seven children of Devaki like a loving uncle, he killed them all fearing that they all would help Krishna, in killing him. So, he turned into an evil man, for Krishna to kill him.
Logically, Mama to Krishna should be an evil man to die in his hands. At least appear evil to public and then there is a chance for Krishna-Kamsa angle to play out. Let's keep these sort of old and boring logics aside, however sound they might make our story and accept for a minute that every Krishna is born to kill his Mama, no matter if the person is good or bad. But can that killing still just be shown as a purposeless tool in a story that makes it the center conflict point? In Murari, the curse is pertinent and follows a cycle because the sin committed by the sinner is inexcusable. You have a strong purpose for that curse to exist and an even stronger bond between the family members for the ultimate sacrifice to touch our hearts.
 Writers while discussing story: (imagination)
Writer 1: Venkatesh and Naga Chaitanya should appear together, so they need to have a storyline that lets them both be leads. What can that be?
Writer 2: What if their real-life relationship is used on-screen as well? What if that relationship itself becomes a toxic one for each other?
Writer 3: Superb. What if we add a social message to all this? How about it being a man going against astrology?
Writer 1: Okay, how can we connect Mama and Alludu being toxic to each other from an astrological point of view?
Writer 2: Let's call Alludu Krishna, hence he kills his Mama.
Writer 3: Genius … Our Telugu people who believe in astrology and are highly connected to the mythological stories will lap it up easily.
Writer 1: Okay, how shall we make alludu look like Krishna? What qualities will make Venky look like Kamsa?
Writer 3: Are you for real? How will Venkatesh play a villain? No, he should be a hero.
Writer 1: But, why would Krishna kill his Mama, if he isn't Kamsa?
Writer 2: Yaar, Do you think people will think so much? They will not even care about such logic. We will add some old school jokes and funny scenes, nostalgia will take over. Fans will whistle for Venkatesh and Naga Chaitanya scenes. We will make Venkatesh call NC, alludu in every 2nd scene. No one will care about story or screenplay or such logics. They will whistle and laugh at our old jokes, enjoy old songs and even say that we brought back old Venky like in his other film. Why are you unnecessarily worrying about such stupid things like logic? What say, Writer 3?
Writer 3: I'm setting blocks, action blocks and I have a good end title message card too. Don't disturb.
** END **
On the whole, this movie is a lethargic experience and the team took audiences for granted. Their story had the potential to at least make Alludu Krishna misinterpret his Mama as Kamsa and hence, he kills him. Even Astrologers say that they predict based on their conventions and they shouldn't be taken as accurate depictions of the future. Somehow, Venky Mama makers did not care to even think and work on the silliness of their script as they thought, "Telugu people believe in watching same old formulaic films again & again, as they entertain them." But the fact is, out of 100 films that release in a year, only 10-15 work because the formula is presented in a package that doesn't insult their intelligence while being outright fun. Also, one or two do try to genuinely tell a story. The other 85 films use the same formula, same tricks and gimmicks still fail. So, should we all follow a formula or should we try to keep our feet firmly on the ground and fly with our imagination??