Bigil: An overtly loud whistle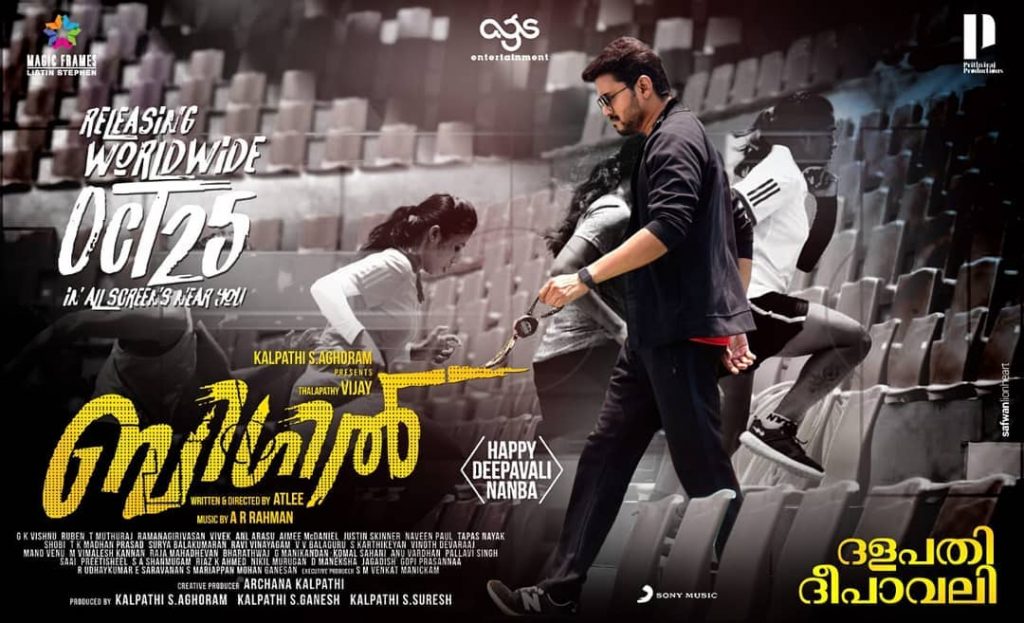 Cast: Vijay, Nayanthara, Vivek, Jackie Shroff, Yogi Babu, Varsha Bollamma, Induja, and Reba Monica John
Directed by Atlee
Written by Atlee & Ramana Girivasan
Cinematography by G K Vishnu
Edited by Ruben
Women Empowerment is an important topic. Ajith with Viswasam and Nerkonda Paarvai, Vijay with Bigil tried to deliver an important message regarding the status of the women and their outlook needs to be appreciated. But being socially relevant became new commercial cinema formula and taking a political stance also became important. With might be averse to the idea of politics but his films started to have social issues as subject matter and Vijay made his intentions clear long back. So, if the stars are just doing these films because it will give them good press and name, then we cannot appreciate their attempts but if they are truthful, then they should be given thunderous applause for going out of their way to incorporate such important message through their films.
H. Vinoth had Pink to follow and remake. So, we cannot say that Nerkonda Paarvai was straight forward and more to the point. But Atlee's Bigil starts at a college and ends on football ground with the transition taking all possible commercial shortcuts. Atlee tries to incorporate all sorts of masala movie moments in his films but his writing hasn't changed one bit. He is still focused on overstuffing his films with three to four stories trying to figure out a way to make sense.
This makes the film episodic and scattered in its execution. If comedy works in one scene, it doesn't in few other scenes. If music is good then the picturization is too larger than life. If Vijay is able to pull off a wondrous backflip kick then he is unnecessarily given extra mannerisms than a different characteristic to be able to distinguish from the other. It looks like Atlee is fixated on making a film that has at least two films or even three films worth content with Vijay.
Hence, the movie looks like an arid exercise of tickboxes.
Vijay introduction – check (works)
Vijay as Bigil followed by comedy – check (football works but comedy is a downer)
Vijay's intro as Rayappan – check (his mannerisms dilute the impact)
A love song – check (doesn't work)
Comedy – check (doesn't work)
Emotional scenes – check (if one works another one extends)
Stylish Vijay – check
Vijay in every scene & 90% of shots – check (unnecessary)
Same story with an elongated and elaborated like Shankar – check (But not everyone is Shankar).
The list goes on…
We don't get to spend time with any character or a genuinely moving scene seizes to exist, with many elements added to the story. One long hop after another, we just get episodes and episodes after episodes draining us out of energy. You don't really see each emotion adding up to the finale. You don't see the characters reaching their pinnacle with the story. The main plot stops abruptly for the newly introduced sub-plots to finish.
Atlee as a story-teller in short episodes is strong but when it comes to giving a complete experience, his focus is still wavered. AR Rahman comes to life with good scenes and sleeps with the bad ones. GK Vishnu tries to light up everything brighter than they should be but gives great consistent quality to the frames. Vijay and Nayanthara had good chemistry but their scenes are thick as rock salt in a curry. If you're not used to it, you can't find a way to escape the unnecessary saltiness, after a single bite.
You get random situations, random characters and even random resolutions to the issues. Atlee seems to not care about such issues and believes in star value but a film needs genuinity in emotions and the story should have a place for everything. This film just seems to add on and on until a point where it has ended and it ends. The heavy influence of Chak De India doesn't sit well into the formulaic template of a Vijay film. This film is a loud whistle that hurts your eardrums and peace of mind. Tread cautiously, if you want to watch it.
Theatrical Trailer: