Ranarangam: War between Writer(s)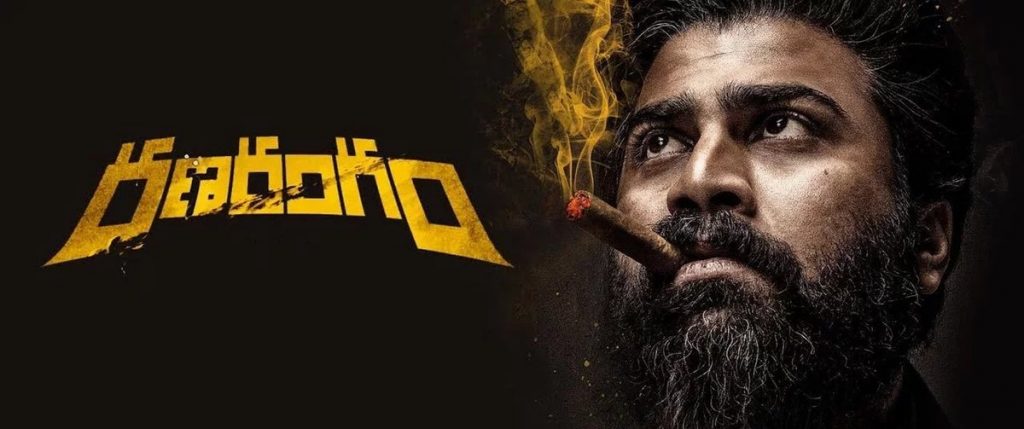 Cast: Sharwanand, Kalyani Priyadarshan, Kajal Aggarwal, Murli Sharma, Adarsh Balakrishna, and Brahmaji.
Music Composed by Prashant Pillai
Cinematography by Divakar Mani
Edited by Naveen Nooli
Directed by Sudheer Varma.
Ranarangam the movie is not a war within the empire or for the empire, as a writer Sudheer Varma thought but it is about the battle within the two writers in himself. From his first film, one writer in him believes in visuals and another in fun dialogues, conversations. The marriage between both of them seems to be getting difficult as his ambitious writer believes in visuals, his more practical side of a writer is pushing him to write fun scenes with reference materials. If they both can stop picking each other apart, we may get a film that visually strong and emotionally great.
Unfortunately, Ranarangam is still a by-product of that mix-mismatch. You feel the eye on innovation, you feel the sensitivity of a director in handling things but you don't feel the emotions of a character. ANR has to shine as Devadas for the film to work but if Vedantham Raghavayya's ambitions took over the narration, we wouldn't have had a classic. Krishna's Devdas innovates on technique and loses on emotions. Check them both if you're interested.
NTR as Krishna had to shine in Mayabazar for us to suspend the disbelief and enjoy the fun in the film. Once we believe that he is Krishna, we can easily believe that Savitri is SV Ranga Rao in few scenes and SV Ranga Rao is Savitri in many. Director KV Reddy had innovative ideas and techniques to tell the story but that did not kill the writing or actors. They were given ample scope to shine in a film that was technically highly advanced in 1957…
Abstract ideas of K. Balachander became fun scripts as the actors were given scenes to shine and then as a director he made that his mark. His technique never eclipsed Bharathiraja but his characters, scenes did have an answer to poetic visual storytelling. Bharathiraja struggled after a point to marry his poetic technique and story but when he got it right, he created wonders.
Finally, Maniratnam is still aspirational because of his technique that supports his writing which is growing weak, while Ram Gopal Varma stopped caring. Still, Gayam, Sarkar, Satya, Nayagan, Thalapathy – the greatest Indian Gangster flicks are beautiful, seamless marriages of their techniques and writing. Quentin Tarantino, Francis Ford Coppola, David Fincher, Martin Scorsese have a distinctive technique that never overlaps writing.
Framing is an asset to any story. For example, a frame can tell anything. Imagine a person lying on the tar road, in a dark alley with one spotlight and no ambient light looking at a gun pointed over his head, with blood spilling from his eye. He seems to have been brutally harmed and can't move. He is looking at the impending doom. In this frame, if eyes of the person are highlighted and we see them reflecting innocence, we connect with him and run to save him. If we see a naughty smug or cold calculative stare, we want to know if he deserves that or not. And if we see a victorious look than death scare in those eyes, we just want to know the story. Unknowingly we are moved, thinking that it could be a sacrifice. But if the camera concentrates on gun and keeps the eyes of the person at the gunpoint in the blurry depth of field, then? Still, it will be regarded as a great frame. Still will showcase how painstakingly everyone worked to construct such an imaginative frame. But can they connect? Sudheer Varma is best in framing and attaining a visual that is high quality. But he concentrates on gunpoint more in the above frame than the eyes where the story and intrigue lies.
To elaborate, with my limited knowledge which I am always trying to expand over time, I would like to take two different past and present frames from Ranarangam. Spoiler and long para alert with a request to not think as Vignana Pradarsana…
Take a frame from a fight scene of the past in the movie. Say, kallu paaka fight, we see hero entering into the place with his friends who are beaten to a pulp and the stand out frame is using a food item, the hero was able to strike first blood. This frame has hero angry, his face has slight blood splatter and his friends just look. They don't try to defend him, they don't react they just look stale. We get that the hero is just growing as a don and others don't need to react. Lighting in this frame is pointed at the eyes of Sharwanand, his emotion and camera is little bit above our eyeline. Trying to showcase his fierce anger. Now, present frame. Sharwanand is on the phone telling a minister to know the limits of power. We get his profile. Shadows are visible on his left side and we see his right profile more prominently. He is in broad daylight, giving a warning in easy comfy chair.
Which one has more character in the frame? More story? Cool and calm Deva needs to be menacing, so the frame needs to be active like in Godfather when we see Brando for the first time. He is cold, calculative and the frame has more energy to show that ambiance around him. When you come with a problem he asserts comfort to you, while talking like a mob boss but a good person. Here, Sharwanand is threatening but we don't feel like he owns the place.
The same director made a frame from the past have more energy and character but the present was just heartless. So, why would anyone care for Deva older version than his younger version? The color palette exudes fierce energy and vibrancy in past frames, in present ones it tries to take a de-saturated, cold but stern lighting. So, the tonal shift lacks coherence even in frames and writing is too weak to not let us care about both.
Sudheer Varma as a writer seems to aspire to the sky but then a practical side tries to ask him to find something that follows his references than may wind up being something else. Again visually he is best in the recent generation and again, he extracts better performances from the cast. But again he falls prey to the writer in him. A past and present biographical structure need more teeth, more characters and the journey needs to be balanced like in Rock On where past haunts Present.
Here there is a brewing threat that hides in plain sight, here there is a strong sense of one man's growth being challenged at every corner. In Past and Present structure, like a transition that tries to always make us read which is we needed a character that holds us together to read him or her. Based on that person we will go through their journey. But the journey cannot be abrupt and pointless. Prasanth Pillai, Divakar Mani, Sharwanand gave their best but in a war that is not in their hands, their efforts seemed a pointless exercise.
Theatrical Trailer: