Mallesham: An unapologetic DD Movie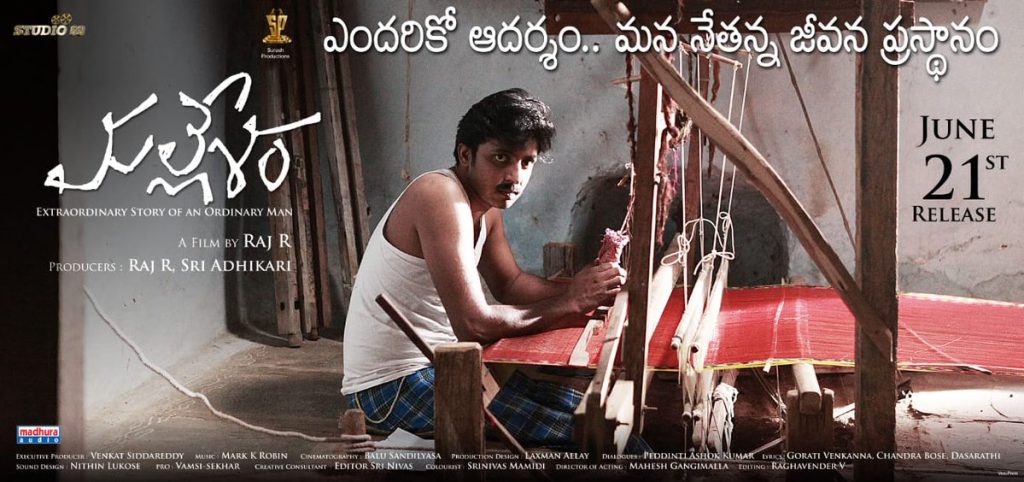 Movie Review: Mallesham (2019)
Star Cast: Jhansi, Priyadarshi, Ananya Nagalla, Pratap Bhandari, and Thiruveer
Music Composed by Mark K Robin
Cinematography by Balu Sandilyasa
Edited by Raghavender
Directed by Raj Rachakonda
We don't have TV movies or direct home video release movies like Hollywood. Many films have issues with theatrical release and some manage with the support of studios. Suresh Productions is becoming a studio for Independent Telugu films and that is a great news. But the way Mallesham is being promoted as a masterpiece, there lies a big gap between what is made, what was intended to be made and how it is promoted. I don't want to talk about promotions that is not my cup of tea, at this point. If you remember DD movies like the shows that used to be performed especially in front of three cameras with a budget of 1000/- per episode, you get the idea of where I am going with this.
The movie is about a Weaver and his family that made him build a machine from scratch with what he had in his hand for 7 years. He did not have a great education, he did not know whom to approach and he did not really have all the facilities that an engineer or a scientist has. All he had was an idea that he needs to design something that helps women who are losing their hands to Aasu – a form of creative handicraft which involves rotating the thread over 12,000 to 50,000 times to attain a proper design.
With the death of handlooms (Ikkat) in 1980s, many weavers had to move away from their local villages and go to towns to live as daily labour or die. This kind of sad reality made Chintakindi Mallesham to develop a machine for Aasu and he attained patent for his machine after he developed a computerized electronic version that runs on complicated algorithms, again written by him even though he never attended a college or school after 6th class.
This kind of story needs emotion to be highlighted than hidden. One scene can't really explain the weaver's problems as we immediately follow the main character which indirectly looks at the problem and playfully starts finding solutions. The emotional weight in the sequences is not handled properly as the documentary style writing takes over a simple story that needed to concentrate on the issue and human emotions.
In trying to be neo-realistic, director Raj Rachakonda killed the natural essence of the story. The actors try to be too restrained than natural and the talent assembled did not really shine as bright as director and team expected. Priyadarshi, who normally has an energy, couldn't really bring such energy to the character that needed to be loved. One can understand how much off the weight, Mallesham shoulders tried to carry but during the situations, during making prototypes, he would have always been saying to himself, "This is IT!" We don't see such enthusiasm in the actor and also in others too.
Staging of the film tried to be pure 80's DD drama where the camera sits at a distance and actors walk in and out. You feel like a documentary style is being attempted while the script was aiming to be next Gullyboy and Subramanyapuram with a tinge of Sivaputrudu and a tint of Badram Koduko. The movie tries to merge art and commercial aspects but forgets that the film needs a good whip of energy and efficient deft handling of emotions to come together for people to really enjoy it.
When you see a film like Sindhooram, you appreciate it more than Samudram. You appreciate Chali Cheemalu more than Ee Charitra ye sira tho. You appreciate Welcome to Sajjanpur, Raman Raghav more than Manto. Films deserve to have a flow, the best of documentaries do too. This is like a DD movie that derails for 2 hours and tells the story in 30 minutes that too not letting us get into the character or understand the weight completely. This movie had a script, had intent but there was no proper execution that this movie really demanded.
Theatrical Trailer:

Tedx Speech: