Falaknuma (Das): Express Derails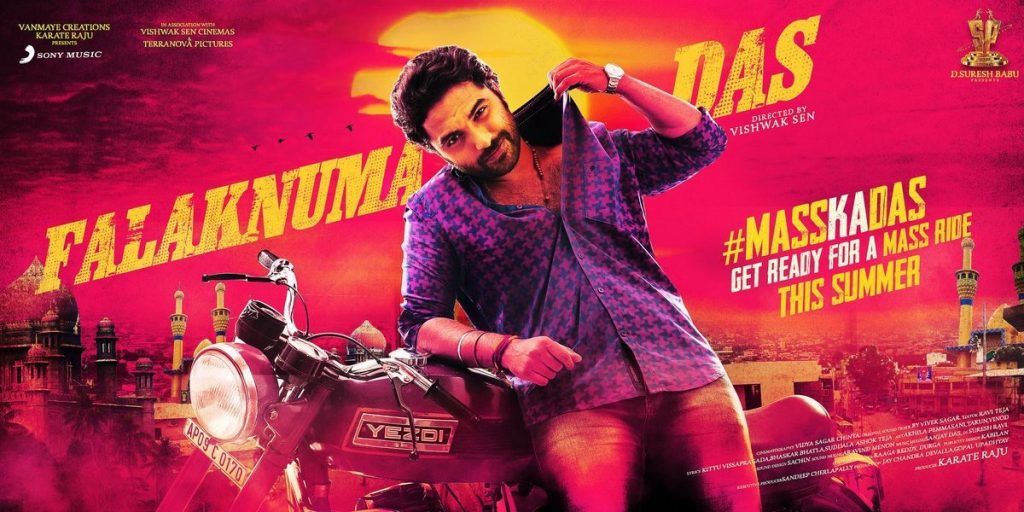 Star Cast: Vishwak Sen, Saloni Mishra, Harshita Gaur, Prashanthi Charuolingah, Tharun Bhascker Dhaassyam…
Directed by Vishwak Sen
Cinematography by Vidya Sagar
Music Composed by Vivek Sagar
Edited by Ravi Teja Girijala
Three things before I start my review of Falaknuma Das:
CRAFT IS ALWAYS IMPORTANT THAN OPPORTUNITY.
MOVIE IS A DIFFICULT ARTFORM.
IMITATION IS NOT THE BEST FORM OF RE-MAKING A FILM.
Let me expand on the three points that I learned from my experience of watching movies and learning film appreciation over the years. Craft is always important than an opportunity because finding an opportunity is the start of learning anything but not the end of it. Our ideas need not be ultimate and when we get an opportunity or create one, we need to respect the craft and go ahead with such respect that we deliver a good film based on the material we have and the kind of beliefs we could develop. But Falaknuma Das feels like one person over confident product than a well-made film by a craftsman or team of craftsmen.
I did not form this opinion on the movie by watching the maker(s) interviews. I felt a disconnect due to the amateurishness of the person behind the megaphone. Re-making a film is not about just making a shot-by-shot copy of the original. It is about understanding the concept behind the piece of art that is created and one needs to re-create it with that much respect even they make a shot-by-shot repetition. For that, writing needs to be believable, characters need to be etched properly once again and the moments that worked in the original should be analyzed carefully with scrutiny. Here, we see none of that. It more feels like a statement from a short filmmaker that if he can just make money with the money at his disposal with no respect to craft.
Movie is a difficult Artform. Yes, it is an art form. Even if you just see it as an entertainment outlet, it requires a lot more than just one affordable camera and few people ready to listen to your words. It is an art form which needs several people to come together after understanding the core of the story that a person or group wants to tell. Execution of the idea is always a key. As the movie is a popular platform, people won't have the patience to peel off the layers like few do when they see an abstract modern art.
In this film, the art just takes the backseat. We see random people trying to act and random people trying to deliver lines that don't make complete sense when coming from their mouth. You need people who understand characters and make them believable. The main man himself, who directed it, stares at the camera with a blank and straight face. What can we expect from others? But they all try and they all over-act even someone as experienced as Uttej. They all just feel like a bunch of novices who are trying something with misguided direction.
Imitation is the best form of flattery but nit best form of re-making a film. One cannot just change one element from the original and say we made a new film. The performances from original feel real, the situations and work feel like we are watching someone chronicling handful people's lives from Angamaly in Kerala. Here, the emphasis is more on Falaknuma Das and he gets dragged romantic tracks as a result. They make no-sense or add nothing to the character. The main character's remorse is immediately rewarded like he did something great. The redemption of villains or truce that the original presents is not rewarded with well-etched detailing in writing. So, an imitation game doesn't work for a slice of life film. You need a person from Falaknuma going through similar kind of situations but not one pretending to be from that area because he has hands on an explosive material.
On the whole, the movie is a big disappointment for any who believed that original reproduction is possible by a bunch novices as film school training is not the ultimate way of learning the craft. But when the novice thinks he is a craftsman and doesn't let the film really flow with less understanding of art, this kind of non-uniform film comes out that lacks in every aspect.
Theatrical Trailer: