Rahul Sankrityan's Taxiwaala (2018) Movie Review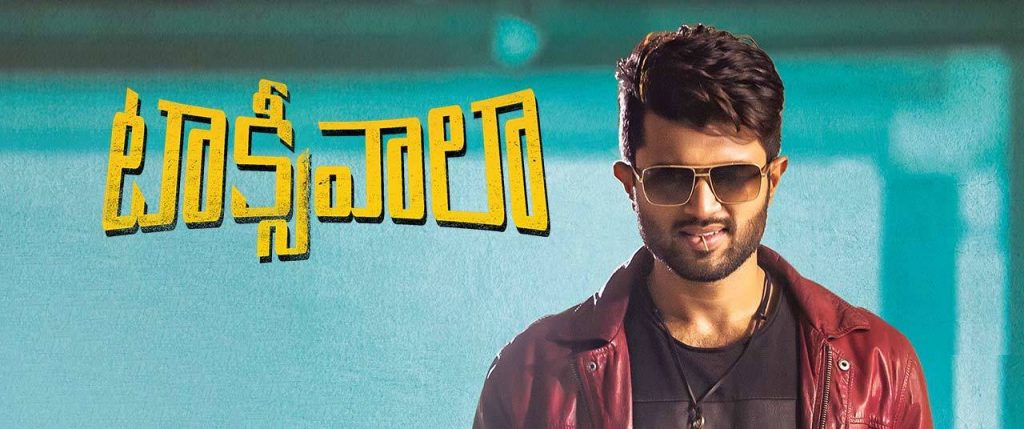 Star Cast: Vijay Devarakonda, Priyanka Jawalkar, Vishnu, Madhunandan, Ravi Prakash, Kalyani, Chammak Chandra, Yamuna and Shiju.
Music Composed by Jakes Bejoy
Cinematography by Sujith Sarang
Edited by Sreejith Sarang
Directed by Rahul Sankrityan
नैनं छिन्दन्ति शस्त्राणि नैनं दहति पावकः ।
न चैनं क्लेदयन्त्यापो न शोषयति मारुतः ।।
"Mortals cannot hurt a soul as it can neither be destroyed nor be killed…"
Lord Sri Krishna used this quote to tell Arjuna that his worry about the death of his son and his guilt about killing his relatives in the war. This is used to welcome us into the world of Taxiwaala created by Rahul Sankrityan. The world he created is not plain Black and White. The good people and bad people in this film are not portrayed as highly clever and innocent. They are shown as characters. There is a sister-in-law who wishes to go to any length to help her son like a brother-in-law. While brother warns him to be careful he also looks at him as his source of positivity in a completely negative environment. His wife is unable to become the mother of a healthy child and this hurts both of them so much that they become cold and wait for any ray of hope.
This hope comes to them in the form of a death at the same time they had to suffer another loss. But then, the hope needs to find its way through astral projections of purification. The rigidness to find a friend, to make a console-mate as been biggest problem of this hope, Shishira. So, she found a person who is even happy to make ghost a friend if it helps him. He is the driver of hope and as he says that he never could repay them in any way, by befriending hope he could give his mother like sister-in-law, the ultimate satisfaction of being a mother to a healthy kid and soul of hope could fill their lives with happiness by getting the best reward, she could probably ever wish for – Mother's love.
Shishira had to feel guilty for neglecting her mother so that she can understand her value and the sacrifice she made for her. She had to burn her guilt off as it is impured by revenge. So a fresh start as a newborn is the only way her soul could live happily. Rahul did have a complicated point to narrate and that too in a delicate way. Had he tried to be too serious and make it a story of redemption and sacrifices, the box office would just have rejected it off as some highly educated crap.
But in order to sell it, he came up with a light-hearted narration. He made it seem like a joyful ride filled with horror and comedy. The problem here is that when you have a point that is deep and meaningful, narration should highlight it even in a funny manner. The main difference from Manam to 24 to Hello in Vikram Kumar is also similar. In Manam, he brought all the fun elements from within the story. But in 24, he tried to oversell fun parts and in Hello, he missed the point of soul connection in trying to write an all-around film for a young actor who wants to establish. In both 24 and Hello, unwanted elements diluted the impact, similarly, here too.
The early points of redemption – being able to trust right people, purification – getting rid of all negativity and re-birth – growing from being someone's reason for death to someone's reason of hope and happiness, got lost in the impact killers somewhere. Horror and comedy are the box office moolah earners for sure but they shouldn't have substituted for the real story and its impact. Box office should definitely be a priority but not the only priority. Had he found a way to imbibe all fun elements without diluting the impact, his story would have been novel and fresh.
The tough part in pulling off a good horror movie is the visual storytelling. Sujith Sarang came up with some good visuals along with VFX and DI artists. The Art department too worked really well. Music by Jakes Bejoy is the major lifeline and editing is smooth too.
The problem again lies in the confusion that a producer's pocket wishes to that of a writer and director's creativity. They both have to find a way to give birth to a love child who can be loved by millions. But at times confusion wins and when you're in confusion, you always take the easy way out. Like every Pandava who wished for Arjuna's entry into Padmavyuha instead of Abhimanyu, even this story might have wished for Rahul to be Arjuna than Abhimanyu who doesn't have Sri Krishna on the chariot to drive him safely home.
Theatrical Trailer: