Sanju – A respectful love letter to Dad!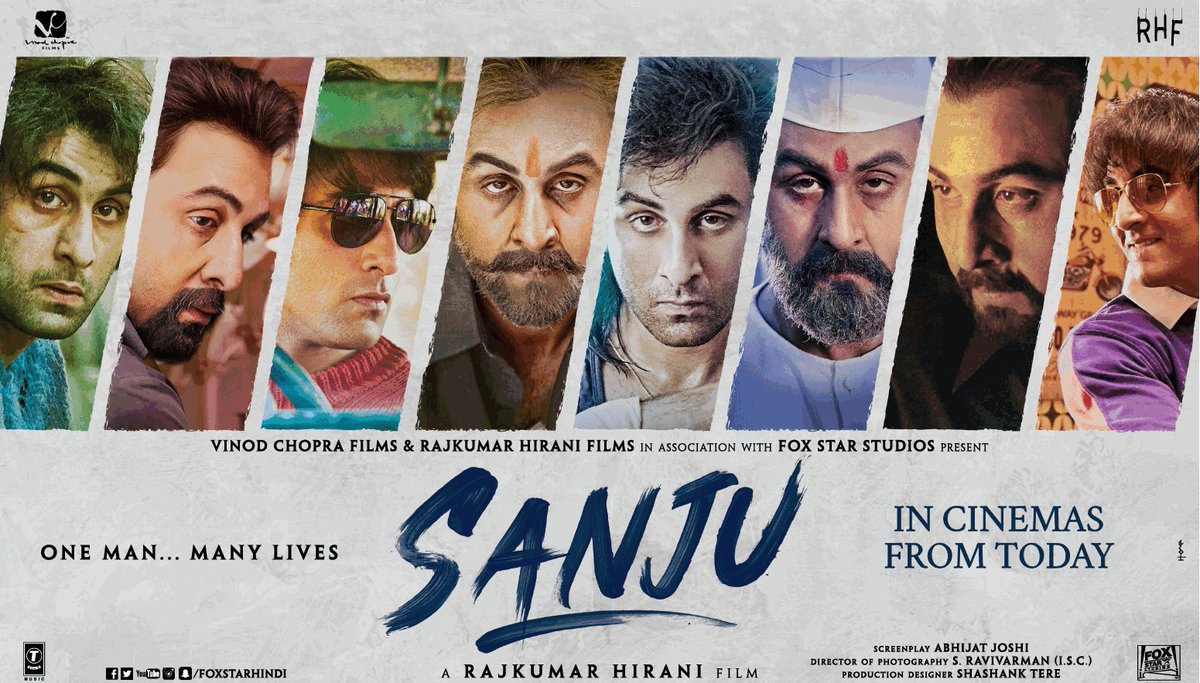 Star Cast: Ranbir Kapoor, Sanjay Dutt, Diya Mirza, Anushka Sharma, Paresh Rawal and Manisha Koirala.
Cinematography by Ravi Varman
Screenplay by Abhijat Joshi
Directed by Rajkumar Hirani
We always learn to respect our parents after understanding their struggle to feed us and give us everything we wish for. They don't tend to think twice before sacrificing their needs and wishes for us. So, we call them our gods and they deserve all the respect they get. But in this world, it is easy to lose respect but earn it. There will be 100 ways to lose yourself and your self-esteem but there is only one way to earn it back – redemption. Sanju Movie Review
Sanju is a tale of redemption of a son and a bold respectful love letter to his father, who had to fight to earn respect for his son his life-long. Raju Hirani can't just be Munna Bhai series creator or a person who gave mega-blockbusters with Aamir Khan. So, when he chose a biopic on Sanjay Dutt, his next, I kept thinking what is the need to do so? I thought it might be some kind of friendly return gift to Sanjay Dutt. Well, it is a return gift, but it is to Sunil Dutt, his father.
Not many thought twice before maligning the image of Sanjay Dutt, the bold poster boy of the Bad boy- Prince. Many thought they found an easy TRP and readership earner by targetting him and political rivalry with Sunil Dutt, who is known as Mr. Clean, also helped this. There is no denying in the fact that Sanjay Dutt did many bad things in his life and due to his actions, his family had to face a lot. But then, for each and everything, it became easy to blame him or start a gossip on him. It did not require to move a mountain to convince people about him being involved in many malicious activities, even if he isn't, no one would trust him.
Well, is this film a vehicle to clear his image? No, rather it tries to make you feel bad for his father, friends, and family as he becomes too arrogant and out-of-control many times and even takes ill-advised decisions without much consent from his elders. So, how does in such situation a father reacts? What will he do? Normally, they lose hope or they try to be overly strict. If that is the story, then will that be interesting? Is there any new dynamic to explore?
No, but when a story starts with father trying to apologize for being too rude to his son and for asking him to live up to his name and legacy, then continue to do so at every step of his life, waiting patiently for his son to reciprocate, that makes for an interesting story. When son too slowly starts becoming aware of his behavior and try to change it, how will a father feel?
Sanju is all about this respectful love letter to every father who has loads and abundance patience, love towards his children to give them a chance to own up their mistakes and redeem themselves. Ravi Varman with his glorious camera work sets up a dream-like world when Sanju apparently, is in the drug-full world and then starts to let the camera take a backstep to let the emotions flow. His work after writing by Rajkumar Hirani, Abhijat Joshi becomes the backbone of the film. Of course, the herculean efforts Ranbir Kapoor to ease into the role of Sanjay Dutt and make us believe that he is the real one deserves many accolades and great respect.
On the whole, this movie is about a filmmaker's love towards the society, his love towards young generation and his plea to parents to be strong and supportive while also asking youth to respect their parents and try to earn some for themselves and their parents too. Raju Hirani repaid his debt to Sunil Dutt, for giving him a chance to make his first film, Munna Bhai MBBS, by respecting his iron determination and love towards an erratic Sanjay Dutt which in the end redeemed Sanju from many of his mistakes.
THEATRICAL TRAILER: