Pattabhi R Chilukuri's Kaadhali (2017) Movie Review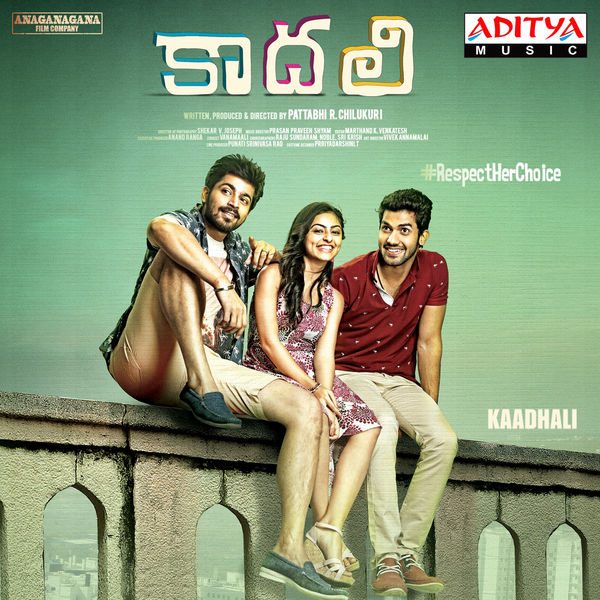 Pattabhi R Chilukuri's Kaadhali (2017) Movie Review  
Movie Review: Kaadhali
Directed & Produced by Pattabhi R Chilukuri
Music Composed by Prasan Praveen Shyam
Edited by Marthand K Venkatesh
Cast: Pooja K Doshi, Harish Kalyan, Sai Ronak, Sudarshan, Mohan Raman, Dr.Manjeri Sharmila, Gururaj Manepalli, Pallavi Banothu, Bhanu Avirineni, C.Suresh Kumar, Sandhya Janak.
A lot of this movie dependent upon how much the character of Bhandavi lure the audience, and she completely flunks with me. Her polyamorous angle isn't cute either, and although I can see her being an idol for the counter-culture, she is just sort of annoying. Its due to the characterizations and narrative structure of the movie, which didn't really gel well as a product in the end. I wish there were more scenes of other characters, mindless and untethered stages of their companionship (Esp. Escapism).
Coming to plot-line…
A over fond dad. A cockered daughter. A modern swayamwaram (#RespectHerChoice). That's in short a synopsis of Kaadhali. The independent, easy going Bhandavi (Pooja K Doshi), an orthopedist in Osmania Medical Hospital. That's when her doting father wants her to get married, and her family sees that as the ultimate objective of a women's life. With the help of her friend Chandu, she comes up with a modern swayamwaram thought to find a perfect groom and she zeroes down two men (Karthik a freewheeling, "the nice guy" and Kranthi a self-obsessed, ego stroking spoil brat). Due to "comedy of errors" Bhandavi starts dating the duo and they are put to rigorous upshots that will disappoint one of them. (Now don't think how differently world have perceived had a man done what Bhandavi does in this film #RespectHisChoice Nah!!).
When it comes to characterizations, Bhandavi needed to be as confused and as diluted as the writer showed her to be. She had to be naive yet at the same time she needed to be a searcher for soul in life. Her heart and mind needed to collide more than they do on the face of it all. Which could have been a meaningful exploration of thoughts it ends up being a richly framed love story that we have been witnessing from the times of Prema Desham. The major culprit here is the understanding of the writer -director, Pattabhi or the lack of it. He tries to find inspirations from Fountain Head and Cloud Atlas for his characters but doesn't bring them out with their depth intact. Rather he tries to hint at the ideas he had and then tries hard to make it pleasing enough.
In the other technical aspects, Let's leave the story contrivances aside, Kaadhali doesn't bother with basic nuances as lucid screenplay and continuity. The saggy editing by Marthand K Venkatesh results in gawking holes of characters and logics, and those clunky lines are throwback to the not so good olden days of past times. Music composed by Prasan Praveen Shyam has pastiche yet hummable numbers, but the songs directed by Anand Ranga (Oy! Fame) in lavish locations of Sri Lanka act as speed bumps in the way of a typical narrative.
The acting of the trio Pooja K Doshi, Sai Ronak and Harish Kalyan are just mediocre considering the characterizations they are given. In the supporting cast, everyone plays his or her role like a routine but Dr.Manjeri Sharmila, Gururaj Manepalli, Pallavi Banothu, Bhanu Avirineni and Sandya Janak were completely wasted in their short acts.
Kaadali belongs to that category of filmmaking where no one needs to be forced to watch the movie if it is engaging enough. Well, Pattabhi did have a point to say, trying to bring in the age old fight of Dil or Dimag, Heart and Mind, to the forefront, but it fails in recognizing the major crux of the story and rotates around the Bhandavi confusion in a highly amateurish fashion. It neither decides on what it needs to be nor it provides us with the enough engaging scenes to dwell into it deeply. It just stays afloat like it's main character on the waterbed while we have to search for the real depth of it screaming for some meaning to entire confusion like Bhandavi in the end. Still, we are sure to not find anything in the writing as the director and Producer, Pattabhi thinks he has a basic line to go with and fails to understand how to expand it further as a script. In any screenwriter's workshop, one is said to have a considerable storyline and then expand it as you please. Once you're done find a commercial point and execute it properly. Re-work on your script to suit the commercial parameters but do not loose the soul. Here Pattabhi loses the soul in the vague of commercialization like every other Telugu Filmmaker. He does have a good story and film waiting somewhere in there that we miss to find until and unless we are willing to have magnifying glass and heart to try to find some meaning.
Theatrical Trailer: