Mullapudi Vara's Kundanapu Bomma (2016) Movie Review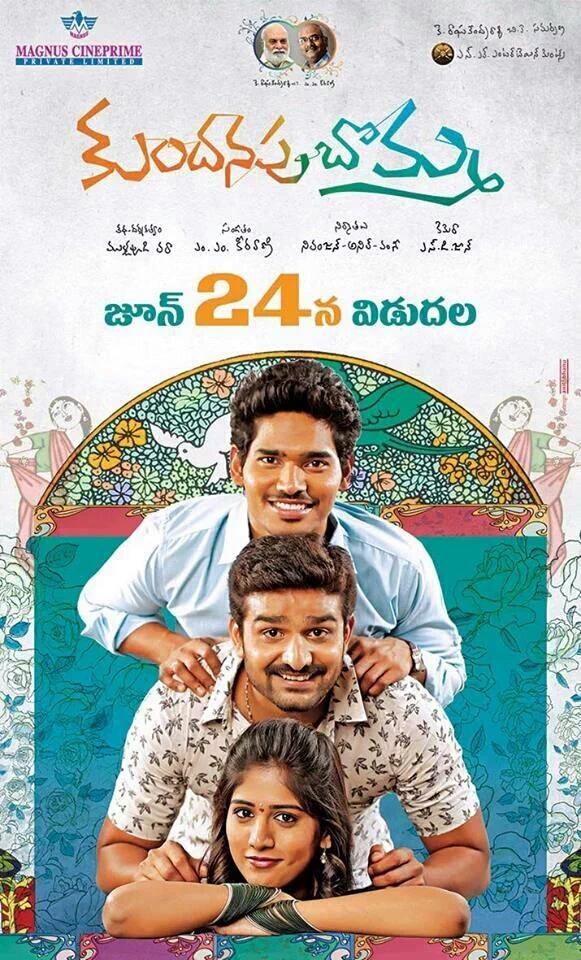 Story– Screenplay–Director: Mullapudi Vara
Cast: Sudhakar Komakula, Chandini Chowdary,  Sudheer Varma, Shakalaka Shankar, Jhansi, Gayatri Bhargavi, Nagineedu and Rajeev Kanakala.
Cinematographer: SD John
Dialogues: Anuradha – Gautham Kashyap
Music Composed by M M Keeravani
Censor Certificate: U & Runtime: 122 Minutes
Mullapudi Vara, failed to taste success with his first big directorial venture Naa Alludu (2005) starring Jr. NTR and then later on made some vague attempt to rehash Strangers on a Train (1951) with Vishaka Express (2008). But even that one failed to impress the viewers and Kundanapu Bomma is also not an exception to that fact.
The flesh is willing but the spirit weak in Kundanapu Bomma, Mullapudi Vara's stereotyped tribute to sixties Telugu cinema. The story has nothing to talk about. A wannabe millionaire Gopi (Sudhakar) hires a mechanic/casanova to flirt his sister in law Suchi (Chandini Chowdary), and it turns out the "Gopi" is forced to marry to Suchi, which he doesn't get along. Gopi wants out, Mahadeva Raju (Nagineedu) and family wants to keep the promise with him and guess what "Casanova" does?? Succeeds in his plan and Suchi ultimately succumbs to the charm/impish behavior while fighting with him all along. Now, Gopi returns back with another plan? What's his plan? Will Kundanapu Bomma Suchi's marriage be a love marriage or an arranged one forms the rest of the storyline.
Kundanapu Bomma is alas the worst attempt made by the director which is annoyingly loud, cockamamie, galling and a big pain especially in its second half which can easily termed as unbearable too. The film starts off with a typical plotline of Bava – Hiring an Employee to flirt – to skip the promise (aka. arranged marriage). But just after the first 10 minutes, the execution becomes queering and you are not able to enjoy anything in the later part of the film. Particularly its last hour can give you a severe headache with all that senseless scenes (For example: A mechanic rather working on issues with the vintage car, stays in village for months kicking the car and roaming behind the girl flirting & no one cares about it.) and shouting going on in a name of melodrama and comedy.
A film can only have good performances if the script allows the cast to perform and the director has got a particular thought to follow. But Kundanapu Bomma, in absence of any substantial script or a basic vision of the director, simply wastes all the talent in the names such as Nagineedu, Rajeev Kanakala, Bhargavi, Shakalaka Shankar, Sudhakar and Sudheer. The Kundanapudu Bomma Chandini Chowdary is also completely wasted and her track makes no sense. All she does in the entire film is grin and bat eyelids in a typical girly fashion.
Actually, I felt, the biggest culprit of the film is its sound mixing in which we have a very loud score continuously being played along with the dialogues throughout the film in a very daft manner. Music by M M Keeravani doesn't register at all. The Background score is heavily inspired by Hindi films and few tunes from Kaaki Settai. Cinematography supports to make the film slightly tolerable. Dialogues by Anuradha-Gautham lack class and are extremely boring. Editing doesn't help either. I was seriously thinking what actually could have excited maker like K Raghavendra Rao to present such a low grade film made without vision or content.
To finish things off, Atrocious and totally senseless is what comes to mind when the two hours romantic tale Kundanapu Bomma wraps up. The story supposed to be feel good, with classy lines, romantic numbers and few emotional sequences, but the two hours of romantic torture shakes your confidence on small scale films in Telugu cinema.
Survi Review: 0.5/5