Merlapaka Gandhi's Express Raja (2016) Movie Review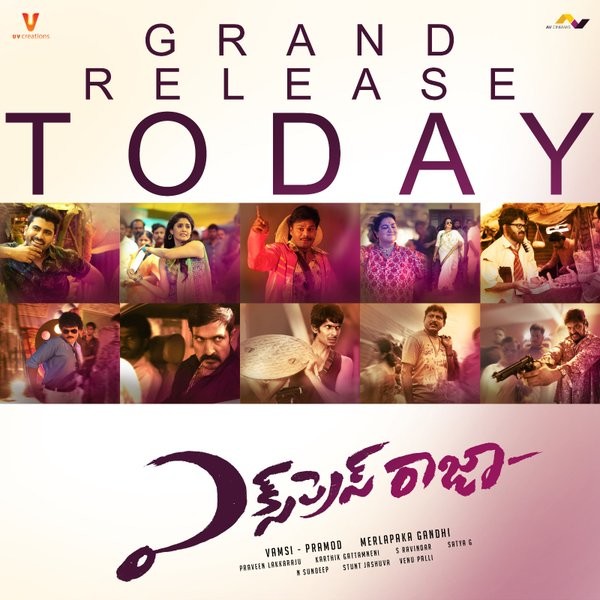 Merlapaka Gandhi's Express Raja (2016) Movie Review
Directed by Merlapaka Gandhi, Written by Merlapaka Gandhi, Music by Praveen Lakkaraju, Cinematography by Karthik Ghattamaneni, and the Cast includes Sharwanand, Prabhas Raju, Surabhi, Bhramaji, Harish Uttamam, Supreet, Sapthagiri and Urvasi
Runtime: 144 Minutes & Censor Certificate: U.
Is Express Raja a comedy? Or is it a thriller? Or is it a masala entertainer which tries to club in all three genres and present a super dish for this Sankranthi Season. Express Raja (Sharwanand) and Seenu (Prabhas Seenu) are happy-go-lucky guys, who spend their time drinking, smoking and causing troubles to the others. Thanks to Police Official Posani they get sent to Hyderabad for a 30K worth job. At the sametime, Surya (Surya) collects 75 Crores for Spandana Foundation. Which gets stolen by a wannabe MLA Harish Uthaman & Binami British (Supreet). That's when Binami British tries to get away with 75Crores and converts amount into a diamond. But hides the diamond in the dog's collar. To impress his girlfriend Ammulu (Surabhi), Raja steals Binami British's dog. That's when Binami British and Harish Uthaman start chasing Raja and colleagues. Who gets the possession of the diamond forms the rest of the storyline.
Sharwanand given very inadequate platform that he has been asked to stage a show on. Prabhas Raju as Seenu gets into a character that suits his image, but tends to overdo at certain places. Surabhi has little to do and even seems rather uncomfortable with the role. Urvasi is fine in her short role. Baddies Supreet and Harish are just about okay. The rest of the cast are passable.
With a storyline almost as thin air, Express Raja is stretched to unbelievable lengths, until it snaps. I am not really turning blind eye to the apposite theme at hand, but if only it had the depth of a sms at least. The director of Venkatadri Express Merlapaka Gandhi succeeded in his first attempt thanks to the promising narrative and comedy in parts. In Express Raja, there isn't really a lot to laughs your guts out at.
This motion picture belongs to a new breed of cinema that is least interested in the significance of what it offers and is much concerned with trying to jounce its viewers with trivial tricks that never leave an impact. The first half of the movie and the beginning of the second half are drab. The movie doesn't seem to have the air of nicely timed comedy and thrills, which is the life and soul of the movie. The relationships and characterization look unrealistic and forced. They even fail to evoke any feeling for their roles.
A beading together a cluster of jokes need not necessarily pass off as a decent film. Tired of trying to make a head and tail of the proceedings, I try to find some energy, a bit of tempo perhaps or a real pulse somewhere. With no luck in sight, I realize that the stilted script is what has been flunking all over the place. To be fair to the film, there is an occasional chuckle or two here and there but that too is pretty much diluted by an attempted love track between Sharwanand and Surabhi which doesn't work at all.
The story had everything to its credit but the multi-perspective narrative structure and direction gives it away. Songs in the film further put it off as none of them are placed well at all and just come out of nowhere. Surprising factor is director Merlapaka Gandhi was successful in placing the songs well in his first attempt. Cinematographer Karthik Gattamaneni is major asset of the film his lens captured the locations and art work very well, Kudos to the team. Runtime of 144 minutes is too long for the plotline and editing needed to trim it down by 20 odd minutes. Production Values of U V Creations are fine.
After the show, an ordinary viewer of Express Raja was saying: "There is nothing new in it and has less comedy unlike Venkatadri Express." A naif piece of criticism, but that sums up the latest Sharwanand – Gandhi film. Express Raja has all the ingredients you would expect in Sharwanand film, but without hard hitting fun and soulful characterizations that would have made you glued to the screen.
To be honest, it's really not your money's worth.
Survi Review: 1.5/5