Rahul Sankrityan's The End (2014) Movie Review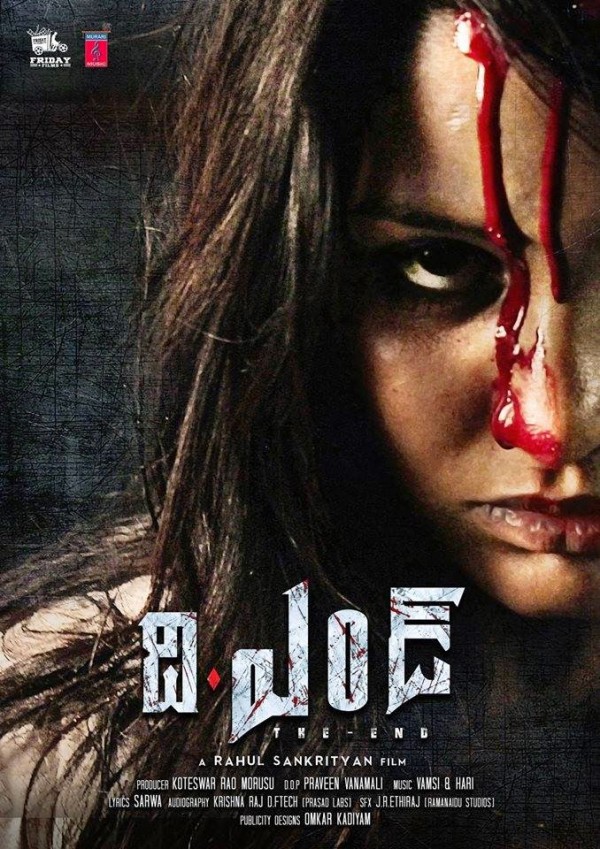 Starring: Yuva Chandraa, Sudhir Reddy,Gazal Somaiah, Pavani Reddy, Venu (Tillu), Sundeep Hemnaoni
Director: Rahul Sankrityan
Producer : Koteswara Rao Morusu
Cinematography : Praveen Vanamali
Runtime: 148 Minutes
Newly married couple Rajeev Mathews (Sudheer Reddy) and Priya (Pavani Reddy) start staying at their new home in outskirts of Hyderabad. Gautham (Yuva Chandra) returns from UK to start a Hospital in India with help of Rajeev. Accidentally one day, a worker dies at the house cleaning the top floor. In a mean time, Gautham gets attracted to Rekha in a party, a family friend of Priya. For higher medical studies Gautham leaves to Goa with Rekha (Gazal Somaiah). The romantic life of Rajeev & Priya gets disturbed as she gets possessed by ghost. Why did these evil spirit posses Priya? How will Gautham help Rajeev in this critical issue? Forms rest of the story.
Speaking of performances, Sudheer Reddy overacted in the initial half, but exceeded the expectations in the second half with his performance. Pavani Reddy, shown immense growth in acting post dream. Yuva Chandra in the role of UK returned Medical doctor was commendable. Gazal Somaih strictly limited to add some glamour to the film. Venu was totally wasted in his character. Police officer Sandeep played his part very well.
 The End starts with the same old tried and tested formula of shifting to a new house, which obviously gets haunted, the movies doesn't even try to give something new to its fans. Right from the first scene, you will feel the typical ambience, background music and camera angles in the name of horror thriller.
With a rattling slow pace, The End never starts really. It keeps testing your patience with casual narration introducing you to every character and side of the home, but not the ghost. A very lazy and uninteresting first half clearly leaves you with an idea that director tries to play around with predictable narration, wasting money and time of its fans. Moving into second half viewers doesn't get excited anymore with its proceedings. The over lengthy and open ending climax come as a torment for the audience.
In few more words, the movie has nothing to offer in any of its technical department involved in the film making. The writers have written same old sequence to thrill the fans. The sound designer puts in the same sources exploited in the other horror-thriller films from French (Les Diaboliques) cinema. That build up of the prevision with background Score, those suspense broken with false alarms, conventional camera angles and heavy silences all these techniques have already been used.
Camera Work by Praveen Vanamali is okay. The music by duo Vamsi and Hari support the scenes. Editor of the film could have easy cut short the film by 30 odd minutes. Production Values of Friday Films are alright.
The End is not even close to being a skittish affair. For horror fiends or time pass audience. The film doesn't offer anything new despite the HOPE of it. On the whole, The End is a waste of your time and hard earned money so it's better if you just simply stay away from this one.
Survi Review: 1/5