James Gunn's Guardians Of Galaxy (2014) Movie Review
Cast

: Chris Pratt, Zoe Saldana, Dave Bautista, Vin Diesel, Bradley Cooper, Lee Pace, Michael Rooker, Karen Gillan, Djimon Hounsou, John C. Reilly, Glenn Close, Benicio del Toro
Guardians of the Galaxy is a Marvel Comics sci-fi movie about saving the galaxy from maniacal rule. A boy is abducted by a space ship and is raised on a far away planet. He grows up to be a scavenger who calls himself Star Lord. He finds himself in trouble after he steals a magical orb that is desired by the evil Ronan (Lee Pace). When Peter gets thrown in prison, he meets a few other misfits that have something in common with him: they've all lost something. There's the green-skinned assassin Gamora (Zoe Saldana) who has betrayed her once-boss Ronan, Drax the Destroyer (Dave Bautista) whose family was killed by Ronan, Rocket (voice over by Bradley Cooper), a small, but ambitious raccoon eager to make a chunk of change any way he can and Groot (voice over by Vin Diesel), an alien tree who can branch out in more ways than one and says "I Am Groot" in response to everything.
When Peter suggests that the five losers team up in order to bring Ronan down and save the Galaxy, they all agree, though getting along was never part of the plan.
Marvel universe have a formula and most of the time they stick to that certain equation. And as many folks have raved about how unique this movie is, it really is just another Marvel origin movie. It's the same story as THE AVENGERS. They have just changed situations and the characters (Alien Criminals, not superhumans). It's a formula for a reason and works every single time. Marvel hasn't made a disaster film yet and Guardians of the Galaxy is no different. Its Tremendous space ride with a hummable soundtrack, Lively effects, Nice Performances & with a Pure Heart. Its one of the most purely enjoyable films of the year.
Chriss Pratt is the perfect Peter Quill/Star Lord. Coming from a place knowing little to nothing about the Guardians of Galaxy, I couldn't have imagine any other playing the lead role. Zoe Saldana, Dave Bautista, John C. Reilly, Glenn Close and Benicio Del Toro seem to be having a blast with their rather absurd characters, which must have appeared ridiculous on paper. Vin Diesel is great as he voices the great gigantic, yet gentle alien tree named groot, but the biggest asset surprise of Guradians of Galaxy is definitely Rocket Raccoon, funny, verbose, smart and he even gets emotional scenes, who loves BIG guns and his best pal GROOT. The chemistry been Groot & Rocket is FUN.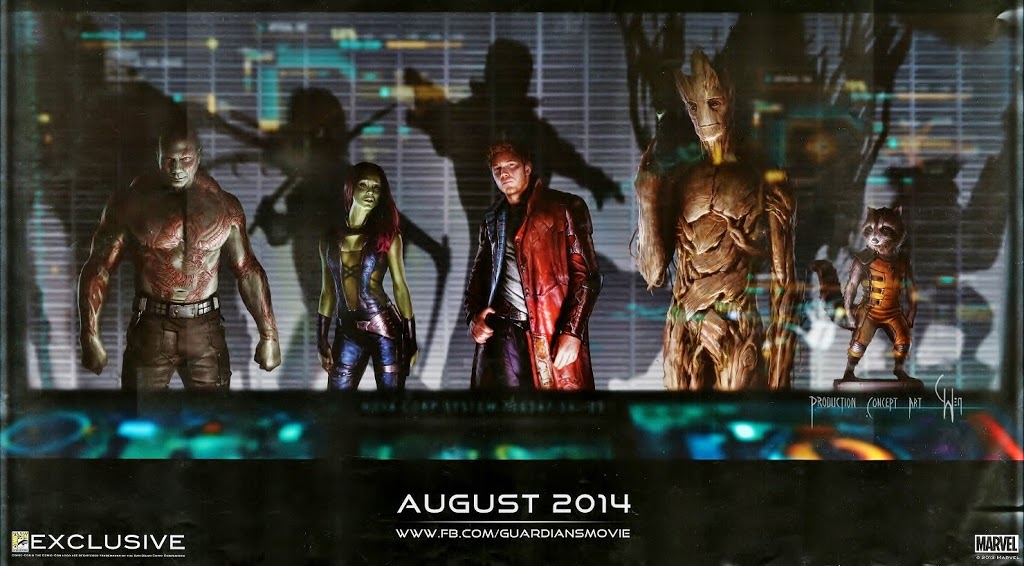 The action in this film is also pretty tremendous. It's high energy and absolutely insane. The special effects are beautiful, and although I wish that there were a few more practical stunts, I can't honestly quetch. The final forty minutes of this film after the Guardians finally band together is absolutely amazing. I just loved the action along with the look and feel of this film. Director James Gunn did a howling job.
Raccoon Rocket & Groot Team Up

Escape From The Kyln

We are GROOT

Guardians Standing Tall against Ronan

Emotional Rocket

Groot Dance in the END
The soundtrack is a highlight of the movie, adding a massive injection of grounding pop culture references. Featuring several classic hits including Blue Swede's "Hooked on a Feeling," The Runaways' "Cherry Bomb" and Tammi Terrell's "Ain't No Mountain High Enough." By the end of the film, you'll be in such a chipper mood that you'll want to dance your socks off right with Peter Quill, Footloose style.
The magical orb isn't much to expand the script and a subplot involving Destroyer tries to go against Ronan could have been further expanded. These are not substantial flaws. In short Guardians of the Galaxy may be jackanapes but it is also charming and quite simply good fun. One the whole, James Gunn directs the best film of his career to date.