K. VijayaBhaskar's Masala (2013) Movie Review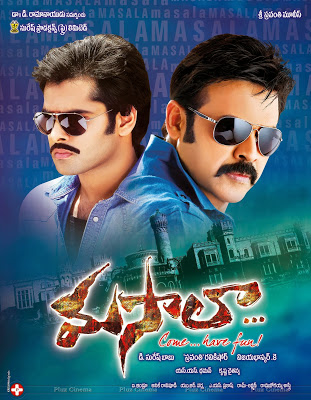 Cast

: VenkateshDaggubati, Ram Pothineni, Anjali, ShazahnPadamsee, Jaya Prakash Reddy, Brahmanandam, M S Narayana, KovaiSarala, Ali &Posani Krishna Murali.
Director

: K. VijayaBhaskar
Watched at

Prasadz

, Hyderabad.
Masala is the story of Rahman (Ram Pothineni) stays with his sister Sania(Anjali) and they are legally fighting to get the title of their property. But, the odds turn against them and they lose the case.Their well-wisher, Narayana (M S Narayana), advises and convinces them to migrate to his village Bheemarajupuram,and assures Rahman that he will get him a job at his owner's place. And the owner is none other than the powerful Balaram (Venkatesh Daggubati).
Rahman accidentally falls victim to an indistinct situation which makes him lie about his name in front of the villagers in Bheemarajupuram...
Hence, a series of cover-ups, goof-ups and comic situations comes up, where to cover one lie; Rahman starts padding up witha bigger lie telling people that he also has a twin brother. And then, starts the real story. Ram lands up working as a supervisor with the lie hater Balaram. Destiny plays a cruel role and forces Ram to perpetrate a bundle of lies in front of Balaram. What happens next? Will Balaram ever come to know about Ram's real identity and his lie? Watch out the film to know more.
Venkatesh Daggubati's
comic timing is once again too very good, in fact he's the reason you get some laughs out of the film. The way he says the Telugu lines in English, or the scene where he says 'My English better than British' are just phunny. Ram was okay as Ram, but he was atrocious in the without moustache Rahman's character. His performance in the interval bang is more like a drunkard than a gay dude. Ram's mannerisms in Ram character recall his performance in Ready. Like Ram's emasculate dance act just before the interval seems elongated and Venkatesh's fustian English transcriptions, despite being frequently phunny, is so exaggerated that you lose the semantic biffs at several occasions. Anjali looks completely out of the character, the part where she plays the lover of Venkatesh in past is just feeless. Anjali & Shazahn Padamsee didn't have much to do other than provide scope for romantic numbers. Short dresses didn't suit Shazahn in the Meenakshi Meenakshi track. The rest of the cast is as expected, loud and pretty much intolerable except for Jaya Prakash Reddy, Ali & M S Narayana who try to bring in some sort of order and balance to the chaos but of course aren't given enough room.
Rohit Shetty is really lucky that his films run well at box office inspite of having terrible madcap scripts. But Vijaya Bhasker is not as lucky as him. Director just lifted nearly every scene from Bol Bachchan and translated them into Telugu. He failed to understand his mantra "Hardwork is keyhole to success". Working with ever popular formula of lies, lies and more lies creating confusion and more confusion, very much like another phunny phileem in Tollywood. Vijaya Bhasker failed to elevate Anjali's flashback in an imp active way, even confusion of lies didn't work well in Telugu. Thaman SS music was not upto his standards. Even BGM failed to lift the scenes. Vijaya Bhasker totally failed to grab the music he wanted in this film, "Thats why Balaram says music is fire handle with care". The song was shot at Hokkaido, the second largest island in Japan which marks this film as the first Indian movie to shoot in Japan is nicely shot. Choreography is fine for the other songs. Cinematography is neat, camera work is good in Meenakshi Meenakshi & Ninnu Chuddani songs. Editor could have easily cut short the film by 10-15 min in the film. Masala just copied Rohit Shetty's action choreography into Telugu, which just failed. Dialogues are promising especially few English translations are hilarious. Production values are grand.
Masala is an official remake of Rohit Shetty's Hindi film Bol Bachchan which had Ajay, Asin, Abhishek, Prachi & Amtabh in the cast. Despite of having such an impressive cast Hindi version just failed to reach Rohit Shetty's mark success at box office. Masala fails from the start as the comedy element didn't work, the cast is imperfect and they don't seem serious about their performances (leaving Venkatesh Daggubati). It is so shabbily made that you will instantly feel that director Vijaya Bhasker has lost interest in the initial parts of the film. First half of the film is draggy and second half make sures it makes audience tiresome. Masala is a wearisome entertainer, better avoid it in theatres.
Its not Telugu audiences cup of brandy

Review of Masala by Survi First Psted in Apherald.