Linguswamy's Vettai (2012) Movie Review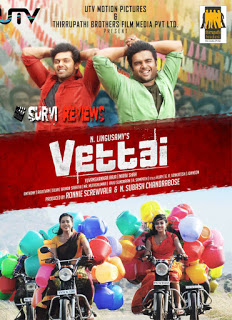 Cast: Madhavan, Arya, Sameera Reddy, and Amala Paul
Music Director: Yuvan Shankar Raja
Cinematography: Nirav Shah
Editing: Antony
Written and Directed by: N. Linguswamy
N. Lingusamy after successful Awara with Karthi, he is back with Vettai this time with Madhavan and Arya. The movie revolves around two brothers the elder one Thiru Moorthy (Madhavan), a sober guy becoming a police cop because of the death of his father in service and the pro active younger brother Gurumoorthy (Arya) who is a happy-go-lucky, who is helping his brother to capture all the big fishes in the underworld.
Arya's performance is tremendous. There is lot of familiarity in his Arya which suits the 'Gurumoorthy character the best. Madhavan is too good in his character, he has lighter vein characterization in the first half and heavy-duty emotions in the second half. Amala Paul got major pie in the film and she justifies her role. Sameera Reddy is good in her role. Ashutosh Rana is different in the role of the villain with a new get-up. Naseer and Thambi Ramaiah were supportive in their roles.
The story of this film is wafer thin. Even screenplay written and treatment given is foreseeable. Linguswamy has done a decent job in this film by inserting comedy, romantic and his trademark action episodes. Cinematography of the film is excellent. Yuvan Shanker Raja fine again with this film in terms of songs and background music. Background music helped the narration of the film. Editing is okay. Fights are pretty good.
Vettai First half is entertaining with good blend of entertainment and feel. The tempo goes down a bit in second half because of narration and predictable story line. The last 45 minutes (where Madhavan starts taking the revenge) sequence is interesting. The plus points of the film are Lead cast, Music and clean entertainment. On the flip side, the emotional content was not dealt well, Predictable second half and thin storyline. On the whole, Vettai has lived up to its hyped up reputation as a family action entertainer.
Survi Review: 3/5
Theatrical Trailer: