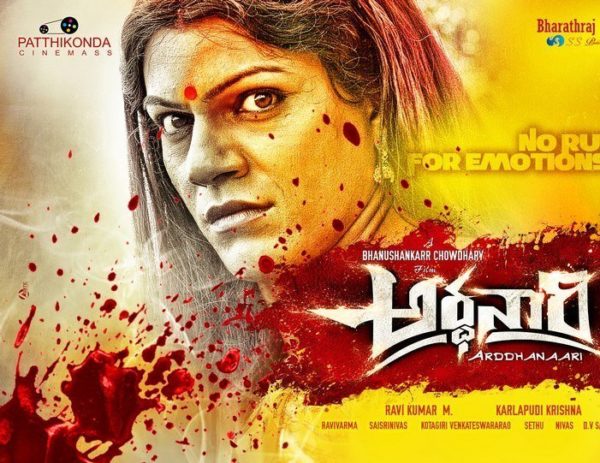 Starcast: Arjun Yajes ,Mouryaani and 54 other new comers
Directed by Bhanushankarr Chowdhary
Edited by Kotagiri Venkateshwara Rao
Cinematography by Sai Srinivas Gadiraju
Produced by Karlapudi Krishna
Censor Certificate: A  & Runtime:  140 Minutes
If a particular idea gets accepted by the viewers then it's usual that every filmmaker just wants to cash it on in Tollywood. The debutante director Bhanushankarr Chowdary comes up with a good point about how cunctation is plunging our society into an unreformable abysm. But the good point gets ruined by unimpressive writing and weak execution.
The movie starts promisingly but is not able to keep the promise in the latter half of the film. The story of Arddhanaari reminds you of films like Anniyan, Ganapathi, Rakshakudu and Operation Duryodhana. But fails to generate interest and the viewer cannot relate to the lead character as his back story is the greatest drawback of the film.
The movie is about an honest man who is foiled with the lack of discipline in the society and tries to do something about it, only to be mocked at and ribbed by one and all. At this time he loses his kid and his wife as few politicians didn't like his sincerity. Then he turns as Arddhanaari and goes behind people who were responsible for his family's death. The rest of the story is all about how the police go on a hunt for Arddhanaari and how his uncontrollable temper are brought to the surface, & dealt with.
The first half of the movie has couple of moments but the second half just goes the other way around when lead character reveals his true intention, a reason behind his frustration and uncontrollable temper. Even the conflicts and logics goes over the board, like; The political angle between Arjun & Chief Minister is silly (If a common man thinks only about society, he must be curbed as he/she might turn politician), There is no proper explanation to Arddhanaari's sudden sleep paralysis issues, even no explanation to what lead Arjun care about society so much, and what does he do for living.. Even the Gandhi point was terribly utilized in the film. The movie sadly delivers nothing special other than raising two interesting points. 1. Panchasutra Policy (Making Voting Compulsory; Hospital, Education and Necessary Ingredients must be under the control of Government not Private. Finally modification in judiciary) 2. A mandatory "Questioning Day" where public will question and judge the politician for better functionality.
"Badyatha leni vadiki Bharatha Desam lo brathike arahatha ledhu…"
Recalling the few positives, Arddhanaari has an appreciable Production Values, couple of ideas and an engaging act delivered by Arjun and supported well by Mouryaani. But what doesn't work in the film is its story progression, inspired execution, irritating songs, uninteresting second half and the typical filmy culmination of the point resulting in a big opportunity missed by the team that had all the innovative elements to make it rightly. As a result, while walking out of the theatre one begins to think that with another film of this genre sinking badly at box office, will we ever witness a good psychological thriller from Telugu cinema in years ahead.
Survi Review: 1.5/5
Theatrical Trailer: